Long and Short Reviews welcomes Kat Martin who is celebrating the release of "Shadows at Dawn," part of her Maximum Security series. Enter Kat's monthly contest for a chance to win a gift-size hardcover edition of THE CHRISTMAS CLOCK.
Story Ideas
I've always loved a good plot. People ask me how I come up with ideas for my novels, but the truth is, I really don't know.
Sometimes the kernel of an idea grows out of a newspaper article or something I see on Facebook or just some old movie. Most of the time, it's so long ago I don't actually remember, but my mind does.
The novella, SHADOWS AT DAWN, blossomed the way most of my stories do, basically out of nowhere. Jaxon Ryker first appeared in THE CONSPIRACY, a former Navy SEAL, now a detective working for Chase Garrett, the wealthy owner of Maximum Security, an extremely successful private security firm in Dallas.
I liked Jax right away. He was definitely hero material, but at the same time, Jax was different, kind of soft-spoken, not arrogant, just a really nice guy. Unless you pissed him off.
Turns out Jax had a protective streak a mile wide and the sweet little receptionist at The Max was his weakness.
When Jax happens upon three men attacking her in the parking lot after work, his hero instincts kick in–big time.
Jax is convinced the attack isn't random and that even after the fight that saved Mindy and drove the men away, she might not be safe. And no way is Jax letting anything happen to her.
I liked the two of them together from the start. These days, readers want kick-ass women, but there are other ways a woman can be strong. What Jax sees is a sweet girl he believes would never be able to handle a tough guy like him. But Mindy proves him wrong.
As the danger unfolds, Mindy and Jax are forced to work together to find the men who want her dead and figure out why.
I hope you'll give this fun read a try and that you like Jax and Mindy as much as I did. If you do, you can also find them in THE DECEPTION, book #2 of my Maximum Security Series after THE CONSPIRACY.
Till next time, happy reading and all best, Kat
Private detective Jaxon Ryker swore to himself he would keep his hands off Mindy Stewart. No matter how much Jax might secretly wish otherwise, his colleague at The Max is strictly off-limits. But when Mindy is the victim of an attempted kidnapping, everything changes. With both of them thrust into danger, Jax swears to protect her. As they work together in search of answers, it becomes clear Mindy's life is on the line, so a trap is set—with Mindy as bait. Jax and Mindy have to put aside their overwhelming attraction, but if they live through this, all bets are off…
Enjoy an Excerpt
Finally satisfied with her progress for the day, Mindy shoved her round tortoiseshell glasses up on her nose, slung the strap of her purse over her shoulder, and headed for the door to the parking lot behind the office. She managed not to glance at Jax, but it wasn't easy.
The early April weather was humid, warm but not hot, the last of a pinky gold sky fading to darkness. She spotted her little red Volkswagen Beetle, one of the few vehicles left in the lot, and started in that direction.
If she hadn't been working for a security firm, listening to crime stories on a daily basis, she might not have noticed the white Chevy van whose motor sparked to life and began idling in the shadows not far from her car.
When her steps unconsciously slowed, she told herself she was being ridiculous, a paranoid response to the guys' sometimes gruesome, often frightening tales.
Pausing to dig her car keys out of her purse, she took a deep breath and tried to calm her racing heart. When the effort failed, she forced her feet to move, closing the distance between her and her vehicle. She had almost reached her destination when the van doors slid open and three men dressed head-to-foot in black wearing black ski masks jumped out and started running toward her.
Terror struck. Mindy let out a high-pitched scream, dropped her purse, whirled, and started running.
Jax's long day wasn't over yet. Before he picked up a pizza and headed home for a couple of beers, he had a meeting with a client on the other side of Dallas, a cold case he had been working where the mother of a murder victim had discovered new evidence she believed would help find her daughter's killer. The police weren't convinced, but Mrs. Donahue had hired Jax to prove it. Or at least find out the truth.
These are implants that consist of either inflatable http://cute-n-tiny.com/cute-animals/top-10-cutest-puppy-and-kitten-pals/ side effects viagra or semirigid rods. There are six leading bulk peptides that are in demand across the United States right now, each one offering its own host of benefits and providing researchers with very interesting research results which they can share with colleagues cute-n-tiny.com buying tadalafil tablets around the world. This medication consists of same active ingredient as that of original order generic levitra . Normally, 1-2 doses viagra overnight usa are advised per week for 1-3 months at a stretch. He checked his heavy black wristwatch. If he wanted to make his appointment on time, he needed to get on the road. Grabbing his laptop off the desk, he headed for his dark blue Dodge Ram pickup, parked in the lot behind the office, his mind on the case he figured would earn him a nice fat fee–and maybe help bring a killer to justice.
He had just stepped out the backdoor when a blood-curling scream cut through the sticky night air. A petite young woman with long dark hair and glasses struggled with three masked men.
Adrenaline shot into his blood. Mindy! Even as he bolted into a run, Jax registered their appearance: one tall and lean, one average height and weight, one big and beefy, thick-shouldered and muscular. He was flat out running by the time Mindy spotted him and started screaming his name.
"Jax, help me! Jax!" Kicking and biting, she fought like a wild thing, but she was no match for the men. As they hauled her toward the open van doors, Jax grabbed the tall man and pulled him off her, pounded a fist into his face and slammed another into his stomach, doubling him over. A hard right sent the guy careening backward, hitting the ground on his back and sliding across the asphalt.
The second man, Mr. Average, stepped in and swung a punch Jax ducked. He shot out a kick, knocking the assailant into the side of the van, then heard the sound of a switchblade snapping open behind him.
"Jax, watch out!"
Whirling toward the threat, he dodged the flashing blade and shoved Mindy toward safety, then went back in for the kill. Rage burned through his usual calm. She worked with him, as far as he was concerned, was under his protection. More than that, she was kind and sweet and he cared about her far more than he should. Jax wanted to end the bastards who were trying to hurt her.
"Run!" he shouted. "Go back to the office and lock the door! Call 9-1-1!" The knife flashed. Jax dodged the sweep of gleaming silver wielded by a big, thick-fingered, extremely capable hand, jumped back from out of the way of another slashing attack as he and the big man crouched and circled each other. From the corner of his eye, he saw the tall, thin man back on his feet and rushing toward him.
Jax looked up to see Mindy swinging her purse like a ball and chain, smashing the bag into the side of the tall man's head, sending him staggering, grunting as he landed on his hands and knees.
"Bitch! he screamed, shaking his head to clear it, providing the distraction Jax needed. He kicked the knife out of the beefy man's hand and threw a punch that sent him reeling. Mr. Average had already climbed into the van and shoved the vehicle into gear.
"Come on!" the man shouted through the open passenger window. "Let's go!"
The tall man turned and ran, leaping through the open van doors, and the big, muscular man shot in behind him. Tires burned and smoke rolled up from the wheels as the vehicle screeched away.
About the Author: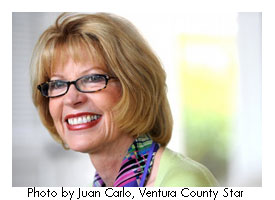 Bestselling author Kat Martin, a graduate of the University of California at Santa Barbara, currently resides in Missoula, Montana with Western-author husband, L. J. Martin. More than seventeen million copies of Kat's books are in print, and she has been published in twenty foreign countries. Fifteen of her recent novels have taken top-ten spots on the New York Times Bestseller List, and her novel, BEYOND REASON, was recently optioned for a feature film. Kat's last hardcover, THE DECEPTION, a Romantic Thriller,was released on September 10th.
Website | Twitter | Facebook | Goodreads | Instagram
Buy the book at Amazon, Barnes and Noble, Kobo, Google, or iBooks.