Long and Short Reviews welcomes L.A. Day who is celebrating the recent release of Spade's Choice, the first book in the Inclusion MC series. Enter the rafflecopter for the chance to win a $50.00 First for Romance Gift Card! Competition hosted by Totally Entwined Group.
He turned his back on his brothers for the man he loved.

Spade is a bisexual biker struggling with his sexual identity when he meets Cyrus, his new neighbor. An instant attraction is formed and he wastes little time in getting to know Cy. Spade has never had a relationship he couldn't easily walk away from but this time might be different. As his feelings deepen, he must choose between Cyrus and his club.

Cyrus is intimidated and intrigued by the big biker next door. Cyrus has never explored his sexual feelings for a man until he meets Spade. When Spade makes advances, he willingly surrenders to him. He wants to experience everything with Spade because he knows the dominant biker will soon tire of him.

Spade quickly realizes he must give up the club even if it means losing his best friend, Snake, because he can't part from Cyrus. When Snake discovers his secret, they almost come to blows, but Cyrus helps to negotiate peace between the two friends.

Spade's choice means giving up the biker lifestyle he loves but it could be the beginning of something even better.
Enjoy an Excerpt
The midday sun blasted Spade's back as he cranked the nut on the rear axle of his motorcycle. He'd returned home from a long run over the weekend and noticed the sprocket teeth were worn. He would have preferred to have done this in the garage at the club but he was avoiding the drama. A couple of the members' ol' ladies were in a snit about a new club chick hitting on their men. So he was steering clear of the club until that shit got shut down. If it were his ol' lady, he'd have laid some leather to her ass. Maybe that's why I'm single. He chuckled to himself then cursed when the wrench slipped and he busted his knuckles.
A slamming door drew his attention and he stood to see a guy on the back porch of the adjacent house. He shared a double-wide driveway with the other home. He'd seen the car in the driveway late last night when he'd finally ridden in. At the time, he'd been too tired to give it a thought. The house had sat empty for a few months. Recently he'd heard it had sold to a single guy. He was glad there wouldn't be children running around. He didn't dislike kids, however he didn't want to deal with parents complaining about the sound of his bike or the way he looked. The guy jogged down the steps into his backyard and out of view behind his privacy fence. From what Spade had seen, he was a couple years younger than his own thirty. Crouching down, he went back to tightening the nuts, making sure they were snug and even.
An hour later, his bike roared to life as he took it for a test drive. He had other things to get done today so he rode a few blocks, grabbed some beer and returned. He bent to examine his work. Finding everything in order, he patted his leather seat and stood to find his new neighbor standing on the drive. He blinked, startled by his unheard approach.
"Sup?" Spade gave a nod to the younger guy, who eyed him anxiously. The deer in the headlights look wasn't a surprise. He'd been told he was intimidating as f***. The motorcycle and cut alone caused trepidation but he stood six-foot-three with a substantial build and more ink showing than skin.
"Hello," the man finally answered with a slight nod.
"Name's Spade," he said. He took a couple steps and stretched out his hand.
"Cyrus," he replied. A smooth, soft hand gripped Spade's firmly.
"Live alone?" Spade asked.
Cyrus glanced around nervously before answering, "Yeah."
"Me too." Spade couldn't help smirking at the other man's unease. "Beer is getting warm so I better head in." Glancing over his shoulder as he headed for his door, Spade was rewarded with a glimpse of a nice ass in a tight pair of pants. Spade chuckled. Cyrus really would be nervous if he knew what he was thinking about that ass.
At the door, Spade cocked his head as something on the corner of Cyrus' bumper caught his eye. He made a quick detour across the driveway to investigate. A gay pride rainbow sticker curled just around the edge. "Sweet." Spade whistled as he headed back to the door. Soon, he would give Cyrus the ride of his life.
About the Author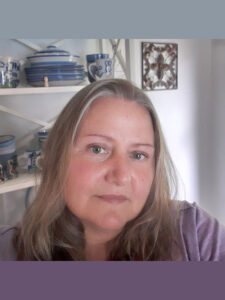 L.A. Day is a multi-published author of erotic romances. Her heroes might be bikers, shifters, vampires, aliens, time-travelers, barbarians, billionaires, or CEO's but they are always strong, assertive men! Her heroines might be tough or submissive but they are always sassy, funny, and sarcastic. In real life, Laura is a wife, mother, and dog lover. She loves to collect pottery and you can often find her at antique and resale shops. Her friends are often SHOCKED that their seemingly sweet friend writes dirty books.
Website | Instagram | Goodreads | First for Romance Author Page
Buy the book at your favorite online venue or First for Romance.