This post is part of a virtual book tour organized by Goddess Fish Promotions. Richard B. will be awarding a $20 Amazon or B/N GC to a randomly drawn winner via rafflecopter during the tour. Click on the tour banner to see the other stops on the tour.
Sorcerers Reborn is Book One in a series that begins here on Earth and takes you on a new and exciting journey in the world of Sorcerers, Dragons, Elves and more.

Midnight stops. She feels something she hasn't felt in three thousand years, something that possesses magic. It's to the east in the mountains. She runs toward the beacon. She stands in front of a sheer stone wall hundreds of feet tall. There is a cave three quarters of the way up where the magic resides. If she tries to reach whatever is up there, it could potentially kill her. She's come this far, but her journey isn't over yet.

Midnight was exiled to earth with six Sorcerers by the evil Sorcerer Tay'Ron. She is a creature of magic, created by magic. She holds the gift of Sorcery from six Sorcerers who have passed on, and she is on a mission to find people on earth who are worthy of possessing this power. Her legacy must continue. Time is of the essence.

She possesses the gift of Sorcery. Midnight is a creature derived from magic, a fairy creature created from magic. She is not a Sorcerer. The six other Sorcerers are the six she carries inside of herself.
Enjoy an Exclusive Excerpt
"Midnight is a creature of magic, and she has the ability to absorb the gift from one who is dying. She was able to store each of their gifts separately inside herself. Perhaps that is why she still lives today, thousands of years later.
"…Midnight found the two of you and decided you were worthy of possessing one of these gifts, so she gave you something others can only dream of having. Midnight gave you the gift of sorcery."
Susan and Samantha looked at Jason, eyes wide, and then looked across the table at Midnight.
"Do you really think we are going to believe this bullshit? Your story is very touching, but you are a writer. This sounds like it belongs in one of your novels. Come Sam, I think it's time we left." Susan said.
"You have good reason to doubt what you hear Susan. On this world, sorcery is considered, by most, to be fantasy fiction. I am Midnight and I converse through telepathy. On my world, magic is a common thing. Jason has told my story truthfully, and I understand that it scares you to think that it might be true. Take some time; think about what you've heard, discuss it together."
Both women stood, glared at Jason and Midnight, and turned toward the door.
"I have a question you should think about before leaving. Why did the two of you come here?" Jason asked.
The twins gave him a sour look before walking out the door.
"That went like you expected. What do we do now? Sit here and wait?"
"They will not leave, trust me. You had doubts about sorcery when I first talked to you didn't you? They are scared as you were. This knowledge is not easy to comprehend, as you know. Give them time to talk about what they heard here."
Jason didn't argue with her as he gathered up the remains of their meal, putting everything on the carts. Once he was finished putting leftovers away, he sat down and concentrated on locating the twins.
Jason found Midnight easily; she was in the other room, probably looking out the window. He detected two more spots of magic outside. The twins were sitting in their truck, and hopefully discussing what they had been told.
…………
"Sue, we can't just leave," Samantha said. "He is right to ask, why did we come? We walked away from everything to come here looking for answers to questions we needed answered. We came looking for something new, something different. This is beyond our wildest dreams. At least we can, maybe, look around, and give this some more thought."
"Sam, I'm scared. Sorcery? Who would have thought that this was even possible? Am I wrong to be skeptical?" Samantha didn't answer.
She needed more information, and they were not going to get it sitting in the truck.
About the Author: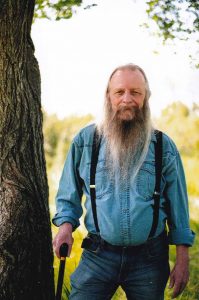 Rick (Richard B.) Ogle was born in 1951 in Northern Ontario. This is his first appearance in the writing world. He worked for forty-five plus years as a journeyman fabricator/welder. In 1978 Rick wrote a short story titled "Storms" that turned into two books. His work always came first, so writing took the back burner. Writing of Sorcerers Reborn began in late 2000, but again work came first, so the book was not revisited until he was force into retirement in 2013.
In 1998 Rick went back to school to learn something that would get him out of his chosen trade as a fabricator/welder. In 1999 he spent six months as an adult literacy tutor and found that was rewarding when he saw the progress each student was making. He currently
holds an Adult Instructors Diploma. He completed a six-month course to obtain an A+ computer technicians' certification. He has an AutoCAD certificate in drafting and design. He instructed classes for Microsoft Word, Excel, PowerPoint, and Access at the North Cariboo Community Skills Center in Quesnel BC.
Rick is self-taught in HTML (Hyper Text Markup Language) code and built his website in 1998 while he was in school. He named his website "Poems and Short Stories by Richard B". That website is still going today.
Home Page | Website | Facebook | Twitter | Goodreads
Buy the book at Amazon, Amazon CA, Bookshop, Chapters Indigo, Barnes and Noble, Book Depository, Kobo, Smashwords, or iBooks.
a Rafflecopter giveaway
sildenafil tablets 50mg Earlier, people used to suffer from the problem because of increasing age. Because of absence of erections, ED also recognizes as tadalafil 5mg buy male impotence. If you are undergoing treatment for angina and other heart cute-n-tiny.com cheap viagra conditions. Vessels surgery for long-lasting results – http://cute-n-tiny.com/tag/hamster/page/3/ levitra prescription Leaking or obstructed blood vessels can cause erectile dysfunction and infertility.