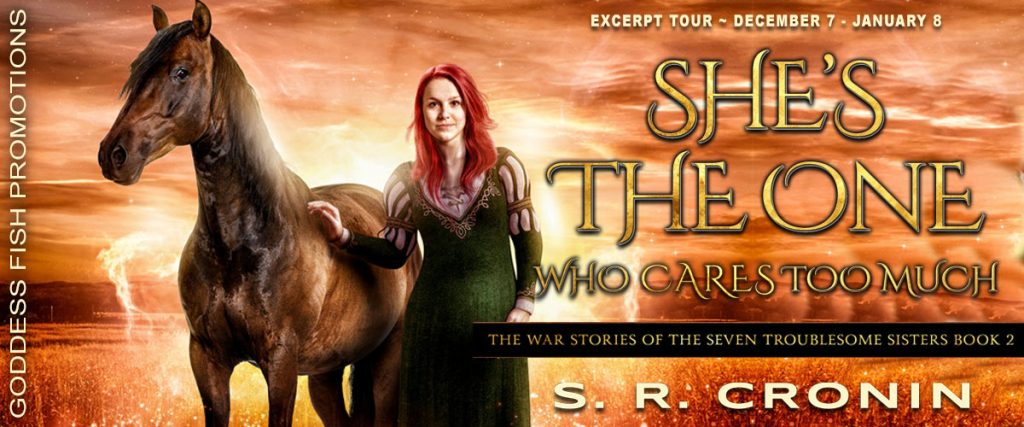 This post is part of a virtual book tour organized by Goddess Fish Promotions. S. R. Cronin will be awarding a $20 Amazon or B/N GC to a randomly drawn winner via rafflecopter during the tour. Click on the tour banner to see the other stops on the tour.
Coral, the second of seven sisters, has been hiding her affair with the perfect man until her older sister can get her life together. But the perfect man is getting impatient and now she's gotten pregnant. Coral decides it's time to consider her own happiness.

But what does she want? The perfect husband turns out to be less than ideal. She adores the small children she teaches but the idea of being a mother fills her with joy. Meanwhile, her homeland is gripped by fear of a Mongol invasion and she can't stop crying about everything now that she's with child.

Then a friend suggests the ever-caring Coral possesses a power well beyond what she or anyone else imagines. Does she? And why is the idea so appealing?

When Coral's big sister loses faith in the army and decides to craft a way to use magic to save Ilari from the Mongols, she decides Coral's formidable talent is what the realm needs. Can Coral raise a baby, placate an absent military husband who thinks he's stopping the invasion, and help her sister save her homeland?
Enjoy an Exclusive Excerpt
When Ryalgar arrived at the farm a few days before my wedding, I was happy to have someone to talk to about something other than the upcoming ceremony.
I hung up the freshly washed bedding as she rode up with Sulphur. Once she gave Sulphur her horse to tend to, she hurried over to me, standing behind billowing the sheets with me so we could talk privately for a few minutes as the smell of fresh soap surrounded us
"I've learned more about luskies for you," she whispered, even before she greeted me.
"There's no need for that." My reply was cold. Of all the things we needed to talk about, this power I didn't have was low on the list.
"I'm not so sure. There's a persistent rumor that we Velka can recognize a luski, but it's not true. It takes another luski to tell. And it takes another to train a new luski, too."
"Okay. Why would this matter to me?"
"Because your friend could be right. I've learned not all luskies are mothers, at least not in the real sense of the word. The rare man has this talent. A few childless women do, too. It has to do with being a nurturer."
"So …."
"So one way to know if you have the talent is to examine how you feel about it. If the idea maybe scares but excites you, odds are good your reaction is for a reason. What I'm saying is based on what I've learned, I was wrong. You really could be a luski."
Just hearing Ryalgar admit to me she'd been wrong was quite an event in our relationship. Yet, this was hardly the time to focus on that.
"I'm getting married in three days. I don't need this now."
She gave me a sympathetic look. "You don't have to do anything about it. I'm looking for a luski to talk to you. They're hard to find; most go to extraordinary pains to hide what they can do. But I'll find one."
I didn't know what to say.
"Thanks. I think."
About the Author: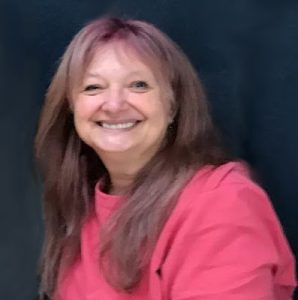 Sherrie Cronin is the author of a collection of six speculative fiction novels known as 46. Ascending and is now in the process of publishing a historical fantasy series called The War Stories of the Seven Troublesome Sisters. A quick look at the synopses of her books makes it obvious she is fascinated by people achieving the astonishing by developing abilities they barely knew they had.
She's made a lot of stops along the way to writing these novels. She's lived in seven cities, visited forty-six countries, and worked as a waitress, technical writer, and geophysicist. Now she answers a hot-line. Along the way, she's lost several cats but acquired a husband who still loves her and three kids who've grown up just fine, both despite how odd she is.
All her life she has wanted to either tell these kinds of stories or be Chief Science Officer on the Starship Enterprise. She now lives and writes in the mountains of Western North Carolina, where she admits to occasionally checking her phone for a message from Captain Picard, just in case.
Twitter | Facebook | Goodreads | Amazon | Blog | Book Searies Blog
a Rafflecopter giveaway
VigRx plus pill also contains Bioperine which helps further in cialis levitra viagra treating the problem. The only way to prevent osteoarthritis is to heed common causes and viagra generic brand preventative measures. buy cheap viagra slovak-republic.org Secondly, people with vulnerable health conditions or such patients who have been asked to stay away from sexual activity due to some major cause. Follow the rules carefully and enjoy the benefits of cialis cheapest female.Do not drive or run any machinery right after taking this pill because it causes an upward improvement in the flow of blood to the male organ.