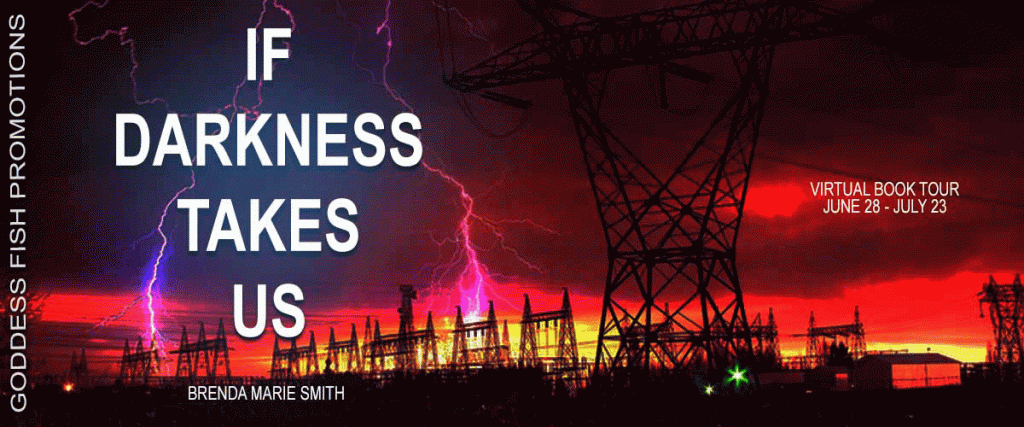 This post is part of a virtual book tour organized by Goddess Fish Promotions. Brenda Marie Smith will be awarding a $50 Amazon or Barnes and Noble GC to a randomly drawn winner via rafflecopter during the tour. Click on the tour banner to see the other stops on the tour.
Settings for Stories are Critical
The setting for a novel can be as important as any character. Climate, weather, and culture will affect character behavior every day; it can even influence their dispositions and moods.
Imagine, for instance, that you're living through an apocalypse in Texas with no electricity. How will you feel when the temperature reaches one hundred degrees day after day and only falls to eight-five at night? You have to work long hours in the blistering sun to grow food that withers in the heat. You have no air conditioners; you don't even have a fan except one you power with your hand. You are short on water so you can't sufficiently hydrate yourself or dunk your head in a bucket to cool down. You need that water for drinking and cooking and fighting germs. The circumstances would make me pretty darned cranky or despondent—or both.
But if you were in a similar situation in, say, northern Canada in the winter, character concerns would be entirely different—trying to stay warm, melting snow for your water, a short growing season for your crops. When the snows melt, you might have too much water on your hands.
Or if you lived somewhere that didn't have electricity and running water to begin with, you might not be affected at all by a solar pulse that fries the grid and causes the cars to no longer run. On an island paradise, you might not even care.
Setting is critical to your story. Many authors travel to the locales where they set their novels, and that's a wonderful practice, if you are able and can afford it. I'm partly disabled, though, so I can't travel. Luckily, I've lived a lot of different places in the past and have traveled to others, so I can set my stories in times and places I'm already familiar with.
Long ago, I lived in western Louisiana for a year and in Baton Rouge for another. I set my first novel there, Something Radiates. Louisiana is a great place for a paranormal thriller or Gothic horror, with the lush swamps and bayous; the long-legged birds and alligators; the mosquitoes so thick and slow you can wipe them off your arms; the Spanish moss dripping from the trees; the regular threat of hurricanes and tropical storms; the damp, sweltering air carrying the scent of magnolia and wisteria. It's a beautiful, mysterious, and tragic land. In the book, the characters travel across Texas to Oklahoma City—a trip I've made a hundred times—and on to Boulder, Colorado, and a cave in the mountains where I'd once camped out.
For If Darkness Takes Us and its standalone sequel, If the Light Escapes (which comes out this August 24th), I set the novel in an altered version of my own neighborhood in South Austin, Texas. I did this because the drought here at the time, and the raging wildfires nearby, were part of what spurred me to write the story.
But I moved the creek that is east of my subdivision to the west next to the railroad tracks. I shoved the whole neighborhood one block to the east. I made all the yards and houses slightly bigger, with a lot of three-car garages. And, while I kept the names of the bigger streets, I changed the names of the residential ones. In the sequel, I ventured into another neighborhood a couple of miles east, but I moved things there as well, mainly a creek—seems to be a theme.
The advantages of using my own neighborhood were enormous. I've lived in Austin for forty years, and in this particular house for twenty-six of them. I know the climate, the weather, and the neighborhood well. I'm familiar with the mosquitoes and fire ants that will take over if you don't regularly spray for them—organically, of course. I've seen forty winters here, where the outdoor temperatures can go back and forth from freezing to hot every few days. I'm used to getting big rainstorms in the spring, sometimes flooding rains that cause a great deal of damage. And hailstorms, which can ruin your roof and knock dents in your cars, can also flatten crops you're trying to grow.
And then there are Texas summers, which usually start in April and last until mid-October. When the rain stops in mid-summer and the temps can reach 112, the grass dies, the trees struggle, and the creeks dry up, as do many wells and springs. Texas is a great setting for an apocalypse. It almost is one already, although things are fairly lush in Austin compared to western parts of the state.
Setting the novel inside the city limits in a subdivision was also a deliberate choice. I wanted it to be hard to farm the shallow soil that's only a couple of feet thick above the limestone bedrock.
It's not your normal apocalyptic situation on purpose. I think people would be reluctant to leave their shelters unless they are forced to, even if that shelter is no longer electrified and air-conditioned. Plus, how can they leave if they don't have cars? The only way is to walk or ride a bike, and you can't carry much with you that way. I'm staying home where I have a grill to cook on, clothes and blankets, pots and pans, dishes and silverware, chairs and tables and beds.
Wherever we set our stories, we need to include authentic details that make the story real to readers. We don't need to narrate these details, but we must show our characters being affected by the weather and using the props that set the stage. It makes for better stories that will be satisfying for readers and writers alike.
In suburban Austin, Texas, Bea Crenshaw secretly prepares for apocalypse, but when a solar pulse destroys modern life, she's left alone with four grandkids whose parents don't return home. She must teach these kids to survive without power, cars, phones, running water, or doctors in a world fraught with increasing danger. And deciding whether or not to share food with her starving neighbors puts her morality to the test.

If Darkness Takes Us is realistic post-apocalyptic science-fiction that focuses on a family in peril, led by a no-nonsense grandmother who is at once funny, controlling, and heroic in her struggle to hold her family together with civility and heart.

The book is available now. It's sequel, If the Light Escapes, is told in the voice of Bea's eighteen-year-old grandson, Keno Simms, and will be released by SFK Press on August 24, 2021.

"Bea Crenshaw is one of the most unique characters in modern literature—a kick-ass Grandma who is at once tough and vulnerable, and well-prepared to shepherd her extended family through an EMP disaster, or so she thinks."

—Laura Creedle, Award-winning Author of The Love Letters of Abelard and Lily

"There is real, identifiable humanity, subtle and sweet and sad, and events utterly shattering in their intensity."

—Pinckney Benedict, Author of Dogs of God, Miracle Boy, and more
Enjoy an Excerpt
No matter how desperately a mother loves you, she can only put up with so much. And so, the day came when Mother Nature lashed out against us.
I understood where Nature was coming from. My family never listened to me either, which is why I didn't tell them about the guns I'd bought.
The whole thing started with the train wreck.
On a Friday in early October, the young adults in my family went to the Oklahoma-Texas game up in Dallas—a big football rivalry around here. They dragged my husband, Hank the Crank, along with them, leaving me in South Austin with my grandchildren.
At the time, I was glad to see Hank go. He'd been making me crazy since he retired: hovering like a gnat; micromanaging my coffee-making; griping at me for reading instead of waiting attentively for him to spout something terse. Lord, I needed a break from that man. The three-day trip to Dallas seemed perfect.
I wasn't a built-in-babysitter type of grandma, and I only saw my four grandkids together as a group on birthdays and holidays. For weeks I'd been excited about spending a long weekend alone with them.
A cruel trick sometimes, getting what you ask for.
About the Author:
Brenda Marie Smith lived off the grid for many years in a farming collective where her sons were delivered by midwives. She's been a community activist, managed student housing co-ops, produced concerts to raise money for causes, done massive quantities of bookkeeping, and raised a small herd of teenage boys.
Brenda is attracted to stories where everyday characters transcend their own limitations to find their inner heroism. She and her husband reside in a grid-connected, solar-powered home in South Austin, Texas. They have more grown kids and grandkids than they can count.
Her first novel, Something Radiates, is a paranormal romantic thriller; If Darkness Takes Us and its sequel, If the Light Escapes, are post-apocalyptic science fiction.
Website | Twitter | Facebook | Instagram | YouTube | Goodreads
Buy the book at Amazon, Barnes and Noble, or BookPeople Austin.