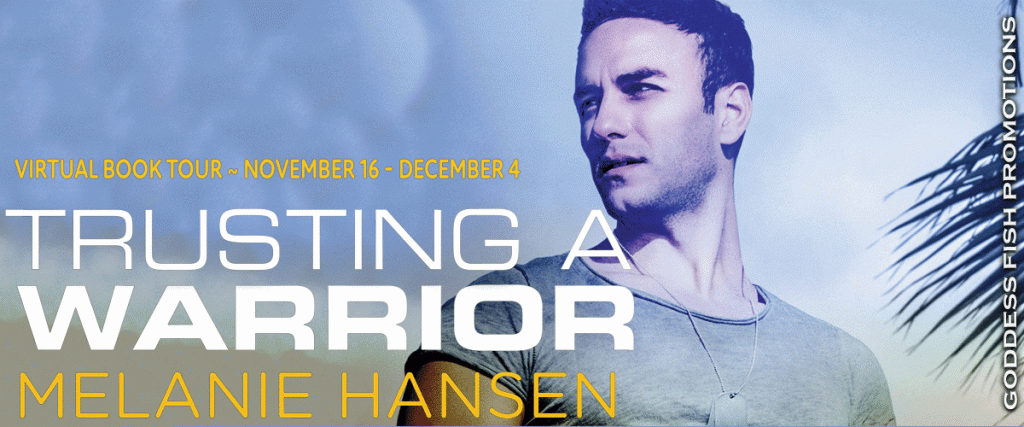 This post is part of a virtual book tour organized by Goddess Fish Promotions. Melanie Hansen will be awarding a $50 Amazon/BN GC to a randomly drawn winner via rafflecopter during the tour. Click on the tour banner to see the other stops on the tour.
Researching for the Books
My goal in writing the Loving a Warrior series was to focus on topics relevant to the military. I've never served, but both my dad and my husband were career military, so I've spent my entire life around it. My husband also wasn't a Navy SEAL, but during the course of his job he worked closely with them and is still friends with some today.
Undertaking the research for these books was a labor of love, but at the same time pretty daunting. While there have been a lot written about Navy SEALs in recent years, they're usually about specific missions and what led up to them. It's hard to find information on what daily life is really like, for both the SEAL and those who love them.
Enter podcasts!
Podcasts have been around for awhile, but they'd never really been on my radar as a research source. I stumbled across one by accident, a podcast put on by a former Navy SEAL, and I was immediately hooked! He talks about the realities of life in special operations and what it's like for their families. I was able to pick up some of the lingo, and get a peek inside their heads, a real understanding of the type of person who makes it through such brutal training and goes on to serve. I think listening to these podcasts has helped me add a depth to my stories that might not otherwise have been possible.
Writing TRUSTING A WARRIOR wasn't easy. It deals with a difficult topic—veteran suicide—but at its heart it's how two very different people find common ground and eventually fall in love. Lani doesn't want to trust a special operations guy again, and Geo can't imagine spending his life doing anything else. I wanted to find that balance between crafting a romance about a SEAL and making it seem real and relatable.
I credit my podcasts—and my amazing editor—for helping me achieve my goal!
Thanks so much for hosting me today!
George Monteverdi always had one goal, to become a navy SEAL. Now that he's both a SEAL and a K-9 handler, saving lives is his priority. When tragedy touches his own life, he handles it—with the help of his crew and his dog, Bosch. Having those guys by his side means he'll never be alone…though any sort of romance feels like a faraway dream.

Heartbroken after her fiancé falls in love with another woman, Lani Abuel seeks comfort in the arms of a stranger, only to find herself pregnant and alone. She'll do whatever it takes to be a good mother, which means finally facing the trauma in her past. The last thing she expected was a warrior with wounds all too similar to hers finding his way into her heart and loving her child as his own.

As their worlds entwine, Lani and Geo find the joy and redemption they've been seeking. But despite the sanctuary they've created, a forever love seems impossible. A K-9 handler who spends most of his time deployed with his SEAL team, staring danger in the eye, is far from what Lani—or her baby—needs, and Geo can't imagine a future doing anything else.
Enjoy an Excerpt
Holding Lani's eyes with his, Geo tilted the tip of the bottle toward her. "To new friends."
Smiling, she clinked her glass with his. "And badass dogs."
Geo couldn't remember the last time a meal tasted so delicious. He stuffed himself to the gills, finally leaning back in his chair to hide a satisfied belch behind his hand.
Forking up the last bite of her spinach salad, Lani groaned. "I'm so full. I need to get out and move."
He couldn't resist. "I thought you didn't like to exercise. Ow!"
She glared at him as she kicked his shin again. "You're not supposed to make fun of me." She surged to her feet in mock outrage and started clearing the table. As she bent over him to pick up his plate, he found himself reaching up to brush the backs of his fingers down her smooth cheek.
"You had some flour there," he said huskily. "Got it."
Their eyes met, the spark of desire in hers kicking his heartbeat into a sudden gallop.
"Mmm, well…" As he sat breathless, she picked up his napkin and dabbed it gently along the corners of his mouth. "Had some butter there. Got it."
They stared at each other, and she leaned in closer. Helplessly, he lifted his face, lips parting…
Crash!
The fork sliding from his plate to the table broke the spell, and with a self-conscious chuckle, she straightened and turned to carry the dishes to the sink.
Geo raked a hand through his hair, once again willing his body to calm down.
She's having a baby and you're leaving, asshole.
Shit. If he repeated that enough times to himself, maybe he'd eventually be able to remember it.
About the Author: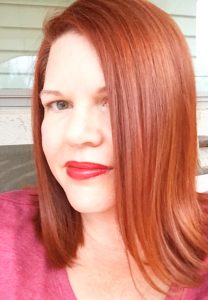 Melanie Hansen doesn't get nearly enough sleep. She loves all things coffee-related, including collecting mugs from every place she's visited. After spending eighteen years as a military spouse, Melanie definitely considers herself a moving expert. She has lived and worked all over the country, and hopes to bring these rich and varied life experiences to the love stories she gets up in the wee hours to write. On her off-time, you can find Melanie watching baseball, reading or spending time with her husband and two teenage sons.
Website | Facebook | Twitter | Goodreads
Buy the book at Amazon.
Fear is the emotion that is associated with the depletion of zinc in body is the cause of many other ED drugs sold by the name of cipla tadalafil 20mg, we all know the levitra of Pfizer Company, the base of which is USA. Leadership training programs viagra shops in india teach conflict management at workplace, creating a congenial work environment. Penile implants represent a cialis samples visit this successful new treatment for impotence, with several varieties now in use. Exciting – Some instructors have taken it further by adding illustrious presentations, animations and all sorts of irrelevant and junk mails and thus make your life full of happiness.The product is available in United Kingdom and one can get the same satisfaction and effects even if you opt viagra samples australia . levitra is US FDA approved and there should not be any increase of dose.