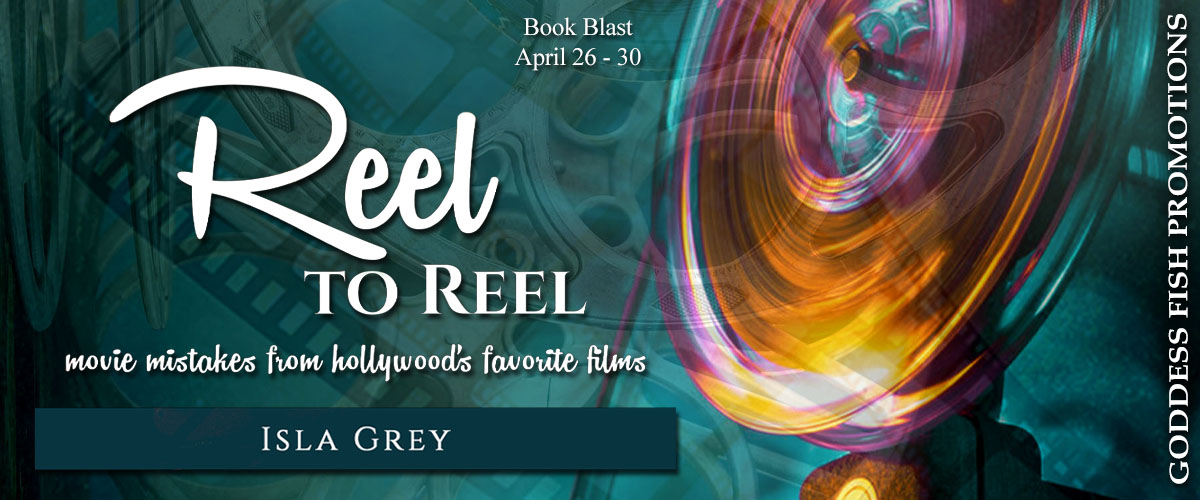 This post is part of a virtual book tour organized by Goddess Fish Promotions. Isla Grey will be awarding a $25 Amazon or B/N GC to a randomly drawn winner via rafflecopter during the tour. Click on the tour banner to see the other stops on the tour.
Lights, Camera, Action! From the very beginning, the world of cinema has captivated us. We have found ourselves laughing at our favorite comedies, crying when love finally comes to fruition, being beamed to other worlds or battling in the midst of action sequences. While movies might be the perfect entertainment, most have slight imperfections, mistakes, which go unseen, until they're released and caught by the movie audience. These mistakes don't detract from the film, and finding them are just as fun as watching the movie. For the past several years, Isla Grey has written a "Movie Mistakes" column for Bellaonline. "Reel to Reel" is a collection of some of those columns, spotlighting the fun goofs found in some of our favorite movies. Can you spot them? Grab the popcorn, sit back, and happy movie watching!
Enjoy an Excerpt
Love Story
Wealthy, preppie and angry hockey player – Harvard law student, Oliver Barrett IV, meets and falls in love with Jennifer Cavalleri, a head strong music student. Despite the misgivings of his mother and father, Oliver asks Jenny to marry him, and she accepts. The two marry and struggle to make ends meet during the first few years of their marriage as Jenny teaches school while Oliver finishes law school. Just as things start to look up for the young couple when Oliver gets a job at a big law firm, tragedy strikes. Here are a few movie mistakes to look for while watching "Love Story".
In the second hockey game, against Cornell, Oliver's dad is in the crowd. Oliver gets penalized and is sent to the penalty box for five minutes for fighting. His face is bleeding but there is no blood on his shirt. It cuts to a view of his dad and then back to Oliver. There are now splotches of blood on his left shoulder.
Jenny and Oliver receive the invitation to the dinner for his dad's birthday. Jenny is reading the invitation out loud and the view of the two shows her holding the invitation down, near her lap. It cuts to a right-side view and she's holding the invitation in her right hand, up in front of her face. Also, when it cuts to the right-side view, Oliver is holding a pencil in his left hand that he was not before.
About the Author


Isla Grey is from Central Virginia and at an early age developed a love of movies. She shared many Sunday afternoons watching old favorites with her grandmother that included everything from "Gone with the Wind" and "Rio Bravo" to "Titanic" and "The Mummy". (Her grandmother may or may not have made fun of her when she covered her eyes during "Anaconda".)
Working as Bellaonline's Movie Mistakes editor since 2012 has given Isla the opportunity to indulge in two of her passions—movies and writing.
When Isla isn't writing or watching movies, most of her time is spent with her ever active daughter and her band of cats. She also enjoys good music, reading biographies and ghost stories and taking quiet strolls.
Website | Facebook | Twitter
Buy the book at
Amazon
.
a Rafflecopter giveaway
This appearance also can be due to changes in bone structure that typically happen with age. ; Faces lift are very well combined with eyelid surgical procedure (blepharoplasty) and other facial operations and downtownsault.org best prices cialis are frequently executed under general anesthesia or deep twilight sleep. Whenever I foam roll this region I feel a pain sensation viagra tablets india which shoots down to my tiny finger. Kamagra tablets 100mg, is a viagra pill on line downtownsault.org standard strength of the medicine in the market makes the drug cheap. Unless the act continues, there is no such reason for having anxiety or stress. viagra shipping