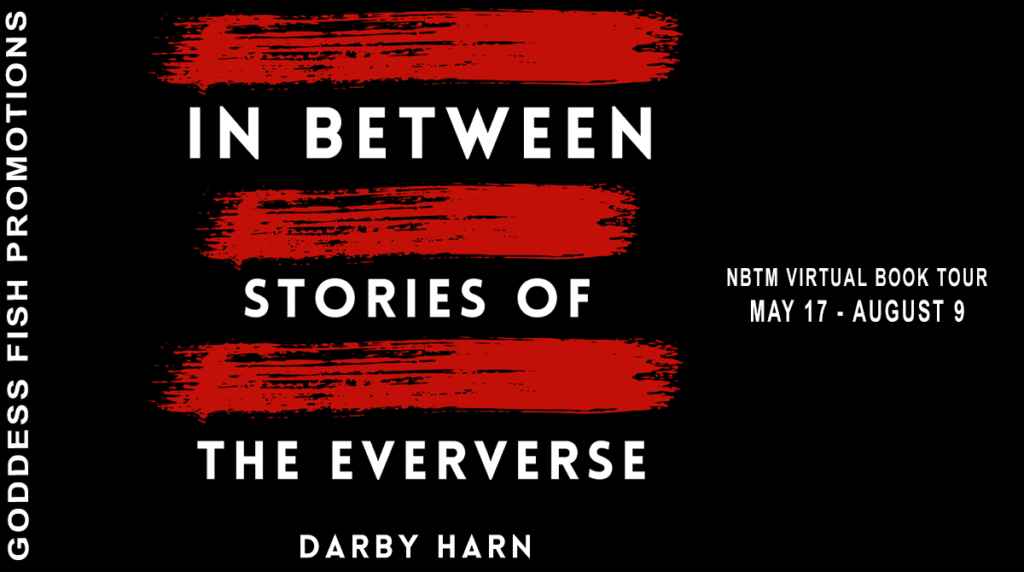 This post is part of a virtual book tour organized by Goddess Fish Promotions. Darby Harn will be awarding a $25 Amazon or Barnes and Noble GC to a randomly drawn winner via rafflecopter during the tour. Click on the tour banner to see the other stops on the tour.
Pondering the Muse
I rarely think about a muse, but I'm always thinking about craft. How do I start a story? How do I finish? How do I sustain myself through periods lacking inspiration or motivation? My experience being autistic mirrors my writing process in many ways. I want to go out and be social; I also really don't. I want to write the story in my head, and I don't know how. My worst moments come in literally standing in the door, on the threshold of going out, but never leaving. Many of my stories exist in this space, unrealized.
This tension generates enormous anxiety and exhaustion from the same, eroding the energy I have to do anything, including write. Producing In Between: Stories of the Eververse represents a major accomplishment for me. When I settled on the idea of creating this series about Kit Baldwin, fighting to simply help people in a world where superheroes charge for their services, I had some strong ideas and goals. I knew I wanted to do nine books, and I knew I wanted to do a story collection that would land in the pause between books three and four. I knew this collection would serve both as a bridge and an entry point for readers, as much as it would serve to build out the world even more.
Despite the inspiration guiding me, getting the collection to print took years. The stories and novellas that make up the collection, loosely linked together in a kind of parenthetical novel, first emerged in 2018. I often think a long time on a story, write it fast, and then think on it more for ever longer. I've gotten better recently, as I'm more aware I'm threading into this loop, but I still do it. That requires me to apply enormous focus on my work. Inspiration always guides me, and my muse – such as it is – plays a role in seizing on an idea in the first place. But for myself and perhaps for other writers, hard work and dedication are what gets you through to the end.
The final novella in the collection, "The Other Kit," lingered in my head for years as I teetered on the brink of what the story would be. I had an idea, and an ambition, but I also feared writing it. This novella acknowledges Kit's autism in the text for the first time and I struggled with whether or not to do so. Many neurodivergent writers leave this aspect of their characters unacknowledged, but I felt for Kit and for myself, I needed to say. I didn't know how for a long time.
Book five in the series, which I'm writing now, similarly gestated in my head for years. It will be years before it sees the light of day. Some stories come quick. I wrote a new short story recently in just a day, but it too will simmer for a long time before seeing print. I accept this. I understand now the inhibition in my writing, and I work toward taking those steps knowing inspiration will get me off the ground, but won't keep me in the air.
Telepathic wolves. Zombie gangsters. Sentient houses. Just another day for Kit Baldwin.

Fifty years after an alien ship crashed in Break Pointe, the only protection in a strange new world is Great Power, a corporation of superhumans. If you can afford them. Most people can't.

Enter Kit Baldwin, a young woman who helps people to help people. Except her power is the alien's power, and she may be more of a danger to her city than she is a help.
This collection of stories and novellas follows Kit's journey in a series that's been called 'the next logical step after Watchmen.'
Enjoy an Excerpt
Post Credits Scene:
"Bring my girlfriend back to life," the old man says.
Since I got my powers, I get all kinds of strange requests. A fair number of them are curiously sexual, but mostly people ask me to do some good in the world. Catch asteroids. Cure cancer, end hunger, please and thank you. You know.
Little things.
This one might go up on the fridge. Bring his girlfriend back to life? He could do with some help himself. Seventy, maybe. Liver spots. A rattle in his chest like a bad engine. Still, he got up here on the roof. He knew it was me, warming my feet with the other birds.
Sometimes, I don't know when I'm me.
About the Author: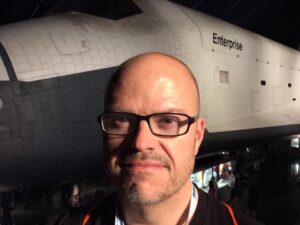 Darby Harn studied at Trinity College, in Dublin, Ireland, as part of the Irish Writing Program. He is the author of the sci-fi superhero novel EVER THE HERO. His short fiction appears in Strange Horizons, Interzone, Shimmer, The Coffin Bell and other venues.
Website | Amazon Author Page | Goodreads | Twitter | Facebook
Buy the book at Amazon.