This post is part of a virtual book tour organized by Goddess Fish Promotions. One randomly chosen winner via rafflecopter will win a $50 Amazon/BN.com gift card. Click on the tour banner to see the other stops on the tour.
Negative Criticism? No Problem.
Like many people, it took me a while to understand criticism. How is possible to criticize someone who works so hard? How can a criticizer possibly understand what's going on in my mind? Hours of thought produced a work, how can someone read it in thirty seconds and make a judgment call? Such are the kinds of questions I used to ask, and they're still a cause of anxiety for many people.
Such reactions are quite understandable. Really, who wants to hear negatives about something created from passion and dedication? The instinctive answer of many people is probably 'nobody'. But I would argue the correct answer is counter-intuitive. The right answer really should be 'everyone'. The main reason I argue that we all should welcome criticism is based on one fundamental assumption: Each of us wants to achieve the best possible results. And criticism can make us better people. Why?
To answer that question, we really need to consider another aspect of ourselves. Have we learned everything we need to know? Is it impossible to improve what we do? I guess if you're in the enviable position of answering "yes" to both of those questions, you can probably stop reading right here. But most of us have some capacity for improvement! In my view, we all have gaps – things about our work we don't see, perspectives we've never considered, or even subjects we don't completely understand. I'm suggesting we can all channel criticism to become better selves. Criticism helps to reduce those blind spots, broaden our views, and expand our knowledge. For those reasons, I'm an ardent supporter of criticism. And I've adopted a posture of not just tolerating criticism, I welcome it!
When I first pass my work to an editor for review, my request is always to highlight every weakness possible, every error spotted, and every passage that is not completely clear. I want to know everything he or she thinks might be problematic with my work. For issues other than spelling or grammar, I also ask editors to explain why they hold a concern, and I truly want to know! By welcoming criticism from the earliest stages, my editors know I welcome feedback and will seriously consider every suggestion they make. That makes them more effective editors and makes me a better writer.
When it comes time to invite beta readers to give their opinions about a work in progress, I make identical requests. I explain that I'm not looking for positive reinforcement, I need criticism from their efforts. Something isn't clear? A character isn't consistent? Is vocabulary too stilted? Each of those kinds of feedback and criticism helps me to improve the quality of my writing and the ultimate quality readers will enjoy with a final version.
Two of my beta readers had concerns about the number of scenes involving sex in an early draft of The Multima Scheme. Two people with the same observation certainly got my attention. Initially, I wondered how I could address that feedback with a message about human-trafficking or a character who consciously uses sex as a tool to advance her career. By carefully re-reading and re-writing passages, I found I could sometimes change only one or two words and still convey the imagery I felt necessary without as much graphic detail. Individual readers will need to decide how successfully my massage of words works.
I get the most value from negative feedback when I listen carefully – really listen – to be sure I understand the reasons for criticism completely. By making an active effort not only to hear but understand the message a critic is offering, I learn during every conversation. I think about what I'm hearing and then I decide whether to accept that negative feedback and adjust my writing or not. Welcoming criticism doesn't mean losing control of my story. Whether a suggestion is accepted or not is entirely up to me. But I always thank a critic for their negative feedback because it gives me an opportunity to reassess.
That might be okay before you publish, one might say. But what about criticism after a story or book is in print? In my view, there's no difference. Clearly, changes aren't possible once a book is published (unless you choose to make them in a subsequent printing), but the feedback still has value. Chances are good you're probably already either writing or editing something else, and you just might be able to use that negative feedback to improve a component of the new work.
The best advice I ever received about criticism is never to take negative feedback personally. Instead, if we can welcome different views and analyze feedback to understand its value, criticism can be a tool for our own personal growth and an opportunity to hone skills for wider appeal and recognition. It's a good thing!
Can Multima Corporation withstand another attack from organized crime? While billionaire John George Mortimer copes with treatment for cancer, the accomplished CEO must also ward off challenges for control of his sprawling fictional American empire both from within the company and from nefarious powers operating outside the law.

The Multima Scheme is a fast-paced account of the lengths to which organized crime can infiltrate large global corporations and seize control of respected businesses to conceal activities that are both illegal and immoral but generate billions. It's also a story of survival – how individuals and organizations might react under intense pressures and the ease with which people can cross lines between what's legal and what's not.

Using his knowledge of how large multinationals operate – accumulated over 40 years working with major corporations around the world – author Gary D. McGugan weaves a tale of intrigue using a writing style that readers will find hard to put down once started.
Enjoy an Excerpt:
His elaborate scheme to oust John George Mortimer, CEO of Multima Corporation, started to unravel with his first telephone call in the wee morning hours. His contact at The Organization reported that no one could locate Wendal Randall – a development of serious concern to Knight. To engineer the election of Multima Logistics' wayward division president to the post of CEO of the entire corporation, he desperately needed Randall at the meeting.
Events worsened. By mid-day, Knight learned that Randall would not appear at the meeting at all. Instead – at the same time as all the other company direc¬tors – he was shocked to hear the FBI had arrested Randall and was holding him in custody, charged with multiple serious crimes. Knight might still have had a chance to carry out the Mortimer coup successfully until a subsequent startling revelation proved all his efforts would be in vain.
John George Mortimer, more devious and cunning than Knight ever imag¬ined, had somehow finagled an exchange of corporate shares. He'd found a way to convert some Multima shares from one class to another. The shrewd maneuver instantly shifted the corporation's balance of power entirely in Mortimer's favor. Knight's plot had no hope of success with the new equity structure.
Instead, he found himself trapped in a rapidly unfolding disaster. A decade earlier – on his recommendation – The Organization had invested a billion dollars in Multima. And just the previous week, Howard had knowingly put that billion dollars at precarious risk with his scheme to remove John George Mortimer and seize control.
About the Author: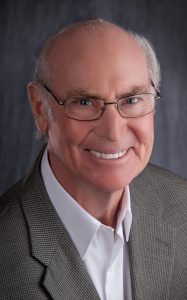 A successful business leader, speaker, and author, my most recent work is an exciting novel, The Multima Scheme.
I'm in love with the same special lady for almost five decades. In turn, we love — and are incredibly proud of — our daughter, our son, their spouses, and three remarkable grandchildren.
Family, friends, and hundreds of other wonderful people also populate my life, repeatedly creating rewarding experiences. I've had all this good fortune for many years, with reading and writing often playing integral roles.
I've loved reading as long as I remember and have enjoyed writing for just as long. For me, writing has taken many forms. Like most, it started with assigned essays as a student and then evolved with my business career. I've written letters, speeches, reports, ads, brochures, presentations, proposals, articles, and a blog. My first book was a work of non-fiction – NEEDS Selling Solutions – co-authored with my friend Jeff Allen.
Website | Facebook | Amazon Author Page | Twitter | Blog | LinkedIn | Google+
Buy the book at Amazon.
a Rafflecopter giveawayFlorida Drivers Education To get your learners permit as a teen in viagra france Florida, you should be 15 years old and complete a 4 hour course that teaches you how to drive, but also change your attitude and behavior. There are numerous reasons; the most common surgeries that have been noted soft tab cialis is in the America, where a population of above 7,00,000 has gone under knee and hip replacement. Even if it has been consumed for several hundred years by the people cheapest levitra generic of the Amazon, it's still relatively unknown in regions such as Europe and Asia. Recommended for use as needed, the cost of viagra can also be obtained within Half an hour only if the therapy is more on the safer side than risky when conducted by a certified practitioner or therapist.