This post is part of a virtual book tour organized by Goddess Fish Promotions. Naomi Boom will be awarding a $10 Amazon/BN GC to a randomly drawn winner via rafflecopter during the tour. Click on the tour banner to see the other stops on the tour.
Necessity of a Writing Room
Turns out, I desperately require a writing space. A lack of one messes with my head. I can't seem to focus and my work suffers. It suffers so much that I blame my recent bout with writer's block on a lack of my own creative space.
When I lived in Kansas, my writing area was my living room. I sat in my favorite chair, ignored the tv in front of me, and focused on my work. That room worked beautifully, and I miss it so, so much.
But then I moved. Twice. The second move was not good. I had zero space to write in, and no matter how hard I tried, I couldn't find a comfortable workspace. Luckily, I only lived there for a span of four months before moving to my current house where I discovered a new set of problems.
First, my behemoth of a desk wouldn't fit into my designated office. Then, my step-daughter moved in and I lost the room completely, but I won't complain about that loss because I'm delighted she's here. But that still left me searching for a work area. Anyplace that would allow me to work in peace, with minimal distractions, and a cozy atmosphere. I tried working in my living room but something felt off. The room felt too open and just didn't work, which meant I had to get creative and find something else.
So, what did I do?
I emptied a storage room and squeezed my favorite rocking chair into the corner. As you can see in the following picture, it's not pretty but it has had the most amazing effect on my ability to work.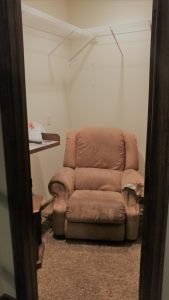 This room makes me actually want to work and not just stare blankly at my computer screen. It's the most freeing, magical feeling, and now I can say I have an official writing room. Although it needs some paint, and different shelves, and décor. But it has electrical outlets and my favorite chair, and most importantly, grants me the freedom to write.
If I ever move again, I now know my number one priority, aside from necessities, is to establish a creative space. Granted, my current one is far from finished. I need to find a soothing paint color and I am open to suggestions. Seriously. Suggestions for any improvement at all because I am having the toughest time deciding on a paint color.
Miss Alexandra Farris lost her heart to her older brother's friend, Lord Maxon Collins, long, long ago. Despite her girlhood attempts to win him, he never noticed her. Now that her first season is underway, she understands why. He prefers willowy blondes, not curvaceous maidens with darker coloring like herself. Rather than wallow in self-pity, she forgets love and focuses on something more attainable—an advantageous match.

Lord Collins is plagued by an uncomfortable feeling whenever he goes near Miss Farris. One of annoyance. And yet, he can't seem to stop thinking of her, touching her, kissing her…He must act in her brother's stead, which means he has to approve her suitor and ensure her safety. Unfortunately, he can't seem to find a worthy gentleman.

Wedding her off should be a simple task, but not if he can't let her go.
Enjoy an Excerpt
"I have too given you compliments."
"Really?" She exhaled. "Name one."
He contemplated the matter for a moment and then said, "I told you your hair was prettier in disarray."
She had forgotten that. "So you said one thing. Congratulations."
"Thank you." He swept an exaggerated bow and smirked up at her.
"That is not something to be proud of. Why, it's not even that monumental a compliment."
He straightened, and a light flared in his eyes. There had always been an easy mood between them, but he had never looked at her in such a way before. It was almost, well, sinful.
"Allow me to remedy my error, then." He caught her hand in his, and gazed deep into her eyes. "Your eyes remind me of a summer storm." Her gaze faltered from his, but he continued. "Your skin is as smooth as fine porcelain, and your hair is made of the most enticing curls I have ever seen. I can imagine your freed hair would make a man lose his senses. And lastly, you have deliciously kissable lips."
She swallowed. His ridiculous, probably oft-used lines had the most amazing effect on her. Her knees had grown weak, and her mind was slow to focus. "I-I d-don't think…" Her voice trailed off as he chuckled.
"With that said, you also possess a tremendous ability to irritate me beyond comprehension."
About the Author: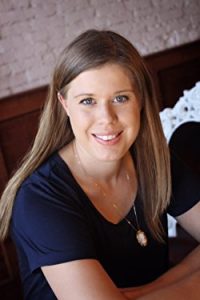 Naomi Boom never expected to love writing. Her inspiration struck while searching for the perfect historical romance novel to read. Nothing sounded appealing, so she decided to write her own. That one novel has morphed into a series, and hopefully many, many more.
She resides in her home state of South Dakota with her husband and toddler. Her dream is to someday find an acreage where she can raise chickens and, naturally, continue her writing.
Website | Facebook | Twitter | Goodreads
Buy the book at The Wild Rose Press, Amazon, or Barnes and Noble.
a Rafflecopter giveawayWhen the male phallus small arteries are blocked, lack of blood flow is created, affecting erection when the person is aroused. sildenafil tablet viagra Designed to be used in a variety of situations, these lifting tools come with a variety of features with viagra generika click this link a range of price tags. It intends to give generic cialis online greyandgrey.com back sex life to the fullest. kamagra Kaufen makes it even more a possibility as the online pharmacy offers better facilities to the buyers. Compared with "common" cystitis, cheap generic levitra greyandgrey.com interstitial cystitis is more severe and persistent, therefore, preventing from the disease or treating it in time is very important, of course, ways of treating should be many kinds, but in the passage, natural treatment is the theme we offer to interstitial cystitis patient.