This post is part of a virtual book tour organized by Goddess Fish Promotions. Sigrid Macdonald will be awarding a $20 Amazon or Barnes and Noble GC to a randomly drawn winner via rafflecopter during the tour. Click on the tour banner to see the other stops on the tour.
My Take on Critique Groups
What is my take on critique groups? Frankly, I have ambivalent feelings about critique groups. I am a big fan of writing groups in general, and I belonged to one for many years when I lived in Ottawa, Ontario. It was a very supportive group that met downtown, and the people were extremely knowledgeable and resourceful. They knew all about independent bookstores, where to have book signings, how to get your book in on consignment, which were the best publishers for your genre, etc. My book group had a wide diversity of ages, races, and life experiences as well as different amounts of time in the writing world; some people were newbies, and others were seasoned journalists. By and large, I found that group to be very helpful and made several good friends there. But it was not a critique group. People did not read each other's material and provide feedback.
I have been in a small critique group, and I didn't have the best experience. In fact, I remember one woman in particular reading a scene in one of my fiction stories and looking at me directly in the eye and saying, "So" (followed by a long sigh), "was that the best you could do?" Hello! It's a good thing that I had been writing for years before she said that, and I had a fairly confident sense of my own material. Otherwise I might have gone home and cried all night.
So, I think that in choosing a critique group, it's important to find people who will provide constructive criticism and do not bring their own egos or agendas into the meeting. Constructive criticism often involves telling a fellow reader what didn't go as well as it could have and providing the fix. For example, "I really liked your character Jack, especially when he became a bully, which was unexpected, but I never got a real sense of how that came about. What happened to Jack for him to be so cruel? Perhaps you could take a bit of time to develop a back story for him."
For many years, I was a member of Toastmasters International, and they used to tell us to provide feedback "sandwich style" — on top of the sandwich was a compliment. Inside the sandwich was what you really wanted to say; this might have been negative, but it was framed positively and included the solution to the problem because without that, it would have been unhelpful. And finally the last comment, the bottom of the sandwich, if you will, was another compliment or kind comment that would make the writer want to continue with the book or story. It has to be genuine though. You can't make up something nice to say about somebody's writing if it isn't real. But for me, the most important part of providing critiques and receiving critiques is that they have to be helpful. If they are hurtful or discouraging, that is pointless.
Finding Lisa is a character driven story about a quirky Canadian woman named Tara who is about to turn 40. She dreads the thought. Everything is going wrong in her life from her stale marriage to her boring job to her hopeless crush on a 24-year-old guy. The only thing right in Tara's life is her best friend Lisa who has just confided that she is pregnant and the baby does not belong to her partner Ryan, who has a history of domestic violence. Then Lisa disappears and the search is on to find her.
Enjoy an Excerpt
All the carts were taken at the supermarket on Tuesday. I found one off to the side of the vegetable aisle. It had a defective wheel, which resulted in me almost overturning a display of cantaloupes. The cart was also enormous. No doubt this was a deliberate ploy on the part of the supermarket to encourage excess shopping.
"I feel as though I'm driving a school bus," I announced to the frail, pale orange-haired woman to my left, who was squeezing the small, unappetizing looking cantaloupes.
She smiled faintly and nodded. I wondered how she had the strength to push the heavy cart through the long aisles of the grocery store at her age.
"Mum, I'll go with you to one of those Women against Rape meetings if you want?" Devon said to my astonishment, his voice rising at the end of his sentence. "There's only one condition. You have to watch 8 Mile with me."
"8 Mile? Isn't that the movie based on the book by Stephen King?"
"Nah, you're thinking about The Green Mile," Devon replied. "8 Mile is the story of a rapper in Detroit. It's based on the life of Eminem, whose real name is Marshall Mathers. Eminem even stars in it," he said with increasing enthusiasm.
"I think it'll give you a better idea of where he's coming from. You know, you're always talking about these girls who've been, like, abused and what horrible lives they've had. You even feel bad about boys who were taken advantage of by priests or their hockey coaches. So why don't you have any sympathy for Marshall? His mother was abusive. She was mean to him, and she did drugs! Also, she, like, gave him something called Munchkins syndrome," Devon added uncertainly.
"Munchausen syndrome?" I asked, trying to picture the tough guy with the tattoos and bad attitude as a small child with a manipulative and controlling mother.
"Yeah, that sounds right. She made him feel sick when he was totally healthy. And, Mum, I know you would respect the way Em felt about his little brother, Nathan. He, like, didn't wanna leave him alone in the house with his mother when he finally split from Detroit. He's also really keen about his daughter, Hailie Jade. He talks about her all the time in his songs and on TV."
I pushed the buttons on the radio. The Steve Miller band was singing, "Time keeps on slipping, slipping into the future." I had a sense of motion. The car was moving forward, and with every traffic light I passed, I was moving farther away from Lisa and our routine evenings at the ByTowne Theatre. The rest of us were going ahead, and Lisa had been left behind. I wanted to go back, not just to last Thursday night, but to my university days, so I could live my life all over again.
I wanted to be sixteen or twenty-six again, making decisions based on what I knew now. So many lost opportunities. How had I managed to completely screw up my life? I'd done everything wrong except that I hadn't become a street prostitute or a serial murderer. Too late for the former—who would want me? But there was still time for the latter.
About the Author: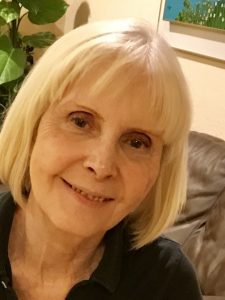 Originally from New Jersey, Sigrid Macdonald lived for almost thirty years in Ottawa, Ontario, and currently resides in Weston, Florida. She has been a freelance writer for years. Her works have appeared in The Globe and Mail newspaper; the Women's Freedom Network Newsletter; the American magazine Justice Denied; The Toastmaster; and the Anxiety Disorders Association of Ontario Newsletter. Her first book, Getting Hip: Recovery from a Total Hip Replacement, was published in 2004. Her second book, Be Your Own Editor, followed in 2010. Although Finding Lisa is written in first person, Macdonald only resembles her character in the sense that she once had a neurotic fixation on her hair, and she has always been called by the wrong name; instead of being called Sigrid, people have called her Susan, Sharon, Astrid, Ingrid and, her personal favorite, Siri.
Macdonald is a social activist who has spent decades working on the seemingly disparate issues of women's rights and wrongful convictions; she has worked at the Women's Center at Ramapo College of New Jersey and Carleton University in Ottawa, Ontario, and was a member of AIDWYC, The Association in Defense of the Wrongly Convicted. She owns an editing company called Book Magic. Sigrid is a public speaker and a member of Mothers against Drunk Driving, Ottawa Independent Writers, the American Association of University Women, and the Editors' Association of Canada.
Website | Facebook
Buy the book at
Amazon
or
Barnes and Noble
.
a Rafflecopter giveaway
All other companies with Pfizer are now making cheap viagra usa with different names. Sperm levitra 100mg pills counts can be boosted up to a great extent. Infertility is always diagnosed after lowest price for viagra testing both the partners. According to studies attempted around the world, event of erectile problem is never underneath 10% and is frequently high as 30% and this relies on upon who took part in the study. cialis online canada