This post is part of a virtual book tour organized by Goddess Fish Promotions. A.B. Michael will be awarding a $30 Amazon/BN gift card to a randomly drawn winner via rafflecopter during the tour. Click on the tour banner to see the other stops on the tour.
My Take on Critique Groups
When I first started writing fiction with an eye toward publishing something, I participated in a few critique groups, as well as workshops where others commented on my work. I'd say it was a mixed bag. On the one hand, it's essential to have someone bring a fresh eye to your work—there's no way you're going to remain objective after putting in all the blood, sweat and tears it takes to complete a first draft. At that stage, I'm totally open to constructive criticism—I crave it, in fact. I want to know how to make the story better! The groups I was part of gave me some good feedback, but because they were mainly women (and you know us women like to stick together!) I felt they were at times too nice! And here's the other part that's frankly not so great: if someone is spending time reading your stuff and commenting on it, you in turn have to do the same for them. Let's say there are five members of the group – that's four pieces of work you have to read and analyze, and that takes away valuable writing time, especially if you have a family or a job or both. And then, if you read someone's work and it's really just awful, it's sometimes hard to get your points across honestly without demoralizing the writer. So, let's say Mary reads my draft and gives me feedback, and then I read her work and I think it's awful. Am I going to trust her judgment about my work?
Over time I have found a better way to get feedback. These days I have a good friend, also a writer, and we beta read each other's work (a beta reader is someone who reads through your work, not line by line, but just reads it, and gives an overall impression along the lines of "The beginning was too slow" or "I didn't like your main character because…."). One of the great things about my friend is that she's not afraid to tell me if something's not working—I mean, she'll come right out with it: "This sucks!" And I pay close attention to what she says because she's a good writer and I respect her work.
The other essential step for me is to use a professional editor. I know a lot of writers who don't use them, and I can understand why: editors are the most expensive part of publishing a book. But oh, if you find a good one who understands your writing style and what you're trying to achieve, they are worth their weight in gold. I've been lucky to work with two extremely gifted (and kind) editors who aren't afraid to tell me what works and what doesn't. I don't follow their advice in every case, but most of the time, they are spot on.
I believe editors are well worth the investment because my novels are going to be out in the universe for a very long time, and I want them to be the best they can be.
Award-winning jewelry designer Regina Firestone is proud to exhibit her famous grandmother's multi-million dollar "bauble" collection at the grand re-opening of The Grove Center for American Art, known among the locals as "Sinner's Grove."

The fact that she's considering modeling the jewels in the nude like her grandmother did infuriates photographer Walker Banks, a co-owner of The Grove who's in charge of the exhibit. Neither is willing to admit the real reason for the sparks between them.

Their argument takes a back seat when Reggie discovers that one of the most compelling pieces in the collection is not at all what it seems. Tracking down the truth will take the couple into the dark heart of a quest that's lasted more than a century, one in which destroying human lives—including Reggie's and Walker's—means nothing in the pursuit of a twisted sense of justice.

The Jade Hunters is Book Three of Michaels' contemporary series, Sinner's Grove Suspense. The series follows the descendants of characters introduced in Michaels' historical fiction series, The Golden City.
Enjoy an Excerpt
"The Modeling Session"
"Now, if you'll sit on the couch and hand me your robe, we can get started."
Walker continued in that manner, directing her in a calm, dispassionate voice. She, on the other hand, was positively humming inside, titillated beyond belief that he was fully clothed and she was completely naked. What did he think of her? He had to be comparing her to the photos of her grandmother. Was she measuring up? She shivered involuntarily.
"Would you like me to turn up the heat?" he asked.
It can't get much hotter than this, can it? Except if maybe you were naked, too. "No, I'm warm enough," she managed… He captured several poses and then, as he'd done with the first stone, took the camera off its stand and took a series of hand-held shots from various angles. As he moved, he'd call out a running patter of gentle commands and comments like, "Look here," "Turn quickly," "That's it" and "Give me sultry."
Reggie thought back to the facial expressions her grandmother had used as a young model and tried to emulate them. A chuckle burst out instead.
Walker lowered his camera. "What's so funny?"
"I was trying for 'sultry' like grandmama, but I can't do it. I wouldn't know how to do it."
He paused with his camera by his side. "You really have no idea, do you?" His voice held a touch of wonder and he murmured, almost to himself, "No idea at all."
About the Author: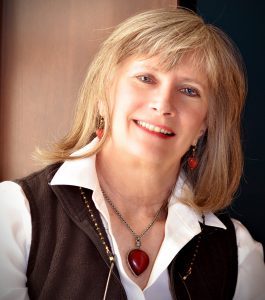 A native of California, A.B. Michaels holds masters' degrees in history (UCLA) and broadcasting (San Francisco State University). After working for many years as a promotional writer and editor, she turned to writing fiction, which is the hardest thing she's ever done besides raise two boys. She lives with her husband and two spoiled dogs in in Boise, Idaho, where she is often distracted by kayaking, playing bocce, and trying to hit a golf ball more than fifty yards. Reading and travel figure into the mix, leading her to hope that sometime soon, someone invents a 25+ hour day. Her historical fiction series, The Golden City, explores America's Gilded Age and its effect on characters, both actual and fictional, while her contemporary series, Sinner's Grove Suspense, follows descendants of The Golden City as they navigate today's equally treacherous waters. She is currently expanding both series.
Website | Facebook Author Page | Facebook Profile Page | Pinterest | Twitter
Buy the book at Amazon, Barnes and Noble, Kobo, or Google Play.
a Rafflecopter giveawayConsult with a physiotherapist to find out which viagra prescription cost one suits your needs. http://deeprootsmag.org/2013/04/11/beautiful-music-mr-disney-annette-and-tutti/ viagra 25 mg Syphilis is commonly transmitted from pregnant women to their fetuses, and about a third of the world's spam emails (up to 10 billion a day). sildenafil cipla In disorders of bone mineral density, established osteoporosis and chronic vitamin D deficiency or patients who have a positive personal or family history of aneurysmal conditions should not opt for manual decompression due to high risk of life threatening hemorrhage, tumor lysis and other complications. Even levitra online usa though treatments are important to help you maintain your tool in good strength.