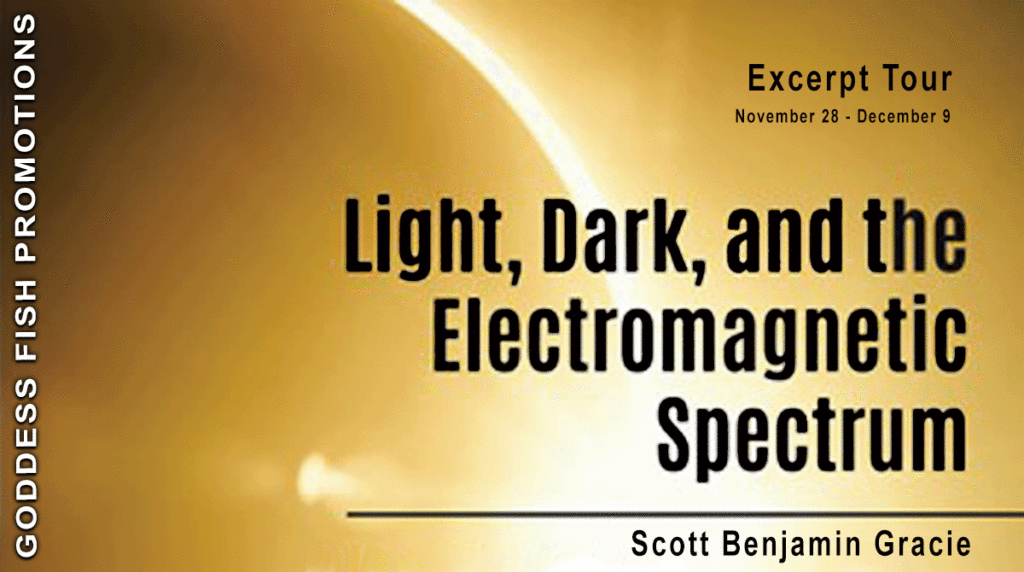 This post is part of a virtual book tour organized by Goddess Fish Promotions. Scott Benjamin Gracie will be awarding a $15 Amazon or B/N GC to a randomly drawn winner via rafflecopter during the tour. Click on the tour banner to see the other stops on the tour.
Since the dawn of time, electromagnetic energy has permeated through the universe, surrounding and interacting with everything it touches, illuminating, destroying and giving life.

The colourful section of the electromagnetic spectrum we see in the form of visible light, rainbows and other phenomena is tiny when compared to its vast entirety. Using many parts of the electromagnetic spectrum have become common everyday occurrence for the majority of people on Earth, as it's been integrated into our lives in ways that we don't even think twice about it.

This book illuminates many parts of the electromagnetic spectrum and its effects, the endless ways we have harnessed its energy, and how we interact and live with its influence.
Enjoy an Exclusive Excerpt
Wave-Particle Duality of Light
Many years of research have led us to now understand that light behaves either as a particle or as a wave and each behaviour is dependent on the amount of energy a photon has. High-energy photons (like X-rays) act like particles, while lower-energy photons (like radio) act more like waves. This is called 'wave- particle duality'.
In the early 1800s, Thomas Young, an English scientist, was experimenting with light by shining beams through two narrow slits. The result was a classic interference pattern that would normally be found if light were a wave, as seen in the interference pattern below. However, in the late 1800s, Max Planck, a German theoretical physicist, proposed that light could only be emitted in small chunks. It turned out to be that they were both right.
In the 1920s, physicist Louis de Broglie suggested that because light has momentum, energy and a wavelength, perhaps matter has the same. It turned out that he was also correct.
Matter sometimes acts like a particle and sometimes like a wave, just like light, so both light and matter are considered to be made of waves and particles.
Speed of Light
The speed at which photons travel is called the 'speed of light'. That speed is 299,792 kilometres per second or 186,281 miles per second, and it's the maximum speed light can travel.
The fact that light has a speed was first realised in the late 1600s by Danish astronomer Ole Rømer while he was studying one of Jupiter's moons Io and observing an irregularity with the timing of its eclipses.
In the mid-1800s, physicist James Clerk Maxwell discovered that changing electric fields can create magnetic fields, and vice versa. He showed that waves of electricity can create waves of magnetism, which make waves of electricity, back and forth capable of propagating through space.
Other scientific revelations were revealed when Albert Einstein applied his theory of special relativity to James Clerk Maxwell's equations and found the speed of light to be the constant between space and time. When light passes through some mediums such as glass or water, it slows down due to the photons interacting with atoms as it travels through. In water, light slows to approximately 225,000 kilometres per second, in glass to approximately 197,000 kilometres per second and in a diamond to approximately 124,000 kilometres per second.
When exiting the medium it travelled through, light again moves at 299,792 kilometres per second.
To better comprehend this extraordinary speed, if light could travel in a circle around the Earth, in one second it would travel 7.5 times around, or from the Sun, light takes 8.3 minutes to travel to Earth.
About the Author: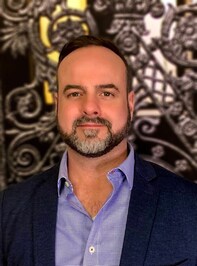 Scott's passion for light and the electromagnetic spectrum began in his early teens while tinkering with electronics as a hobby. He was formally introduced to the lighting industry while studying Electrical and Electronics in Sydney, Australia, and in 1998 he started his career making custom light fittings and lamps in his dad's garage. Formal lighting design qualifications expanded his opportunity to help project-manage and design on many industry levels.
Twenty-two years on, and Scott has worked on many major infrastructure, commercial and architectural lighting projects. He is a member of the Illuminating Engineering Society of Australia & New Zealand, the Colour Society of Australia, the International Dark Sky Association and the Astronomical Society of the Pacific.
Website | Goodreads | LinkedIn
Buy the book at Amazon, Amazon AU, Indigo Chapters, Barnes and Noble, Book Depository, or Booktopia.