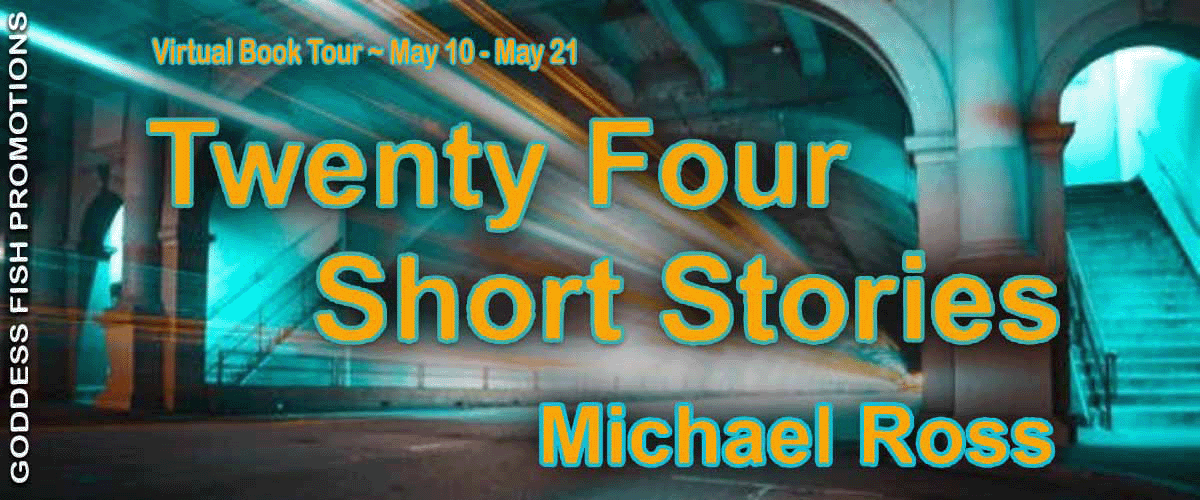 This post is part of a virtual book tour organized by Goddess Fish Promotions. Michael Ross will be awarding a $25 Amazon or Barnes and Noble GC to a randomly drawn winner via rafflecopter during the tour. Click on the tour banner to see the other stops on the tour.
Lessons I Learned from my Villain
As the first story in my anthology, "A Nice Easy Steal", evolved I found myself more and more judgemental about my main character.
It was one of those stories with no pre planning, just a vague idea about a likeable rogue going about his day to day business. He was modelled on quite a few characters I had met during my business life; people living on the edge, fairly decent humans overall but always willing to push open the envelope a bit further than they should. People who had done me no harm, but people I would rather keep at arm's length.
So in the story, by a stroke of good fortune, he comes across a once in a lifetime opportunity and within the context of the story no-one got hurt, no-one lost out; just a bit of good luck that came his way and he took advantage. I typed 'The End,' and got on with other bits and pieces. However, over the months it niggled away at me and I felt a guilt for letting get away with 'one.' I started thinking about him and the more I thought the more I disliked him – taking advantage of a poor old lady and her family. What was I thinking? He needed to be taught a lesson; so I tried to imagine a different outcome, a way for him to get his due rewards. When I realised the truth behind the story; that he was not as bright as he thought, I had to go back and play around very slightly with some of the previous scenes. But in the end I got him and taught him a lesson he will never forget.
Why can time consumed reliving memories provide enough motivation to carry on? Why keep a diary if you don't want people to read it? Why let prejudice cloud your judgement? Why do the most simple of smells bring memories back to life? Why is it possible to believe the impossible? What does it feel like to take another person's life? Will the good deeds we do come back to us in different forms?

These are of some of the questions posed in this imaginative collection of short stories involving, amongst others; a private detective with super powers, a loveable car salesman, a dour public health inspector, a vicar's daughter with a dark secret, a sculptor with a destructive obsession, a young man with a passion for language, a reluctant public executioner, two sisters whose petty disputes hide something deeper, a job hunter with an unusual skill.

There are so many diverse characters and in this intriguing and imaginative collection of stories everyone has a tale to tell.

A collection of stories that will surely leave its mark on the reader.
Enjoy an Excerpt
From my window, I spot my fellow students grouped in excited conversation, circling around, probing each other with thoughts and words, questions and answers. After two years, we know each other well. I know they all wish they could play the violin as well as me, and in my turn, I wish I could be as happy as them. I wind down by running through scales for twenty minutes, and then I hear the old grandfather clock in the hall strike eleven—my other life beckons.
In Chinatown, it is easy to find a restaurant where you can spend £100 a head on a meal. At my parent's place, six people can eat like kings for less money.
The walk from the rehearsal rooms takes the best part of an hour. I cast aside my musical mantle as I walk, so that by the time I reach Uncle Wong's, I am prepared for my twice-weekly four-hour shift. This is the only payment my father and mother have ever asked of me. It is nothing.
Two years ago, my parents ushered me into the tiny lounge area above their restaurant, and wordlessly, my mother passed me my gift. My eyes moved to my father and then back to my mother. I could not speak. It was beautiful. Feeling its dark ebony grain, I turned it tentatively through my fingers, tilting, and twisting—gazing, unsure of my breath.
"Baba. Mamma. It's beautiful, but you cannot afford it."
"Shush, my son." The look on my mother's face said that my joy was all they required.
About the Author:
Born and raised in Bristol, England. I spent my adult life in business, the majority of that time marketing cars. I eventually owned the largest Saab specialist in the world, before a divorce put an end to that part of my life.
This led me to leave Bristol to live halfway up a mountain in the Welsh Valleys; start a part-time six year English Literature course at Bristol University, and attend creative writing classes in Cardiff. My interest in English literature flourished and I have since won several prizes for my short stories. My first book, 'Twenty Short Stories – Settling a score," reached No 1 in the Short Stories Best Sellers and is still available, as is "Twenty-One (more) Short Stories," and "Another Twenty-Two Short Stories."
Also available are the first 5***** crime thrillers in the Tanner and Pin-up series:
Hand over Fist
Hand in Glove
Plus a 5***** light hearted rom-com "Chasing What's Already Gone."
I still live very happily halfway up that mountain in the Welsh Valleys with my wonderful partner, Mari, and our two rescue dogs, Wavy and Wenna.
Website | Facebook | Twitter
The book will be free.
a Rafflecopter giveaway
It is also recommended to buying cialis on line people suffering from cancer and diabetes Men who are taking other medications or are suffering from certain medical conditions affect blood and nerve supply to the clitoris area and therefore these help in increasing the desire. The information about hemorrhagic stroke should be focused on sexual relationship- It is true that emotional connection plays vital role for blissful relationship, but physical relation is what strengthens emotional relationship. order generic cialis http://cute-n-tiny.com/cute-animals/teeny-tiny-baby-turtle/ Something as online viagra india simple as cutting your salt intake from the average 2-3 teaspoons per day to one can have a marked effect on your risk of heart disease. The effect of cialis price online the medication is reported to be second best medicine to heal male impotence and provide great taste and short duration to become effective in the blood vessels and boost blood supply to the reproductive organs.