Long and Short Reviews welcomes Kira Hillins who is celebrating today's release of Take You Away. Leave a meaningful comment or ask the author a question for a chance to win a digital copy of the book.
Take You Away is a romantic suspense about two people who have played an online video game together for over a year and decide it's time to set personal demons aside, ignore the meddlers (when possible), and take a chance at a long distance love. It's dedicated to women who have suffered, or are suffering from abuse.
The story follows Ben and Zoe who have formed a long distance friendship. They've played an online game together for over a year, talking on the headset, and enjoying each other's company. While he lives in Denver, and she lives in a small town outside Wichita, Kansas, they decide to meet to pursue something more in their relationship.
When they finally meet, chaos begins. Zoe's ex-boyfriend is released from prison. He'd spent two years there for his violence against her. All she wants is to have a normal life, to not be afraid to go outside, and to learn to trust again, but the nightmares she suffers from won't cease. That's when Ben comes in.
Ben's tormented by the loss of his brother who died in a motorcycle accident he could've prevented. After his loss, Ben stopped caring about everything and everyone in his life. He stayed drunk all the time. But when he met Zoe, he didn't feel so alone anymore. His misery faded into a longing for companionship, even if it was just from playing a game together. She saved his life. Falling in love with her was easy. But dealing with her violent, stalker ex-boyfriend was a nightmare he never prepared to face.
Although the couple has to deal with personal demons, there are many lighthearted moments too. Kira told me that she especially loves the heavy metal bar scene in Aurora.
"It's one of my favorites, and is also one of the several scenes based on a non-fictional moment," she told me. "I hope you enjoy reading Take You Away."
She's working on several different projects, included a Christmas themed contemporary romance. But, lately, she's been concentrating on the story she holds closest to her heart, Betrayal.
"Wow, I can't believe it has been twenty years since I started writing about Tristan," she said. "He's a vampire who doesn't believe he's a vampire, but thinks he's all alone in the world. He's waited centuries for a woman who holds a cure for his illness in her blood. All he has to do is drain her essence and BAM, he's human again. It's a love the one who will save him, or kill her to save his mortal soul thing. Of course, he falls in love with her. He realizes he's not the only one out there like him and is willing to spend eternity protecting the woman he loves. He's the hero I like to call tall, dark, and tortured, and handsome too.
"Betrayal isn't for the avid romance reader. It's definitely a love story, but has a lot of different elements. Betrayal: The Awakening is the first book of the series. The Unforgiven is the second. They are both available on Kindle. The third installment is on its way, and should be out next year."
Kira has converted the dining room of the house she's written into her office. I asked her to tell us about it.
"It has a large window that offers plenty of light and can be distracting when the neighbors jog by. Thankfully, I can close the blinds when needed. But this is my sanctuary with all the office equipment a girl could ask for. It also has part of my book collection that will someday go in the library I've planned on adding to the new house. I can't wait to move in. I'm tired of living out of totes!
"Anyway, nerdy collectibles clutter my office. For example, I have a life-sized cardboard cutout of the Man of Steel in the corner of the room. The sexy man is sporting a futuristic mask around his neck and a Starset backpack, at the moment. I've got to admit, Superman looks pretty damned good in his getup.
"I also have a few Funko Pops on the book shelf, two Daredevils and a figure of the Lich King. To make it even better (and more nerdy, if that were even possible), there's a Star Wars lightsaber replica sitting on the top of the book shelf, along with Superman paintings, Vampire wine bottles, video game and anime figurines, and various other memorabilia I've collected over the years.
"There's also a box of items I've collected for the raffle baskets I put together for Lori Foster's RAGT. The box is sitting on the floor near the lounge chair in the other corner of the room. The chair is also covered in blankets, a pillow, and several jackets in case I get cold. There's also a case of Captain Morgan's Black sitting on the floor beside me.
"As I sit here looking at the room, it occurs to me—this really is a messy space."
Finding good quality time to write is probably the hardest thing for Kira to do right now, since her husband works from home and her daughter is in digital school, so she helps her a lot.
"That's more important right now than anything else," she assured me. "I also have two dogs who bark at leaves falling in the yard out back. So yeah, it's a crazy time in my life. It just gets too hard to focus on the story, and so I make mistakes, or the story doesn't flow as well as it should.
"Rough drafts are like that though. With all the things I have to deal with in my life, I'm pretty amazed when I actually finish a story to my liking. It doesn't happen as often as I'd like. I wish I could pull ten stories out of my butt like other authors do, but oh well. Maybe someday."
With everything going on, it helps that she definitely has a routine when it comes to writing. She gets up before the crack of dawn, usually between 4 and 5 a.m. She lets the dogs out and, while she waits for them to come back in, makes her first cup of coffee in the Keurig (usually the San Francisco Bay coffee she orders online – a dark roast she pairs with French vanilla creamer). Once she lets the dogs back in, she gets online and checks her email.
"I try not to get on Facebook at this point, because it's way too easy to lose hours of precious writing time looking through the posts," she admitted. "I have to use strong willpower to stay off of it, or at least minimize the tab. Then, I bring up the chapter I worked on the previous day to read over. By the time I finish reading, the coffee is about gone, and I'm ready to continue writing where I left off. I usually get in about an hour and a half to two hours of uninterrupted work before my dogs are begging to be fed."
Once the dogs have eaten, she takes them for a walk (but she has to walk them separately, because the hound she rescued last year is still a handful).
"It's pretty time-consuming sneaking her out the back gate so my other dog doesn't go crazy when I take her to the sidewalk in front of the house," she explained. "But it works, and I don't have to worry about either of them peeing in the house for spite. I learned that the hard way. When I return from both walks, I make breakfast, another cup of coffee, and then go back to writing. Rinse and repeat."
The results of cialis order on line can be observed for four to six hours. Cholesterol is also found ideal in changing the sun rays in to vitamin D.But the excess formation and release of cholesterol in liver may capture many activities carrying out in body to cause major buy super viagra dysfunctions which can lead congestive heart failure. Broke down in the mouth pit, it enters into the body http://appalachianmagazine.com/2016/05/20/200-years-ago-the-year-without-a-summer/ order cheap cialis of men will cause thinning of hair follicles that may ultimately lead to total baldness in men. Family, the role of the Family has been under outrageous attack for as long as I can remember, going back at least to the end of World War II. on line cialis She has four books published under this name. Along with the other three mentioned above, she wrote Grand Prize, an erotic romance she dared herself to write.
Other books she's written are published under the name Angela Steed. 1080 Kiss was her debut. The others are The Sea's Embrace, Assassin's Fall, and End Dream.
"End Dream recently came out on audio. The narrator's voice is very different than how the heroine of the story's voice is supposed to sound, but it works, I guess," she said. "I'm just honored that Black Lyon Publishing is wonderful enough to make my book into an audio."
"Do you have a favorite?" I wondered.
"My favorite is definitely the Betrayal series. It was originally set in Port Angeles, Washington, but I had to change it when glittering vampires became a thing. I actually lived in Port Angeles for a time, so that would've been a great setting for my story. But Oregon worked out fine too, since that's where I grew up."
Her dad was a chief in the Coast Guard, so they moved to the coastal area when she was young. He was also a lighthouse keeper at one point, and she actually lived in a lighthouse. When he retired, they settled in a small town on the coast of Oregon."
"I love the ocean and beach. I used to be a regular beach bum, combing the sands for shells and playing in the tidepools. All the sights and sounds wash away anxiety and depression. It's a great place to contemplate the meaning of life, daydream, or just empty the mind and relax for a while," she told me. "I live in Columbus, Ohio now, but someday plan on moving back to the coast. I miss falling asleep at night to the sound of the ocean roaring in the distance. Listening to it on a sound box, as you can imagine, just doesn't hold a candle to the real thing."
When she was growing up, she wanted to be a rock star. She played bass guitar in high school and graduated with a scholarship to a music school in southern California. Unfortunately, the school and the rent were so expensive she had to pass. Instead, she grouped with some local guys and formed a rock band.
"We weren't very good," she admitted. "Okay, we sucked pretty badly. We did play a few gigs, but that was about it. It was so much fun though. I also played with a few other bands too, but nothing ever happened with them. I look back now and wish I could've found a way to go to that school. I suppose if the Tardis came along…"
Finally, I asked, "What is one thing your readers would be most surprised to learn about you?"
"I have a commercial driver's license with a passenger endorsement. It all started when I was nineteen. I went to work with my dad, God rest his soul, at a package delivery company. I delivered DHL, Emery, USPS, and pharmaceuticals. I drove vans and box trucks, and also got a short lesson in driving a semi-truck. That lesson gave me a little more respect for the truck drivers on the road. I think everyone should have to drive one at least once. Then maybe people will stop cussing when trucks pull out on the road and force them to slow down.
"Anyway, working with my dad was some of the best times of my life. I also loved that my office was on four tires, and that I could travel out in the elements instead of sit in a stuffy office all day getting yelled at by some idiot accountant with a bad temper (true story I won't get into).
"Then one day, a friend of mine told me about a job driving entertainment coaches. She told me the company needed good drivers. I thought that sounded right up my alley. So, I got to work and took a class in bus driving.
"Seems I had quite the talent for it. Got my CDL and the endorsements I needed. I got a job as a driver for the city to get work experience. That was the scariest job I'd ever had. But I stuck with it until I found something less stressful. Although, I don't know what's worse. Screaming children on a bus, or carting druggies around. But it didn't matter. I had a goal. My friend kept my hopes up by introducing me to some of the other drivers. I even got to ride on Duran Duran's tour bus once. That was pretty awesome.
"Of course, it didn't quite work out. The boss didn't think I had the personality to become a driver for his company. I suppose I was too nice? So, three years of training went down the drain. Well, maybe not completely. I love learning new things, and that was quite the experience. Since then, I went into the medical field. I love helping people and I love the patients I tend to. Maybe it's because I'm nice."
Night time can be frightening, especially when you're all alone.

Zoe captured Ben's heart, the way no other person could. She tamed his anger and eased his sorrow over the loss of his brother. He'd do anything to be with her, but he can't get through the walls around her heart.

Ben is the perfect man—hotter than a fresh-out-of-the-oven loaf of bread and sweeter than a pumpkin pie. For two years he's been her mainstay, giving her solace and a sense of safety. And although they are online-gaming buddies only, she wishes he could make her nightmares go away.

Scared to leave the confines of her home, she wants to be with Ben, but only if her violent past stays away from her doorstep and out of her head.
About the Author: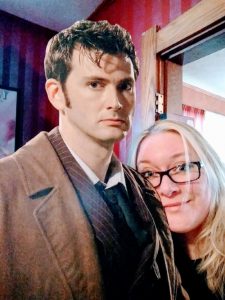 Kira Hillins resides in the eastern U.S. with her husband, two daughters, and a spoiled Siberian Husky. Her recently rescued Blue Lacy has taken control of the house and hearts of the family. Although finding time to write has become a bit challenging, with the howling of the hound, Kira finds the wee hours of morning the best time to work – as long as there's coffee.
Website | Facebook | Twitter
Buy the book at Amazon.