Long and Short Reviews welcomes Makayla Roberts who is celebrating the recent release of In a Devil Bind. Enter and get a FREE romance book from the author!
It has been one hell of a week.

With a serial killer on the loose and her carnal needs spiraling out of control, the last thing Detective Cheyenne Wilcox needs is to be deterred. As her cursed fate would have it, she gets the biggest hindrance of all when she winds up drugged with a spell that prevents her from moving more than six feet away from none other than Thorne Lucifer—an egotistical playboy whom she hates more than anything. Perhaps it was a good thing he didn't remember her from the past, because the moment they manage to find a way to break the spell, she's going to go above and beyond to erase all traces of him from her life…again.

Chey is one hot succubus, but her detached attitude is nothing but a nuisance to Thorne. Plus, having her following him everywhere presents a threat to his hard-earned reputation as Elysium's most eligible bachelor. However, he can't deny the sizzling attraction between them, or the fact that her feistiness only makes him eager to have her submit to him.

There's a fine line between lust and love, and though Chey seems determined to keep things casual until the spell is broken, for the first time in his life, Thorne is leaning more toward the latter.

Reader advisory: This book contains scenes of violence, stalking and murder. It is best read as book two in The Lucifer Brothers series.
Enjoy an Excerpt
Waking up in a stranger's bed was nothing new to Thorne Lucifer. At age eighty and some change, sex was one of the few things he had to keep from dying of boredom most days. If someone asked him to count how many lovers he'd taken in the past year alone—hell, the past month—he couldn't even give two names. They all came and went—pun intended.
On this occasion, however, he couldn't recall a day in his life when he'd awakened chained to a stranger's bed with a splitting headache and a bad case of nausea, having been stripped down to nothing more than his socks. With a grunt, he squinted his eyes open, sighing with relief when the only lights he could make out were from a handful of dim candles that had been placed on top of a wooden dresser. He didn't think his hangover would be very kind to him if he'd been encased in full illumination. A faint orange glow shone from the open door across from him—a bathroom, most likely.
He soon became aware of his other senses. Something smelled like mildew, piss and the very ass of hell. There was the sound of shuffling and scraping, though it was very light. It was distant, perhaps coming from another room.
Something cold and wet soaked one side of his head, so he turned a bit to spot a clear zipped bag filled with water, though the outside was coated in condensation.
Aw, his lover had been considerate enough to give him an ice pack for his hangover. How sweet.
With a snort, he waited until his vision cleared further before taking in his surroundings—moldy walls with chipped paint that had lost color long ago, a busted bubble-back TV, a crooked painting of a bland flower and furniture covered in stains that came from only-the-gods-knew what. Even the bed he was on was lumpy and uncomfortable, resulting in a deep ache in his lower back. A pile of sharp rocks would have been preferable.
He crinkled his nose in disgust. While he wasn't as particular about his sex partners as his uptight brothers were, he was damn sure not down with doing business in raggedy motel rooms. He was a classier dude than that. He'd screw his partner in a dark alley and send her on her way before bedding down in one of these shitholes.
What gives?
He frowned, images of the previous night coming back in bits and pieces. He'd gone to one of his favorite bars on the east side of town after leaving work. It had been a slow Saturday, so he'd wanted to go out for some drinks to pass the time. He was a big drinker, so throwing back shot after shot hadn't even given him a buzz. Instead, it'd put him in a horny mood, and he'd been scanning the crowd for the hottest woman to take home for a night of fun. If he were lucky, he would have found two of them.
It hadn't taken long before he'd spotted a petite blonde sashaying toward him. She hadn't been the only one interested, of course. Despite being a Lucifer, his devilishly handsome looks and easy smile always aided him in attracting the opposite sex. But that woman had been a nymph—his favorite. He'd sensed that right off the bat and wasted no time ordering a drink for her while they made small talk.
Everything went blurry from there. He vaguely recalled her leading him to the dance floor, grinding against his dick in tune with the music. Then they were outside and…everything went blank.
Frown deepening, he realized the wench must have slipped something into one of his drinks. He glanced down at his naked body, checking for any damage. Nothing. Not even a little nick from a needle drawing blood. He grunted, pushing himself up the musty pillows.
Well, damn. If she hadn't cut him open in his sleep, what the hell had she drugged him for? He'd already planned on screwing her brains out, so if she'd thought to use him for sex, it was pointless.
"Yo, nympho. You there?" he called, his voice rough from waking up. "You can unchain me now."
About the Author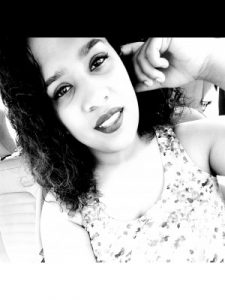 Makayla's love for reading began at the age of twelve when her mother introduced her to the world of mystical creatures. From then on, she discovered a talent for turning her own imagination into words. From fanfictions to short stories to full-length novels and novellas, if she wasn't focused on school activities, she was either reading or writing.
Raised on the coast of Mississippi, Makayla juggles her everyday life between work and being a mom. In her free time, she enjoys binge watching criminal suspense shows, shopping, painting, wood burning, and of course, working on her books.
Makayla enjoys writing stories with strong elements of romance, adventure, and paranormal. Vampires, shifters, fairies, dragons—she loves them all!
First for Romance | Goodreads
Buy the book at your favorite online venue or First for Romance.
ENTER HERE AND GET A FREE EBOOK FROM THE AUTHOR! Notice: This competition ends on 17th August 2021 at 5pm GMT. Competition hosted by Totally Entwined Group.