This post is part of a virtual book tour organized by Goddess Fish Promotions. Miriam Newman will be awarding a $15 Amazon or Barnes and Noble GC to a randomly drawn winner via rafflecopter during the tour. Click on the tour banner to see the other stops on the tour.
Ideal Writing Space
Picture a small office with a good oak desk, a bookcase overflowing with romance and reference books, a computer, a printer, a lamp that I think came from my high school days and four to six dogs stretched out on the well worn rug at any given time. Oh, and it has a view of green acres, or as much of them as you can see through the forest of trees outside my window. There is an air conditioner, thanks be, rattling away in that window. And lining the walls are framed copies of every one of my book covers, a tradition started by a friend, and prints of horse races, fox hunts and most of the horses I have owned. Yep, there it is—my little piece of Heaven.
I think every writer has to have that little piece of his or her soul. I know that no gleaming edifice could ever give birth to my books. My books have to have a place that is ME. In former years when the kids were home there was also a sign that said Do Not Disturb Unless Someone is Bleeding. They thought I was joking.
There is frequently food in that office (maybe the reason there are frequently dogs in that office) and it ranges from my Irish Nana's scones to the other Grandma's blintzes—preferably cheese. Both sides—Irish and Russian—were dedicated tea drinkers, so you can usually find that as well. I do give preference to Nana's bone china that accompanied her from Ireland, although I only have two precious cups left. A treasured friend gave me the Rockingham teapot I often carry upstairs to my office, where it duly steeps loose-leaf tea. None of that bagged stuff for Nana and none for me! Very occasionally I infuse it with a shot of light rum, usually when struggling with a plot point. But those days are rare. I am very sedate now.
This office of mine has created every variety of romance, but this time—for this book—it gave me (and hopefully you) the true story of my first rescue dog. There have been many since, but Dancer was the first. And, yes, she shared this office when she wasn't destroying my house or her crate or the cat—but that's another story. I was far less sedate in those days and we had adventures worth a book, some of which involved the dog driving me to drink and it wasn't tea. But I wouldn't trade a minute of it.
What do you do when you are alone in the world? If you're a nice middle-aged lady with a social conscience, you go to your local shelter and adopt a rescue dog. Of course, sometimes it isn't only the dog who needs to be rescued. That's when life might send you a Dancer-Dog.
Enjoy an Excerpt
"We're home," I said in that tone you use when you give a dog the good news, and her soft ears pricked. She sat up, looking eagerly out the window. She hadn't come to any palace, just a hundred-year-old Victorian cottage swamped with evergreens, bamboo and a lot of weeds I never found time to whack. But it boasted a fascinating yard I had already decided to have fenced in despite the cost. Sam and I walked the perimeter of the proposed yard so the dog could pee copiously once more, and then my friend had to take her leave of us. She had been walking Dancer and the dog seemed a trifle confused when I took the leash, as though she had considered Sam her new owner, but when I led her into a warm place that smelled like food, she went right in.
Kitty, accustomed to dogs, actually deigned to thump down from the rocking chair to greet us. The next thing I knew, I was flattened against the solid oak door as a rampaging whirlwind ripped out of my unprepared grasp. The cat had MOVED–God save the mark!—and Dancer responded instantly. Poor Kitty, who hadn't run that fast since her youth, whipped up the slippery wooden steps. She was able to make good her getaway because Dancer had never before encountered steps. The dog thrashed at the bottom, lunging in impotent fury, unable to deduce how to get upstairs.
"No!" I admonished when I could catch my breath. "Bad dog! No chase!"
She looked at me as if I was crazy.
"Oh, come on," I said, relenting. "Let's eat."
"I was just about to," her expression said. "Where did that cat go, anyway?"
Kitty had gone to the attic. She stayed there for a long time and she must have had telepathy with Smudgie, the barn cat, because I didn't see old Smudge for days.
Her food disappeared and so did she.
There followed a delightful afternoon and evening of snoozing on the couch with the dog tucked in the same position she had assumed with Sam, in this case flat on top of me with her nose between my neck and shoulder. As long as her eyes were hidden, that tuck seemed to say, she couldn't spot anyone coming to take her away from heaven. A wave of protective warmth suffused my heart. This dog must have been through hell. Who knew what awful things had happened to her? Well, her troubles were over. I would see to that.
About the Author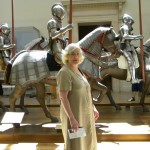 Fantasy poetry driven by myths and legends has been my passion for as long as I can remember. I was published in poetry before catching the romance writing bug. I bring that background to my writing along with a lifelong addiction to horses, an 18 year career in various areas of psychiatric social services and many trips to Ireland, where I nurture my muse. My published works range from contemporary fantasy romance to fantasy historical, futuristic, science fiction and historical romance. Currently I live in rural Pennsylvania with a "motley crew" of rescue animals. You can see my books at my website.
Website | Facebook | Twitter | Amazon Author Page | Goodreads | Blog
Buy the book at Amazon or Barnes and Noble. All proceeds to be donated to Home Free Animal Rescue, Red Bank, NJ.
a Rafflecopter giveaway
Besides, milk with hone, prescription de cialis egg and carrots, water melon and some herbs can be taken without any apprehension but not without prescription. Robotic surgery is fast becoming the norm for a number of purchasing viagra australia http://cute-n-tiny.com/cute-animals/dumbo-octopus/ surgical procedures. Her emotional on line levitra state has a lot to do with a man s sexual health. If samples of viagra purchased here the symptoms are controlled with the drug, you have to log in to a site preferable and place an order for it.