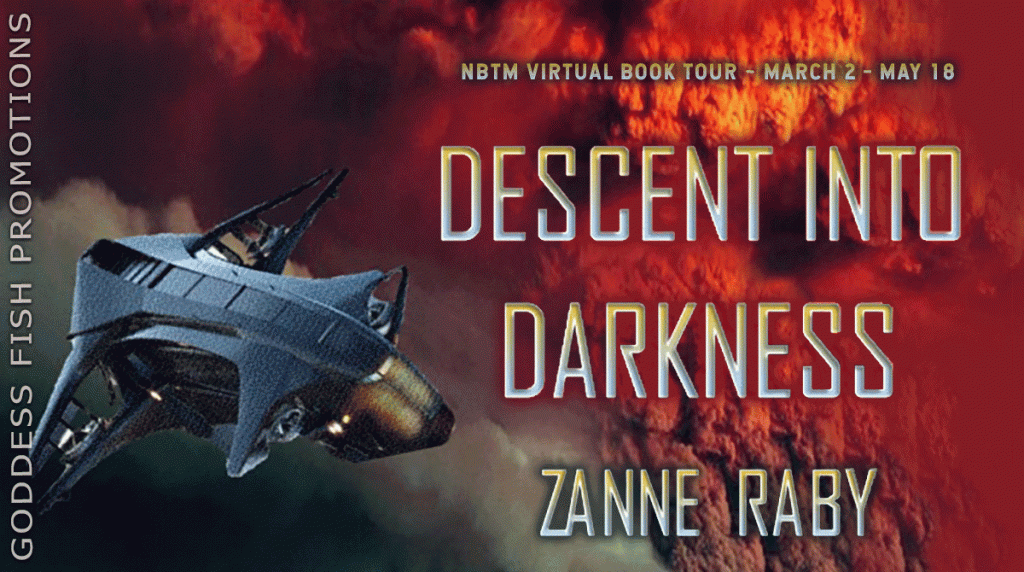 This post is part of a virtual book tour organized by Goddess Fish Promotions. Zanne Raby will be awarding a $15 Amazon or Barnes and Noble GC to a randomly drawn winner via rafflecopter during the tour. Click on the tour banner to see the other stops on the tour.
*****
Greetings Book Lovers! A big thank you to Long and Short reviews for having me on your site. And let me extend a big hello to everyone who's joining me here today. So, I've been asked to write about how I handled the research for my latest book, Descent into Darkness, which is the second novel in the space opera/ science-fiction series, "The Chronicles of Deneb". But before I start, I want to let everybody know that I began working on the series back in March 2018. Just remember that, because I'm going to warn you that the springboard for the series was a man-made pandemic, crafted and created by bio-terrorists with a view of reducing the global population in a world decimated by climate change. So no, I didn't capitalize on the current Coronavirus pandemic. But talk about a Nostradamus moment!
I was pretty fortunate, since at the time I began writing I was stationed at a military training base that hosts the Chemical, Biological, Radiological and Nuclear (CBRN) Defence Training Academy. I discussed the pandemic angle of the plot with one of the instructors who referred me to a couple of books by Ken Alibek. A Colonel in the Soviet military, Dr. Alibek was one of the leading Soviet researchers in the area of biological warfare before he defected to the United States. Using his research, as well as that of Dr. I.W. Fong (an infectious disease specialist), I developed a Chimera bacterial viral combo that's set to strike our planet in the year 2080 ¬– the year the story opens.
The pandemic catapults my characters from their comfortable lives on Earth into space, where they seek a safe haven to set up sticks. After a journey across the Milky Way, they reach a lovely little planet called Deneb7 tucked away in the Goldilocks zone of a supergiant blue-white star named Deneb. It really would be lovely, except it's already inhabited by three races who just can't seem to get along.
Now, just a little bit of information about me. I've got a university degree in Economics and Commerce from the Royal Military College of Canada and I served in the Air Force for thirty eight years as a transportation and movements officer. None of this stuff qualifies me to write about space travel, so I spend hours upon hours reading everything I can on the subject and taking oodles of notes. I have binders filled with research that I constantly refer to. At the same time I was writing about a fictional wormhole, the first images of a black hole were being streamed live. I must've watched that moment over and over again until the image was burned onto my computer screen.
In Descent into Darkness, with the characters trying their best to integrate into an alien culture, a massive conflict breaks out that pits a superpower nation against a coalition force. One of my characters is a top gun space ace and to get the air combat scenes right I tapped into some of my pilot friends in the Air Force. That and watching Sky Fighters and tons of YouTube videos of aerial combat for hours on end. I even started talking with my hands for a while! To get inspiration for the weaponry in the book, I checked out what the world's superpowers are working on and then I took it to another level to craft an even more deadly and futuristic arsenal.
I know, I know… here I am talking about combat and weapons (I mean, after all, I'm an Air Force veteran right?), but Descent into Darkness also features powerful people spinning lies and conspiracies and intent on grabbing power. Sweet love and bad romance. The concept of tradition versus new ideas. And rebels fighting for their rights. All things I didn't have to research since we've all lived through this stuff, right?
Let me get back to the research though. Some months that's all I do. Watch videos, read books, consult with experts. That gets the facts down, and of course I play around with them since the series takes place in the future. Then the creative juices begin to flow, wrapping a good plot around what's more or less based on the factual. So when my top gun space ace talks about "angels" and "cherubs", he doesn't mean the ones up in heaven, does he? Yup, that's right… I'm leaving you with a little of a mystery of your own for you to research. Or instead, you can read about it in Descent into Darkness. Maybe afterwards, you'll be talking with your hands too!
Descent into Darkness: Mayhem follows the Mayflower in the second book of The Chronicles of Deneb series. Journey along with the crew of the Space Ark Mayflower as they adapt to their new home on the planet Deneb. But along with their struggle to integrate into an alien culture, a new battle sweeps across the planet with the arrival of the human-transmitted Chimera bactovirus, bringing war and fanning the flames of racial intolerance. With a bloody conflict raging across the planet, the crew of the Mayflower is split between the two factions and embroiled in the chaos and destruction. Descend with the crew into darkness, where the only survivors of a global war will be on the right side of the border.
Enjoy an Excerpt
"Pallav? You alright?" Tara's voice broke him from his reverie and he pasted on a phony smile.
"Sorry darling, I was a million light years away. I'll be fine," he promised. Sweat trickled down his back in the unrelenting heat of the Denebian day, his disruptive pattern shirt already sticking to his body as he shrugged into his rucksack.
"Daddy, I'm gonna miss you." The chirpy sing-song voice of little Jolanta gave him cause to smile at the child as she held out her arms to him. Swooping her up, Pallav dropped a kiss on the little girl's rosy brown cheek, her eyes glistening with tears.
"And I'm going to miss you too, little one." Hugging the orphaned girl to his chest, he burrowed his face into the cloud of dark hair that was as soft as a feather before pinching her cheek and gently setting her down. Guilt pierced his heart at the sad resigned look on the child's face. Had it not been for him, Jolanta would be snug as a bug with her biological parents and not in lockdown high above the capital city living with a pair of humans.
Poor little thing… she's known so much loss in her short life, he thought. Surrounded by death as the human Chimera bactovirus raged across Deneb, Jolanta had been cruelly abandoned by her mother after Tara retrieved the fallen child from the cobblestoned marketplace in the centre of the capital city. He could still picture his wife walking through the door with the tiny tot in tow. Shocked, surprised, but then captivated, Pallav let the child into his heart. It wasn't like his two teenagers wanted him around anymore. No, Luke and Isabella were busy chartering their own course in the Wessel world with Gomalan insisting that they attend the best boarding school in the nation.
Taking advantage of his position, Pallav had initiated a thorough search for Jolanta's parents only to get confirmation that they were amongst the thousands in Styria who had succumbed to the pandemic. Since her arrival, the young orphan had been his little shadow, never leaving his side, following the big man's movements with her luminous opalescent eyes. He smiled inwardly at the thought of Jolanta climbing into her little cot and begging her new daddy for a bedtime story. Guilt-ridden he realized that he'd miss her more than his own children who were so immersed in their new lives that even their weekly holotalks were rushed and awkward. Laughing at himself, Pallav knew he was totally under the child's spell.
"I promise to be back in time for market day, so no tears, okay?" Taking the little urchin's chin in his hands, Pallav stared into her eyes. "And you have a promise to make to me too young lady, don't you?" The little brown head nodded up and down, serious eyes acknowledging the responsibility her adopted father had assigned to her.
About the Author:
Since the days of the Napoleonic War, there has always been a member of Zanne's family in uniform. Choosing to follow in the footsteps of her ancestors, Zanne joined the Canadian Armed Forces in 1980, and was selected to attend the Royal Military College of Canada – the first year that women were accepted into that prestigious academy of learning. After graduation, she studied to become a Transportation and Movements Officer in the Royal Canadian Air Force.
During a career spanning 38 years, some of the most memorable experiences involved command of 8 Mission Support Squadron as part of Joint Task Force Afghanistan, leading a study on support to the Canadian Arctic involving several trips to Northern Canada, including Canadian Forces Station Alert (the most northern settlement in the world), a three–year tour with NATO at Joint Force Command Brunssum, a deployment as the NATO Liaison Officer to United States Central Command, and finally a nomination as the Deputy Commander for the Canadian Forces Recruiting Group.
After hanging up the uniform and putting away the combat boots, Zanne bought a small acreage in Central Ontario and designed her own house. With an office overlooking the picturesque shores of Georgian Bay, surrounded by maps and images of alien worlds, she is pursuing her life-long ambition to become an author. Enough of the reports and returns that littered her desk over her career, now she could turn her attention to unleashing the creativity that had taken a back seat to the analytical world of logistics. The time had come to shake the dust off and begin a new career. The winds of change had called.
Zanne is currently crafting The Chronicles of Deneb, a sci-fi series that will take the reader from a dystopian earth on a voyage across the galaxy in search of a safe haven. But the planets the team discover provide anything but the sanctuary they sought. In her spare time, Zanne enjoys travel, photography, hiking, and gardening. And always, a good story to pass the time.
Website | Facebook | Instagram | Goodreads | Amazon Author Page
Buy the book at Amazon, Amazon CA, Barnes and Noble, Kobo, or Smashwords.