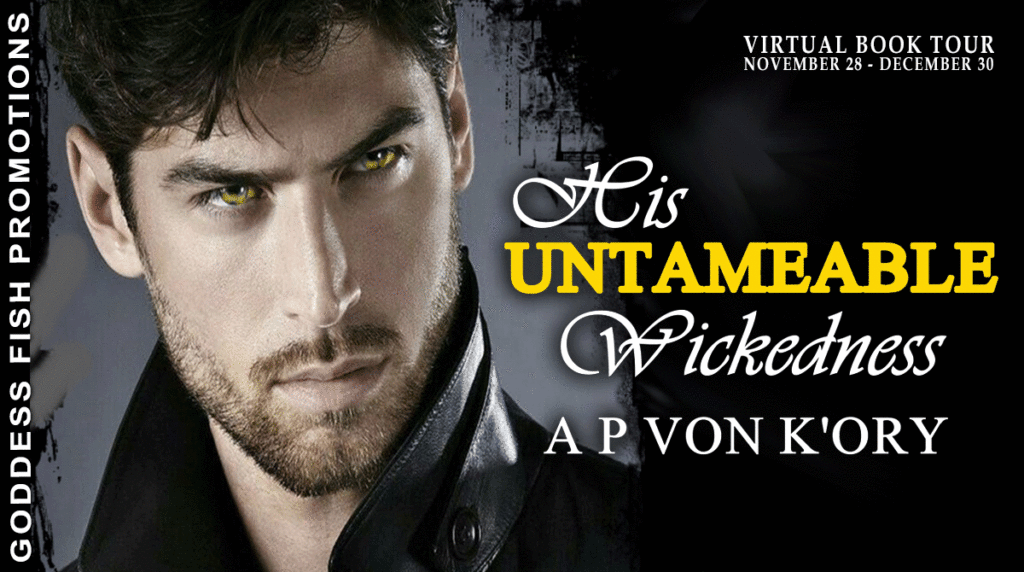 This post is part of a virtual book tour organized by Goddess Fish Promotions. A P von K'Ory will be awarding a $15 Amazon or Barnes and Noble to a randomly drawn winner via rafflecopter during the tour. Click on the tour banner to see the other stops on the tour.
Character Interview: Adrian Xerxes Cranford
I'm Dr Cedric Chamberlain, the so-called "head doctor" for the lads and lasses here at Her… I mean His Majesty's most elite 45 Royal Marines Commando of the Royal Navy. These elite warriors have served the Crown globally for more than three and a half centuries. I've had sessions with the elite fighters before, during and even after their engagements with the Royal Marines Commando.
Today's special session is with Commander Adrian Xerxes Cranford.
Commander Cranford ranks in the top tier. To get there he must have at least three exceptional medals of honour.
Dr. Chamberlain: To get straight to the nitty-gritty, what are you most proud of, Commander Cranford?
Adrian Xerxes Cranford: Now, this might sound rather curious for a man like me. You're no doubt aware of that, Dr Chamberlain. Possibly the reason you're asking this particular question. But my mother was and still remains the one person I'm proud to have known and loved. (The psychiatrist in me scribbles on the notepad, finding this answer indeed unusual. I'm curious about where this will lead.) She's the reason I became a Royal Marines Commando. I think my deep affection for her affects how I feel about and treat members of our so-called fair sex.
Dr: Indeed. Would you like us to talk about your mother, Commander?
Adrian: Beyond telling you I'm most proud of her? No.
Dr: (I nod. Perhaps indirect questions?) Can you tell me if there's anything you consider your biggest regret?
Adrian: Dr Chamberlain, with all due respect, you know my story. This is not the first time we're clashing swords here. Or should I say the first time you're picking my mind instead of clashing swords?
Dr: (And there it was again, that coiled inner tension bristling to spring free but still held in tight reigns) It's this internal tension we're trying to loosen, Commander. Do you find it hard to talk about your story, as you refer to it?
Adrian: No, not hard. Just bloody repetitive. We've been here from the very beginning. You already know what you need to know.
Dr: (I lean forward to reduce the personal space between us. The Commander remains seated with an ankle casually draped over a knee, laid back. He lost his mother at age 15 and blames his father for her death. But beyond that revelation, he refuses to talk about the matter. The key to unlocking that coiled tension.) You'll agree you can't be the judge of what I need to know. (He works hard not to roll his eyes at my words, then nods but remains silent) Okay. Right now you're in a relationship you feel you can't quite sort out. Has this to do with memories of your—
Adrian: Leave her out of this. I'm here because regulations require me to do so at regular intervals, Dr Chamberlain. Let's keep it there, shall we?
Dr: (He obviously isn't ready to admit any associations of mother-son to man-girlfriend, which in itself says it all) Does she fit the bill, if I may use that expression? I mean is she someone you can consider being with for longer? (A sigh while he rubs a hand at the back of his neck)
Adrian: With the both of us so damaged, as you know, I believe it will be a tough journey. But we've gone beyond the first hurdle, mentally and physically. She still has trust issues. But she gets her pain from me instead of cutting herself up. That's a major step forward. And yes, we're both still battling with our demons.
Dr: I'm happy for you both. I presume you no longer feel caged. (I make it a statement and he smiles)
Adrian: We're still battling. We're both complicated characters, Dr Chamberlain.
Dr: Have you opened yourselves up to each other about your relationships with your parents? (Parents played a huge part in his life, I knew.)
Adrian: I'm not discussing that with you.
Dr: (The Achilles heel for both of them. Part of the damage and the demons they're warring with) Commander, who is the most important person in your life right now, and why?
(Without hesitation…)
Adrian: My mother. Always. Because she was, is, and will be.
Dr: Does Ms Boswell remind you of your mother in any way at all? (The ankle leaves the knee and he sets his foot firmly on the floor, leaning forward, and clasping his hands between his knees)
Adrian: In strength of character and stubbornness, yes. The latter often makes me want to drape her over my knees and take a firm palm to her arse. But I love that she's a challenge. Our demons and dark pasts are still taboo to talk about. Part of our internal struggles. She still has trust issues as I just said, and I still struggle with secrecy. But our more than mere sex is an entirely new territory for both of us. It's glorious and often laced with pain. The pain I love to give her and she loves to get from me. We both love to hurt, if you get what I mean.
Dr: And that bothers you?
Adrian: Yes. I never felt like that with any woman.
Dr: Okay, so where do you think all this will lead to? Would a break hurt or heal?
Adrian: A break? We aren't anywhere near that, Dr Chamberlain. Not even close. We're at least progressing. Definitely not retreating. So, if you don't mind, let's take a break. I've had it for the day, Doc. (He slaps his palms on the top of his thighs, a couple of inches away from his kneecaps, and gets up. He offers his hand even before I rise to shake it in goodbye. We shake firmly, as usual, with me smiling, him shaking his head with a grim mien.)
LEO

A three-letter word made me a murderess at the age of eight years. But having experienced the curses of that word, I was done with men as I grew up. All men. Except to outplay them in the New York financial arena. Then Crowned Sex enthroned in gorgeous velvet charm and lustful gallantry storms into my life. Spewing volcanic lava on my monumental arctic ice block. With the unapologetic fierceness of a savage god. Wearing crackling thunderbolts straight from the god Zeus. Explosive has nothing on it.

Adrian isn't hot, he's fucking hellish. He embarks on melting my ice block at the speed of lightning. But I was done with men. I was done with sex. For ever. I. Was.

ADRIAN
I scented her darkness from the moment I was told about her. The sight of her sealed my decision. She was the woman created for my own darkness. I set off to protect her even from herself. Protect her to claim.

Fuse her darkness with my own. For. Myself. I'd fended women off me with bazookas when I was done but they weren't. I wasn't prepared for the battle I soon fought. Not only with her but also with her family. And New York's billionaire gangsters who own entourages of corrupt cops and politicians. With every battle I won, she started new darker wars around me. You ate or you were eaten. Not even starving was an option.

NOTE: Although the blurb is in the first person, the story of Leo and Adrian is written in the third person. This story contains adult material including explicit sex and violence. You've been warned.
Enjoy an Excerpt
He caught both her flying arms, used her momentum to spin her around onto her back on the couch and landed over her.
Smack bang between her legs.
Pinned her hands above her head and every f****** struggle she tried only forced her to rub against his hard body.
Furious, her thighs tensed but with nowhere to go except around his hips. He planned this. She f****** bet he planned this to the last minute detail.
"You double-faced bastard, get off me!"
"No. You put yourself here. Right here under me, Leo."
"Get the f*** off m—"
He slammed his crotch right against hers and ground in.
She screamed as some unknown force kindled her center and the sensation rushed simultaneously south to her soles and north to her scalp.
She stiffened, trembling. Then whimpered. Then—
About the Author:
P von K'Ory writes the kind of books she herself would like to read and is passionate about, whether romance, psychological thriller or nonfiction. She is the winner of six awards from four continents, the last one being the Achievers Award for Writer of the Year 2013 in the Netherlands. The Selmere Integration Prize was awarded her in 2014 for her engagement in helping African Women in the Diaspora cope with a variety of domestic and social problems. The Proposal, a short story, won the Cook Communications first prize in 2010 and is published in an American anthology Africa 2012. In 2012, she won the Karl Ziegler Prize for her commitment to bring African culture to Western society in various papers, theses, and lectures. Again in 2012, her book Bound to Tradition: The Dream was nominated for the 2012 Caine Prize by the Author-me Group, Sanford, and in 2013 she was shortlisted for the Commonwealth Writers Prize.
Von K'Ory is married to an aristocrat and politician of Franco-German descent, has a large extended family. She lectures Economics and Sociology in Austria, Germany and Switzerland. She's migratory and – weather willing – lives in Germany, France, Cyprus, and Greece.
Website | Newsletter | Facebook Readers Group | Facebook Book Page | Facebook Author Page | Twitter | Exclusive Royal Club Books | Goodreads | BookBub Author Page | Barnes and Noble Author Page
Buy the book at
Amazon
.