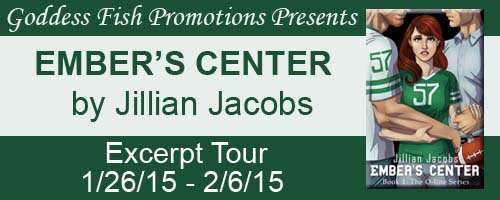 This post is part of a virtual book tour organized by
Goddess Fish Promotions
. Jillian will be awarding a $25 Amazon or B/N GC plus a signed paperback copy of Ember's Center and a Green Moose Productions fridge magnet (US ONLY) to a randomly drawn winner via rafflecopter during the tour. Click on the tour banner to see the other stops on the tour.
She spent her life fighting for middle ground, and now that she's found it, she'll fight for her life.

Ember Brooks yearns for an end to the dark chapters of her life—abusive mother, negligent father, teenage trauma, and sibling suicide. Determined to escape her traumatic past, Ember is finally headed for solid ground, gathering strength and balance with the help of her trusted counselor and friend, Xander Kane.

Still reeling from the death of her brother, Ember finds solace when Manchester Marauders center, Owen Killion goes on the offensive and barrels into her life. Both on the football field and off, Owen is sure-footed and confident. With his domineering presence and reliable nature, he alters her game-plan. But for a girl continually left on the sidelines, can she leave her heart on the line?

When Ember is the victim of increasingly dangerous incidents, and Xander changes the course of their relationship, once more her life spirals out of control.

Ember trusts Owen to guard their love, but when someone else is calling the shots, can they reach the end zone or will they fumble?
Enjoy this exclusive excerpt:
Xander stretched his neck from side to side, limbering up for the hour-long class that would teach him nothing new. Real-life dramas were the true classrooms. From the first, Ember's story drew him. Psychology textbooks scripted her life on every page. Her chapters lay titled in bold black font: abusive mother, negligent father, unhealthy lifestyle, teenage trauma, and sibling suicide.
He'd met Ember during her sophomore year of college, when she'd worked behind a fast-food counter. Teased and taunted by drunken customers about her weight…and yet, she never batted an eye. Right then, he knew she was the one.
After a few more nights of observation, he introduced himself and worked past her initial misgivings. Delving into her life story and helping her overcome her issues ranked him smarter and wiser than his peers. Ember was the perfect test subject. He watched other students waste time on recreational pursuits, but he allotted time with Ember, honing his knowledge, digging deeper into her psyche.
And now, the time spent grooming her had come to fruition. His patience and guidance would lead to their mutually beneficial future together. Carefully planned construction was necessary in the next phase of Ember's development—love.
He alone held the hammer.
About the Author: In the spring of 2013, Jillian Jacobs changed her career path and became a romance writer. After reading for years, she figured writing a romance would be quick and easy. Nope! With the guidance of the Indiana Romance Writers of America chapter, she's learned there are many "rules" to writing a proper romance. Being re-schooled has been an interesting journey, and she hopes the best trails are yet to be traveled.
Water's Threshold, the first in Jillian's Elementals series, was a finalist in Chicago-North's 2014 Fire and Ice contest in the Women's Fiction category.
Jillian is a: Tea Guzzler, Polish Pottery Hoarder, and lover of all things Moose.
The genres she writes under are: Paranormal and Contemporary with suspenseful elements.
Website | Twitter | Facebook
Buy the book at
Amazon
or
Barnes and Noble
.
RAFFLECOPTER CODE: a Rafflecopter giveaway