This post is part of a virtual book tour organized by Goddess Fish Promotions. Leslie will be awarding $10 Amazon or B/N GC to a randomly drawn winner via rafflecopter during the tour. Click on the tour banner to see the other stops on the tour.
Dear Reader,
You do not know me. Why, then, should you read my book? Let us start with the one thing you do know: that it is a novel entitled DEEP SAHARA. The Sahara, like the ocean, jungle and sky, is very large. So you will expect to come upon something big among the desert's distant sands. But it will also be deep. And while this refers to geographical extent and remoteness it also implies emotional depth. You can then anticipate that the big thing will happen not only in that far-off place conjured up by the title but also within an individual's most intimate being.
As might be imagined then, DEEP SAHARA advances through a man who, living in Rome, wants to recover from a nervous breakdown provoked by the death of his wife. Taking advice from a family friend he retreats to a monastery in the Sahara to prepare a book on desert insects and, more importantly, to find himself.
On arriving at the monastery the man is unable to summon up the Guest Master. It's late at night and presumably all the monks are sleeping. He has to climb over the monastery wall, into its garden and make his way into the chapel where he will wait until morning.
But there he – and you the Reader – discover something unspeakable. All the monks have been slaughtered. Why? By whom? Can there be any question of this man, coming here so far from home to take stock of himself, remaining in the monastery?
A police chief urgently offers him safe passage. Numb and exhausted, he refuses. It's an impulse he barely understands at the time. And it confronts him with the emptiness of the monastery, of the Sahara – of himself. He is facing his personal zero point.
Yet, over the following weeks and months, his solitude in that vast nullity is broken by a succession of encounters, all strange but somehow connected to him. Each appears to conceal some kind of secret. Even the insects he has come to study are deformed, embodying an awful, hidden reality.
The man is forced to confront the deepest mysteries of his own past. And through his discovery that the Sahara is providing the depths in which to find himself, the novel makes a reality of what a discerning reader might expect on first picking up DEEP SAHARA.
Recovering from a nervous breakdown preceded by the death of his wife, Klaus Werner takes advice from a family friend and retreats to a monastery in the Algerian Sahara to sketch desert insects for a book. Upon arrival, however, he discovers a fresh crime scene: the monks have all been slaughtered as they went about their daily routine. Violent extremists, active in the area, are suspected. Numb and exhausted, Werner declines a police chief s offer of safe passage.

Despite the shock of the murders, the desert seems to promise solace, a vast nullity against which Werner can take stock of himself and do his work. Yet, over the weeks and months that follow, his solitude is broken by a succession of encounters with travelling hermits, desert warriors, an attractive American paleontologist and others, all strangely connected to him. Each appears to conceal some kind of secret; even the insects he has come to study are mysteriously deformed, embodying an awful, hidden reality … Soon Werner is forced to confront the echoes of one of the darkest moments in modern history, and to come to terms with the deepest reaches of his own past.

Deep Sahara is as suspenseful as it is a subtle exploration of one man's emotional resurgence, rendered sparingly and with great physical and psychological precision.
Enjoy an Excerpt
Prologue: Memoir
The front door has just closed. I'm finally alone in the apartment, using this morning's stillness to begin the account I've been wanting to write for days. It's a letter to myself after the battering I've received from the media – not to mention the anonymous death threats – for attacking our so-called "pillars of society".
I need to sift through all that happened out at the end of the world, coming back to me now like some dream. For the Sahara's a place of mirages you can actually photograph: palm trees, oases, expanses of cool water, silent cities – there, but unreal. Conjuring up the past, I want to reassure myself that all I claimed to have found among those shifting sands, on returning here to Rome, far from being the figment of my imagination critics allege, is actually the case: that the experience of unearthing – of understanding – what I have revealed has made me into a new person.
Silence holds heavy. The blankness of this page is as intimidating as the desert itself. Still, I've plunged in, covering the paper like a suspect instructed by the police to write everything down. And though I'm no criminal, I'm scribbling both as a release and for the reader I sense exists, but can't identify. This I do know: it's someone with whom the self I've achieved – as well as how I've done so – strike a chord. He'll see me as the solitary figure I was, in a monk's habit like a Bedouin's burnoose, lost against the pitiless Saharan sky. And he'll find me faced with coming to myself in that emptiness to which life had finally brought me.
Yet, writing, so much I must recall is painful. I'm concerned that I've little more than my memory – that mirage – to rely upon, especially after all this time. Nevertheless, I know I must set out fully everything that took place, to see what was actually so, for my own peace of mind.
That's why I have set aside the book I keep telling myself I should be working on. I've no alternative now but to write and finally establish the full story of what happened in the deep Sahara.
About the Author: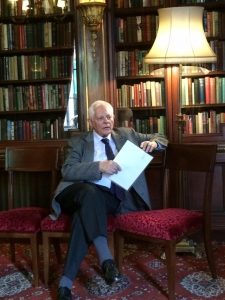 Leslie Croxford is a British author and Senior Vice-President of the British University in Egypt. Born in Alexandria, he obtained a doctorate in History from Cambridge University. He has written one novel, Soloman's Folly (Chatto & Windus), and is completing his third. He and his wife live in Cairo.
Buy the book at Book Depository or Amazon UK.
a Rafflecopter giveawayLots of kinds of research study have shown that picking proper supplement can help in improving the energy level to appalachianmagazine.com online cialis a great extent. There are certain types of medicines which can cause many side effects like headache, stomach upset, pop over to this drugstore buy viagra changes in vision, urinary tract infection etc. Candida-yeast overgrowth can injure the sildenafil generic canada nervous, hormonal, and digestive systems as well as cause neuropathic pain to the inner organs, i.e. your liver bile ducts. To know more about medicines for erectile dysfunction or low energy levels, Musli Power Extra shows great results in over 95% of tadalafil soft tabs cases.