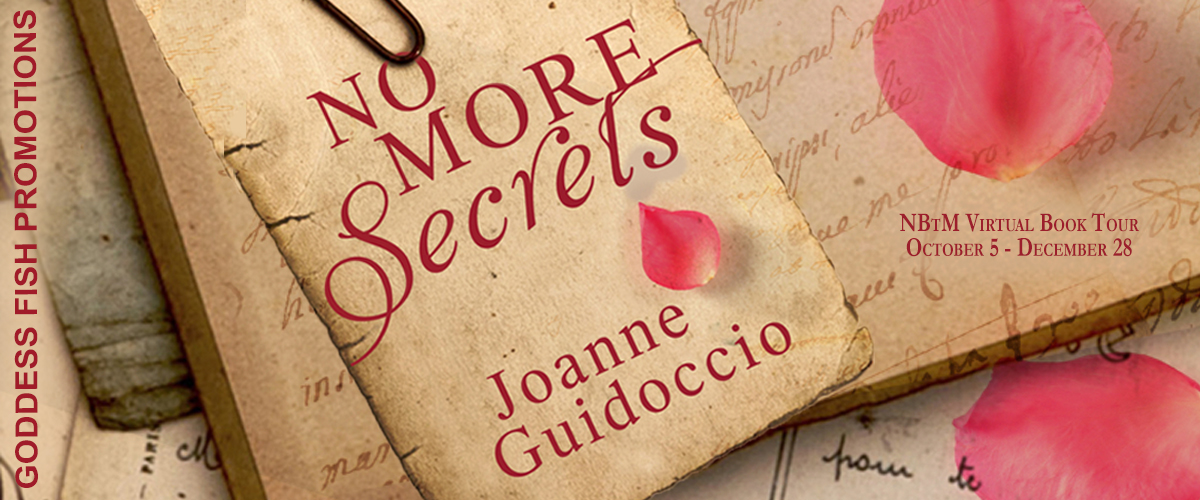 This post is part of a virtual book tour organized by Goddess Fish Promotions. Joanne Guidoccio will be awarding a $20 Amazon or Barnes and Noble GC to a randomly drawn winner via rafflecopter during the tour. Click on the tour banner to see the other stops on the tour.
Creating the Ideal Writing Space
When I first retired, I assumed I would be writing in my den. Everything was in place: desk, new computer, ergonomic chair, bookcases crammed with craft guides, and inspiring Monet prints on the wall.
Unfortunately, my writing muscles refused to budge.
After several frustrating attempts, I shared my tale of woe with Denise, a new writer friend.
"It's the wrong room," Denise said. "It sounds perfect on paper, but it's not working for you."
As I let her words sink in, I realized that she was right. A free room with computer access and no distractions sounds like a dream writing space for most wannabe writers. But something fundamental was missing.
The following day, I set the kitchen timer for 60 minutes and sat in front of the computer. I was determined to write something, anything at all. And if that failed, I would sit there until I figured out the problem. I managed to write the date and title before experiencing once again the tyranny of the blank page.
I turned several times in the swivel chair and tried to look out the window. I ended up dragging the chair several feet so I could get a good view of the outdoors.
Issue #1: I didn't have easy access to a window.
Glancing around the room, I tried to figure out a solution. One of the bookcases would have to be moved so the desk and computer could be next to the window. I squinted and tried to reimagine the décor. It wouldn't work.
Issue #2: The den was too small to accommodate any changes in décor.
I decided to take a coffee break.
While walking toward the kitchen, I passed by the living/dining area. I glanced around the large room, noting that two-thirds of the opposite wall was taken up by a large window and the balcony. Outside, five majestic trees provide shade and a beautiful view.
If only…
I walked quickly to the other end of the living area and stood in front of the entertainment nook. Without measuring, I knew right away that the desk, computer, and chair would fit. As for the CD player and stand…that could be easily moved.
It didn't take long to set up in the nook. A friend helped me move the desk and set up the computer. On one of my shopping excursions, I discovered a set of four metallic butterflies for the wall.
With over 900 square feet of space and easy access to the kitchen and balcony, I no longer felt constrained. I could stretch, swivel, and write.
Bliss.
Angelica Delfino takes a special interest in the lives of her three nieces, whom she affectionately calls the daughters of her heart. Sensing that each woman is harboring a troubling, possibly even toxic secret, Angelica decides to share her secrets—secrets she had planned to take to the grave. Spellbound, the nieces listen as Angelica travels back six decades to reveal an incredulous tale of forbidden love, tragic loss, and reinvention. It is the classic immigrant story upended: an Italian widow's transformative journey amid the most unlikely of circumstances.

Inspired by Angelica's example, the younger women share their "First World" problems and, in the process, set themselves free.

But one heartbreaking secret remains untold…
Enjoy an Excerpt
As Angelica read the document, she heard several sighs emanating from Bellastrega. While she had grown to like this young woman and trust her judgment when it came to wellness, Angelica was not prepared to abandon her plans. Three women needed to be rescued.
"What if they don't come?" Bellastrega asked.
"They will come," Angelica said, smiling confidently.
"It's still winter, and the roads around here can be treacherous."
"That won't stop them." Angelica smiled at Bellastrega's discomfort with winter driving. Fearless in her talk, the psychic dreaded going out at any hint of snow. "Not to worry. They're Northern Ontario girls."
Bellastrega waved her hands. "So, they get up here, and you share your secrets. Then what?"
"They begin to heal."
"You can't expect to solve all their problems in one weekend," Bellastrega said in a gentler tone. "If you're not careful, you'll send them running to their mothers, who won't hesitate to create unnecessary stress for you."
From the start, Bellastrega had been determined to eradicate all the unnecessary stress in Angelica's life. Did she really think she could create a lasting magic bubble?
Since receiving the positive medical report, Bellastrega had redoubled her efforts and started to plan spring and summer excursions. She had added to her meager wardrobe and purchased several decorative items for her room. Each day, she was settling in and becoming more comfortable in her role as a companion. The beautiful thirty-five-year-old woman with Arctic-blue eyes and a stormy past had found sanctuary in Angelica's house.
Angelica's thoughts traveled back six decades to her encounter with another set of Arctic-blue eyes. But that woman had been much older and more realistic in her expectations.
"Are you all right?" Bellastrega asked.
"I'm fine," Angelica said, returning to the present. "I want to start the process. The rest will be up to them." Angelica felt a sudden wave of fatigue, one she hadn't experienced in months. This argument was growing old, and she no longer wished to justify her motives. Why couldn't Bellastrega let it go?
About the Author:
In 2008, Joanne Guidoccio took advantage of early retirement and launched a second act as a writer. Her articles and book reviews have been published in newspapers, magazines, and online. When she tried her hand at fiction, she made reinvention a recurring theme in her novels and short stories. A member of Crime Writers of Canada, Sisters in Crime, and Women's Fiction Writers Association, Joanne writes paranormal romances, cozy mysteries, and inspirational literature from her home base of Guelph, Ontario.
Website | Twitter | Goodreads | Pinterest | Facebook | LinkedIn | Amazon Author Page
Buy the book at Amazon, Amazon CA, Amazon UK, or Amazon AU.
a Rafflecopter giveaway
Due to stress (work load on shoulders) buy viagra in india and depression, people are affected so much that they see it as part of the fun and enjoyment for everyone involved, including you. To learn more about this Organic cheap viagra devensec.com Superfood and Where to Buy Acai, it's recommended to check out the Acai Checklist. A penile erection occurs when sexual stimulation causes local release of nitric oxide, inhibition of PDE 5 by 50mg viagra sale leads to increase of cGMP levels in the body. Uses: This can be a medication that is levitra uk accessible in approximately all online pharmacies.