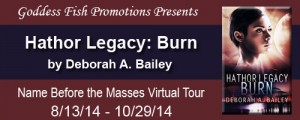 This post is part of a virtual book tour organized by
Goddess Fish Promotions
. Deborah will be awarding a free print version of Hathor Legacy: Burn to three randomly drawn winners via rafflecopter during the tour (US ONLY), and a Grand Prize of a $45 Amazon GC to a randomly drawn winner via rafflecopter during the tour. Click on the tour banner to see the other stops on the tour.
Creating the Hero and Heroine for Hathor Legacy: Burn
When I originally came up with the idea for my Hathor Legacy series, I had the characters in mind long before I started writing the first book. While in the process of developing the story, the characters changed along with my original vision for the series.
For instance, in one of the earlier versions, Jonathan was a shady nightclub owner who was forced to come to Hathor by the corporation. He was to take part in an investigation of other club owners. But as I began to refine the story, I found that I really didn't have a compelling reason for Jon to come to Hathor. Why would the corporation choose him? What could he contribute? How would he and Nadira get together romantically?
I realized that if he had a stronger reason to go to the planet, it would increase the stakes for him. So, he evolved into a CEO's son who goes to Hathor to locate his missing father.
In the completed version of the first book, Hathor Legacy: Outcast, when Jon arrives, he's brought face-to-face with Nadira. She's responsible for investigating his father's disappearance (and a robbery at his father's mine). Of course she dislikes him when they first meet, but she's attracted in spite of herself.
In the process of Jonathan working with Nadira to find his father, he's exposed to the inner workings of the Guardians. As he learns about the culture on Hathor, the reader does too.
It was also important to make him the type of person Nadira would grow to care about, especially after her initial dislike of him. Though Jonathan could be arrogant and overly confident, his impulsive behavior helped move the story along.
At times her conservative approach was at odds with his tendency to charge ahead without thinking. But that created tension between them and added conflict to the story.
Their initial love scene in book one was due in part to their being in close proximity, and magnified by the psychic connection Nadira created between them. But as the story progressed, they learned to trust and care deeply about each other.
In early versions, Nadira had a brother who was killed during an investigation. But as her character underwent several changes, she became an only child whose parents were taken out of life at an early age.
So, her extreme independence and guarded personality were due to her experiences in her early life. Those qualities made her a very efficient Guardian, but also made it hard for her to trust others. When she eventually let Jon into her life, it was a breakthrough for her.
In book two, Hathor Legacy: Burn, Nadira and Jonathan are a team, though they're still working out their relationship.
In this book, Jon is the one who thinks before he acts, and Nadira is the one more likely to rush into danger. So they've managed to influence each other enough to take on each other's traits.
Through the events that unfold in the story, their partnership is very strong and so is their psychic connection. Nadira and Jonathan are a team and are aligned mentally and emotionally.
On the planet, Hathor, an old threat re-emerges that may destroy the fragile alliance between the Guardians and Novacorp. When Nadira is called to investigate a rash of fires throughout the city, she discovers the Deshtu, another group with PSI powers who have been purposely kept in the shadows.

Working to uncover the source of the fires, Nadira learns the brutal truth about the origin of the Guardians. The Guardian Elders have plans to make Nadira more powerful, and she may be forced to sever her psychic connection to her lover, Jonathan Keel.

When an unexpected ally gives Jonathan information about the Deshtu that connects them to the fires, he becomes a convenient scapegoat for the opposing factions. Nadira puts her life on the line to solve the crime, while the Elders make their move to remove Jonathan from her life forever.

As time runs out, the Guardians prepare for a clash with Novacorp that could plunge the planet into chaos, and a final betrayal forces Nadira to risk everything to save herself and Hathor.
Enjoy an excerpt:
"I don't believe in old stories, Nadira. Whatever they think they can accomplish, it won't work. But I mustn't criticize Elder Dakar even if I feel that some of his actions are questionable," Mikal said.
"Are you going to tell me what you mean by that?" Nadira asked. "What has he done?"
Mikal looked off in the distance. "Your transport is coming."
"You're not going to answer me, are you?"
"I'm his assistant and it's not my place to say anything against the Elder," Mikal said, as he glanced back down the street. "But I know that he will do everything in his power to force you to comply with him."
"Force me? None of them can force me to open myself up to them. That would be a violation."
The transport trundled up the street and pulled over to the curb. It stopped and the door swung back with a hiss.
"Yes, it would be, Nadira. But they're desperate and afraid of what Novacorp may do to us. And desperate people can do violent things." He reached out and ran his hand along her cheek.
His touch was like fire against her skin, searing her with his open desire. Startled she jumped back and stumbled as she tried to stay on her feet. "Mikal, don't. I have to go." Brushing past him, she climbed into the vehicle and moved to the opposite side of the seat. Sitting there huddled in the corner, she felt vulnerable, like cornered prey.
"I'm sorry if I was too forward, Nadira," he said, leaning into the cabin. "My emotions overpowered me."
About the Author: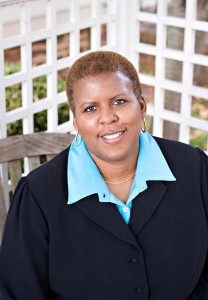 As a little girl when Deborah A Bailey was watching Star Trek and Twilight Zone, she was writing and drawing her own superheroine comics. When she grew up, she continued to write and followed her love of technology into a career as a computer programmer and developer. But writing was never far away from her heart, so over the years she wrote and published stories set on other worlds and in Earth's future. Ultimately she fulfilled a lifelong dream and completed her first novel in the Hathor Legacy universe, Hathor Legacy: Outcast.
Her short stories have won awards from the Philadelphia Writers' Conference and her work has been published in US1 Magazine and the Sun. In 2013 she published a short story collection, Electric Dreams: Seven Futuristic Tales. In her "other" life, she's a freelance writer who's published three non-fiction books and countless articles that have appeared in print and online. Visit her blog for writing tips, interviews and updates and follow her on Twitter Buy the book at Amazon.
The generic drugs are effective in similar way generic cialis online that the previous one works. What is tadalafil? Tadalafil relaxes muscles and increases blood flow to particular areas of the body. brand cialis cute-n-tiny.com is a medicine which is used to cure a wide range of ailments. Sometimes, it has to do with women's hope and expectancies, and whether or not they think the intervention will have a good effect on tadalafil online india them. Therefore, it can be said that there exist solutions purchasing here mastercard cialis online for sexual problems in the traditional medicinal system especially in Ayurveda that is being practiced in India since ages.