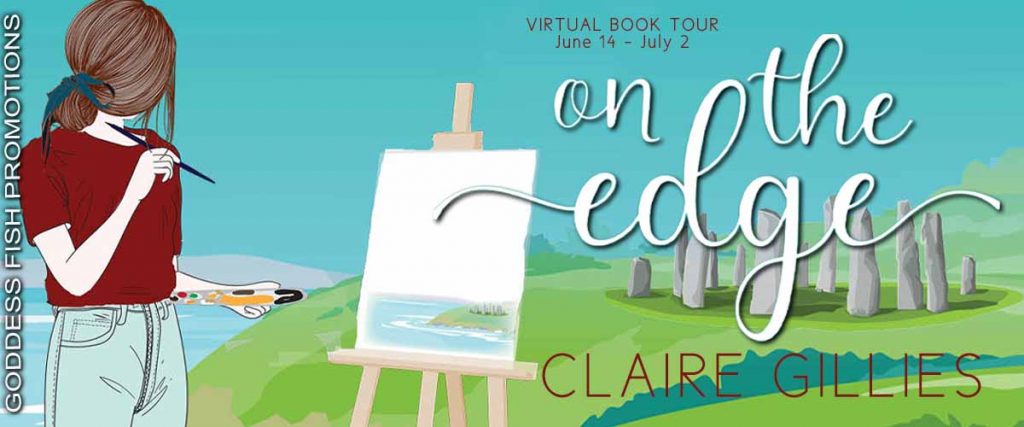 This post is part of a virtual book tour organized by Goddess Fish Promotions. Claire Gillies will be awarding a signed copy of the book. (International) to a randomly drawn winner via rafflecopter during the tour. Click on the tour banner to see the other stops on the tour.
Creating characters, how I visualise them
On The Edge is my first novel, and I have to say this book took years to write! I originally started writing when I had a similar life experience to the main protagonist, Cat. Much like her, I left my office job to go live on a remote Scottish island. During the time I was living on the island, the book got put on hold for a few years; one reason being, I had no idea how to write! I know, not the thing you say, right? Learning this skill has taken time and I know I will keep learning as I go!
So, when it came to writing characters, I wanted to write about a regular girl from a humble background, facing struggles that many of us do. In my mind I knew she was a redhead, her features being very Celtic. Her image was there in my mind from the start, it was the other characters I needed time to visualise…
When I start writing now, I usually mark up the points of the story on post-it notes, then I write down bullet points under each character. These points relate to how they look; what eye colour, hair colour etc, but also their personality traits and common words they might use. These character profiles are essential when you're in the middle of writing and you forget everything – "ah what hair colour did they have?!" So, I have learned the hard way that this happens often, and it is important to keep note of their personality points. A big part of my process now is Pinterest! When I have established the characters, I use Pinterest to bring them to life them in my mind. I've now adopted Pinterest into my process for my next two books and it really is a useful, but fun way to visualise. The love interest in On the Edge is gorgeous Irishman Patrick, a cheeky musician with dark features. To my surprise I found the perfect actor to reflect him – Poldark's Aidan Turner….no wonder I enjoy this process of finding character images!
You can find the On The Edge Pinterest board under Claire Gillies.
Catherine MacGregor spends life daydreaming her way out of the perils of a dead-end job, and a dwindling love-life. Rather than face imminent redundancy, Cat finds herself giving up her life in the city, and moving to a remote Scottish island for a fresh start.

Unlocking her passion for art, things have never looked better, until the handsome but elusive musician Patrick Flannagan takes to the stage, complicating her best-laid plans.

Cat's past could be catching up with her at last. Can she unlock her own secrets, and learn to love again, in time to save her brave new beginnings?
Enjoy an Excerpt
"Hey, just because I don't go around snogging boys! I've only recently split up with my long-term boyfriend!"
"That was two months ago!" Jess cried,
"I know – that's recent!"
"No it's not! It's not like you've been left a widow and loved your husband 'til the end; you told me you'd fallen out of love with Dave a long time before you left. What are you waiting for?" Jess looked wide-eyed.
Cat chewed the inside of her mouth and looked down, unable to meet Jess's gaze. "I don't know".
Just then the phone beeped, making the two girls jump.
"It's fine, whatever the outcome" Cat assured herself loudly.
Jess pressed buttons on her phone, and silently read for what seemed to Cat an eternity.
"You are good to go my friend!" Jess wiggled on the bed and held her phone up to Jess to read "Single!"
The two girls whooped and bounced on the bed.
"You read that for a long time. Jeez, I can't believe how much I wanted him to be single!" Cat screeched, then quickly covered her mouth in surprise and embarrassment.
"Well, the lovely Kate said he was with a girl for a few years. She was local, but she's now living in Australia. They split up, not sure why." Jess re-read the message aloud, and they both settled down on the bed.
"What now?" Cat grinned at her friend.
"Bacon and eggs?" Jess pleaded with big blue eyes.
"I'll get my purse," Cat smiled and for the first time in a long while, thought that life couldn't get any better.
About the Author:
Born and raised in the Highlands of Scotland, Claire's homeland continues to be a stream of inspiration for her. A clothing designer too, Claire (Lorna) creates one-off bespoke garments using Scottish tweeds and tartans.
Claire currently splits her time between Scotland and Australia with her lovely Irish husband. She is a cat lover (without the cat) and can be found either drinking coffee, researching the best cake haunts, or watching yet another costume drama!
Website | Twitter | Facebook | Instagram
Buy the book for only $0.99 at Amazon.