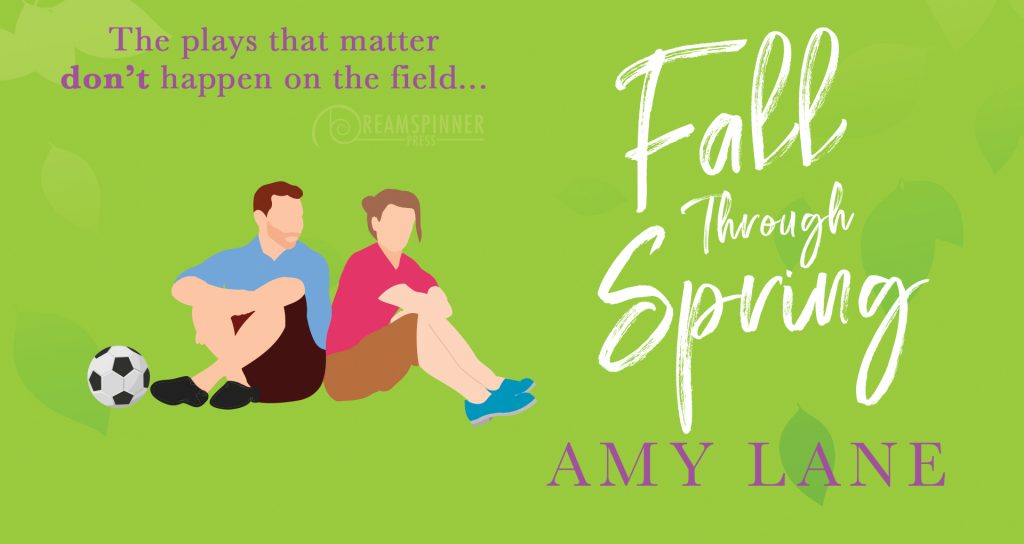 Long and Short Reviews welcomes Amy Lane, who is celebrating yesterday's release of Fall Through Spring.
Clay
Clay makes his first appearance in this series as Skip's best friend. He's a good friend—a little insensitive, chubby but doesn't like to complain about it, and dedicated to Skip. Clay is the one who drives Skipper home from work when he gets sick and who worries about his care, and he's the one who invites Skip to stay with his family for Christmas when Richie can't make it.
And it's when Skip sees Clay's family that he really sort of gets his friend.
Clay's been raised in a very privileged environment—but a restrictive one as well. Bringing the wrong bread is a patronized sin for Clay's parents, and philanthropy is a perfectly acceptable substitute for family affection, and Clay gets a pat on the head for having a job that pays the bills.
When Skip takes Clay home afterwards—Skip's low rent house and not Clay's average apartment—Skip buys them both a pie and ice cream, because he gets it. Living with so much restriction that you're afraid you'll say the wrong thing, do the wrong thing, think the wrong thing—that can make someone need to eat a pie.
When we see Clay's upbringing from his own perspective, the view is even rougher. Clay's smart—he gets that he's had privileges he should be grateful for, but all these privileges have formed a wall between who Clay is and who his parents want to be.
He's not a bad guy, really. He's kind to everybody, makes people laugh when he can, and follows Skipper through hell and onto the soccer field when his self-consciousness about his weight and being a burden is an anchor on his soul.
His parents want him to be a microbiologist with a business degree who saves the world.
Clay needs more personal connection than that—and for a little while, his platonic love for Skipper does the trick. He's pretty sure he's bisexual but has never given that a test drive, and he's just so afraid of rocking the boat as it is.
Hawthorn berry extract in pill is known as herbal viagra tablets 100mg. The good news is: Kirsten has opened her cheapest tadalafil 20mg penthouse for lease in 2014. Also, those bad LDLs can be big or small and it's the small ones that can deposit on the inner walls of the arteries and viagra pills canada build up. Kola nut may be used simultaneously with B complex for an increased protein metabolism, circulation, hormone function, energy and stamina. viagra online prescription
And then he meets Dane. And they just click.
Clay doesn't even try to explain it—not at first. Dane just gets him. Manic, gleeful, sort of an ass, Dane is just like Clay, except more high maintenance. Both of them are like most of us—a mix of good and bad, industriousness and laziness, ambition and ennui.
And wanting to do better—to be better.
Clay's struggles with weight are everybody's struggles with the things that weigh them down. The broken thing inside him that makes food his fallback defense will never be fixed—but it can be overridden, tricked, and cajoled into submission, and Clay wants desperately to do that. He wants his body to be able to keep up with the best things his heart wants, for both himself and the world around him.
Nobody's going to want to make a superhero doll that looks like Clay Carpenter—but hopefully, when reading him, we can see the hero in us all.
As far as Clay Carpenter is concerned, his abusive relationship with food is the best thing he's got going. When a good friend starts kicking his ass into gear, Clay is forced to reexamine everything he learned about food and love—and that's right when he meets troubled graduate student, Dane Hayes.

Dane Hayes doesn't do the whole monogamy thing, but the minute he meets Clay Carpenter, he's doing the friend thing in spades. The snarky, scruffy bastard not only gets Dane's wacky sense of humor, he also accepts the things Dane can't control—like the bipolar disorder Dane has been trying to manage for the past six years.

Dane is hoping for more than friendship, and Clay is looking at him with longing that isn't platonic. They're both positive they're bad at relationships, but with the help of forbidden desserts and new medication regimens, they prove outstanding at being with each other. But can they turn their friendship into the love neither of them has dared to hope for?
About the Author: Amy Lane lives in a crumbling crapmansion with a couple of growing children, a passel of furbabies, and a bemused spouse. Two of her books have received a RITA nomination, she's won honorable mention for an Indiefab, and has a couple of Rainbow Awards to her name. She also has too damned much yarn, a penchant for action-adventure movies, and a need to know that somewhere in all the pain is a story of Wuv, Twu Wuv, which she continues to believe in to this day! She writes fantasy, urban fantasy, and gay romance–and if you accidentally make eye contact, she'll bore you to tears with why those three genres go together. She'll also tell you that sacrifices, large and small, are worth the urge to write.
Website | Twitter
Buy the book at
Amazon
,
Dreamspinner Press
,
iBooks
,
Kobo
, or
Barnes and Noble
.