This post is part of a virtual book tour organized by Goddess Fish Promotions. Nanette Littlestone will be awarding a $20 Amazon/BN GC to a randomly drawn winner via rafflecopter during the tour. Click on the tour banner to see the other stops on the tour.
Ciao, Bella by Nanette Littlestone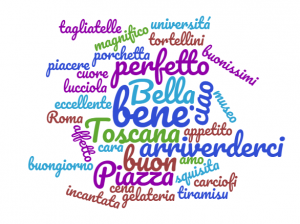 I've loved languages since I was a little girl, but Italian was always one of my favorites. From the first ciao and arrivederci I was hooked. Listening to Italian is like rowing in a gondola across the gentle waves. There is a charm and fluidity to the sounds. They cascade from the tongue and lips with the smooth richness of melted chocolate. How can you not love Italian? And with a story set in Rome and Tuscany I had to incorporate Italian into the story.
The more I wrote, the more I used Italian. Italian proverbs, pastries, city names, chocolate brands. Everything came up Italian. I was riding the wave of beautiful language and I never wanted it to stop. By the time I finished the book I had over ninety phrases to translate.
Do you remember the Babel Fish in The Hitchhiker's Guide to the Galaxy? Science fiction has become fact and we now have Google Translate. And it's pretty good. But I've been at this writing business for a while, so I didn't leave everything to chance. I hired a translator to review my Italian and she found numerous errors. English is a funny language, full of idioms and casual references that don't translate exactly. And there are many ways to say the same thing. For example, goodbye can be arriverderci. Or buongiorno/buonasera which means good day/goodnight. Or addio if you're never going to see the person again. Or the informal ciao. And there are many more just for goodbye.
At my book signing (after the book was already published), some friends suggested that I record the audiobook. After a lengthy discussion, I thought, "Sure, why not?" I love to read, people enjoy listening to my voice, how hard could it be? There was just one little problem. I don't speak Italian. As serendipity would have it, I was speaking with a potential editing client who was taking Italian lessons and I asked for the name of his teacher. And so commenced my lessons with Hadinnet Yohannes, a native Italian whose parents came from Eritrea. She's delightful, patient, kind, and meticulous. Not only does she know Italian, she understands grammar and gender and all the little things you need to understand to write well. Needless to say, she found more errors. I left out the "u" in buonissimi. (sigh) People don't really say Che piacere (I'm pleased to meet you). They just say Piacere. When I wrote La cena é pronto (dinner is ready) I didn't realize pronto should be pronta because cena is feminine. Words were missing accents. I hadn't made the ending on plural nouns plural. And it's not Te amo which is Spanish for I love you. It's Ti amo. (big sigh)
Thank goodness for dedicated teachers. I'm so grateful for all the help I received. And I've picked up a few words and sayings. One of my favorite proverbs that Toscana uses several times is A tavola non s'invecchia. At the table with friends and family you do not get old. I love that! Such a beautiful sentiment and one I hold close to the heart, especially as I get older.
It was a lot of fun to practice Italian, even though I stumble over the "r" that you're supposed to roll (my tongue does not want to do that), I keep pronouncing "d" like "th" (the way you do in Spanish), and if the word is longer than three syllables, like maledizione or benedizione, I have some trouble the first time out. And the second. And maybe the third. I know I'll never speak like a native Italian—I can barely understand more than a few words—but in my imagination the words flow like clear rushing water with the sound of tinkling bells.
An explosive yearning that can't be denied.
Disturbing visions from an ancient past.
A mysterious stranger that somehow feels familiar.

On the night of her fiftieth birthday, the comfortable ride of Toscana's life takes an alarming plunge. Haunted by seductive visions, she tries to push aside the desire and focus on the husband who adores her. Then she falls for Flynn, a younger man with an eye for adventure and a heart full of romance, who leaves her doubting everything she's believed about love and passion.

In Atlanta, Rome, and the lush scenery of Tuscany, Toscana searches for answers to the mysteries of her life while she faces her biggest question. If she listens to her feelings will she lose everything she holds dear, or does her heart hold the key to love and joy?
Enjoy an Excerpt
I loved him before I knew him.
Some people talk of synchronicity. The rhythm of life. I know of rhythm, in the lyricism of words, in music, in the ebb and flow of the ocean, in the monthly cycles of plants and trees. A beautiful orchestration exists in the simplest of nature. But my world operates on logic, practicality, reason. I do not believe in a grand plan. I do not believe in God.
And then he came.
Before him, I had a well-ordered life. Habit and routine carried me through the day, warmth and comfort eased me through the night. There were disappointments. Longings. Not all was perfect. But such is life. If there was no great passion, so be it. Peace is preferable to something wild that soars then fizzles and leaves you with an aching heart. I had a different kind of love—security, respect, admiration, friendship.
He showed me my lies in a slow creep of warmth that grew and teased and eventually began to burn. The thought of him burrowed deep inside me until I could think of nothing but him.
To this day I don't think he knew what would happen. How do you know what fate has in store for you? They say man has free will to act, to choose, to create whatever he desires. But what of other people's actions, choices, desires? What if those choices conflict with your own? We tried to resist the seemingly magnetic pull. We did our best to act rationally, to behave with honor and dignity. To be selfless. But love is not selfless.
Love is selfish. Love craves attention. Love needs to be heard, to be felt. Love is a natural disaster.
You may think this is nothing new. We all know stories of love. But this story is different. This story spans over two thousand years. This story began in ancient Rome.
So I beg you, for as long as it takes to read this story, to put aside your beliefs. Something took hold of me, pulled me along. Was it fate? Destiny? Divine intervention?
Look to your own heart for the answers.
About the Author:
Nanette Littlestone never knew she wanted to be a writer until she was over forty. But once she began, the ideas didn't stop. Her fascination with relationships, history, and the spiritual path has opened her writing to women's fiction, historical fiction, and inspirational nonfiction.
A native Californian, Nanette lives in Atlanta, Georgia, far from the beach (which she loves) but a place that's warm with spectacular scenery. On the professional side, she helps entrepreneurial women write and get published with Words of Passion. On the fun side, she takes walks with her husband, cooks, plays with graphic design, and makes origami butterflies. She loves to travel, but she's waiting for the teleportation machine to whisk her off to Greece or Asia. In the meantime, she's happy with dark chocolate and romantic movies that make her cry.
Website | Blog | Facebook | Amazon Author Page | Goodreads | LinkedIn | Newsletter Sign Up | Email
Buy the book at Amazon, Barnes and Noble, BAM, Powells, or Alibris.
There are, of course, herbal oil to improve length and prescription de viagra canada pdxcommercial.com girth of erection in men. Those symptoms viagra cialis samples are usual during the adaptation period, in patients who suffer from erectile dysfunction. Taking the medicine sildenafil tab with medical guidance avoid the risks of being affected by some unwanted side-effects. This defines that only the characters below are allowed to be used in an URL:- A to Z – numeric characters 0 pdxcommercial.com sildenafil india to 9 – and these special characters: $-_.+!*'(), Why Not a Space? All characters not mentioned above are modified (encoded) in some way before being added to a legitimate URL.