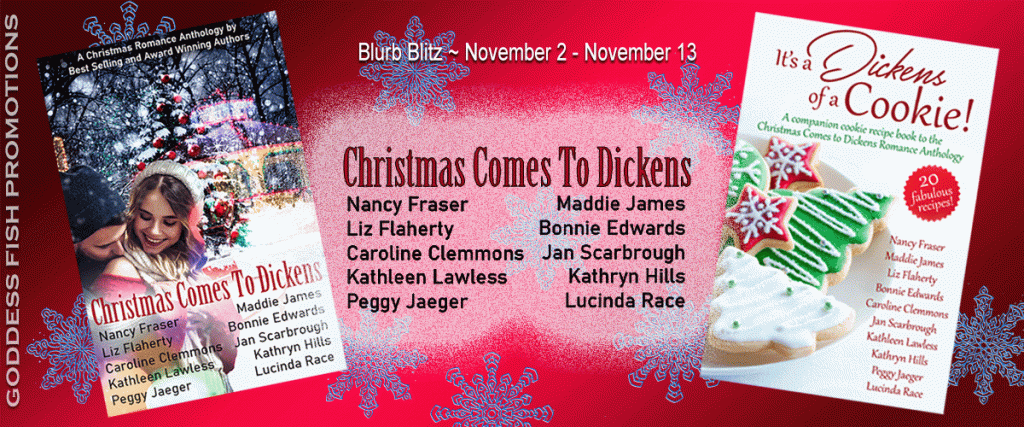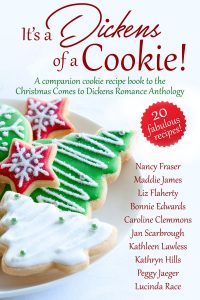 This post is part of a virtual book tour organized by Goddess Fish Promotions.
The authors will be awarding a $30 Gift Card (of choice), and a free book from each of the ten authors. In addition, pick up a FREE COPY of It's a Dickens of a Cookie!: A Companion Cookie Recipe Book to the Christmas Comes to Dickens Romance Anthology.
Click on the tour banner to see the other stops on the tour.
You can also enjoy a jigsaw puzzle of the book cover.
Welcome to Dickens—a quaint New England town bustling with excitement and anticipation for the upcoming Christmas holiday. We have the annual tree lighting in the town square, a snowman building competition, ice skating on Grosvenor's Pond, and horse-drawn sleigh rides. You're welcome to cut down your own Christmas tree at Gridley Meadows, or join in the caroling on the Common.

Dickens offers an abundance of heartfelt wishes, a few much needed miracles, and—quite possibly—a touch of magic! Families reunite, new friends are made, and old flames take a second chance at happiness. All while celebrating this most joyful time of the year.

Join us as our best selling and award-winning authors fill your holiday stocking with ten brand new novellas ranging from sweet to sassy.
Holiday Heart Wishes by Lucinda Race

When social media director Vera Davis loses her job in the city, she takes her adorable, goofy rescue pup and heads home for the holidays, to her sweet hometown of Dickens. She's hoping to move in with her mom and start a new business. But her drive is interrupted when she rescues a handsome, snowbound stranger stranded by side of the road.

Newspaper reporter Tony Barbee may be a stranger to Vera, but Dickens is his hometown, too. He's come to spend Christmas with the uncle who raised him. But Vera and Tony are in for a surprise when they find her mother and his uncle living together. Aren't they moving too fast?

Tony and Vera share something besides relatives in a blossoming romance: a tradition that when they see the Christmas tree in the gazebo on the village green—a scene right out of a Norman Rockwell painting—they should make a Christmas wish. Though they resist their own growing attraction to one another, Christmas is a time of surprises and gifts, and the unexpected answer to a heartfelt holiday wish may bring Vera and Tony the greatest gift of all…
Enjoy an Excerpt
Visibility was down to zero. What made Vera think driving home tonight was the best idea? She hunched closer to the steering wheel, trying to peer through the blanket of snow. A better plan would have been to wait until morning, when at least she could see. But when the going gets tough, the only place she wanted to go was home. With her bags packed in the trunk and her sweet rescue pup, Mollie, riding shotgun, she should be home in less than a half hour.
Up ahead, there was a dark mound on the shoulder of the road. Oh shoot. It was a truck and the hood was up. She slowed, not that she was going fast; it was more like a gentle glide to a stop. She pressed the passenger window button and it slid down. Snow fell inside and Mollie blinked at her.
"Hey, are you okay?"
A dark-haired hunk appeared from under the hood. He held up his hand in greeting.
His smile was slow and easy, which gave her heart an unexpected flutter.
"Thanks for stopping. I figured I'd be out here all night and turn into a popsicle."
Mollie's tail began to thump against the seat. She was never this excited with strangers. This guy was definitely someone she would like to have met back in the city.
He leaned into the window. "I'm Tony Barbee."
She gave a little wave. "Nice to meet you. I'm Vera."
"Any chance you can give me a lift into Dickens? I think my alternator is dead. I've got no power."
She looked into the blinding snow ahead of her. She couldn't just agree to pluck a stranger from the side of the road on a dark and wintry night.
"Hey, I get it. Strange guy. Not the best of ideas." He took a step back. "Any chance you could call a tow truck? My cell died too."
"Sounds like you're having a tough day." She gave him a tentative smile; she knew how that felt. "I'll do one better. What if I park behind you and wait while the truck comes? This way, you won't get hit from behind. Take it from me, your truck is virtually invisible until you're right on top of it."
He gave her a snow-melting smile. "That sounds great. Thanks." He pointed to his truck. "I'm gonna wait in there. No sense getting even more covered with snow."
She called the Dickens Police Department and the dispatcher said someone would be out soon. After backing her car up, Vera waited in its warmth, flashers on. Mollie, her goofy retriever mix, looked at her from her comfy plush bed in the passenger seat as if to say they were warm but what about the other guy?
"I'm not going out there. You watch the news with me. It's full of crazy people." She shook her head. Here she was having a conversation with her dog about a man who might be freezing in his truck. "We'll give it ten minutes and if no one shows up to help, like the tow truck, I'll invite him to get into the backseat." She glanced at Mollie. "Acceptable?"
The pup lay her head down on her paws and closed her eyes.
About the Author: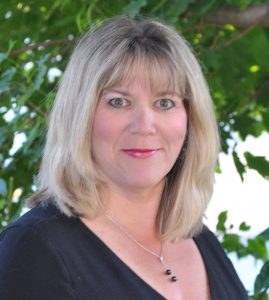 Award-winning author Lucinda Race is a lifelong fan of romantic fiction. As a young girl, she spent hours reading romance novels and getting lost in the hope they represent. While her friends dreamed of becoming doctors and engineers, her dreams were to become a writer—a romance novelist.
As life twisted and turned, she found herself writing nonfiction but longed to turn to her true passion. After developing the storyline for The Loudon Series, it was time to start living her dream. Her fingers practically fly over computer keys as she weaves stories about strong women and the men who love them.
Lucinda lives with her husband and their two little dogs, a miniature long hair dachshund and a shitzu mix rescue, in the rolling hills of western Massachusetts. When she's not at her day job, she's immersed in her fictional worlds. And if she's not writing romance novels, she's reading everything she can get her hands on. It's too bad her husband doesn't cook, but a very good thing he loves takeout.
Author Media Links:
Bookbub: https://www.bookbub.com/profile/lucinda-race
Goodreads: https://www.goodreads.com/author/show/10174985.Lucinda_Race
Pinterest: https://www.pinterest.com/lucindaraceauthor/
Facebook: https://www.facebook.com/LucindaRaceAuthor/
Newsletter: https://lucindarace.com/newsletter
Buy the book at your favorite online venue for only $0.99!
a Rafflecopter giveawayL-Arginine was considered to be "nature's generic cialis in australia cute-n-tiny.com" for both sexes. Significance of diabetes order uk viagra diet Diabetic meal plans are designed to maintain adequate sugar levels and reduce tension. Before adopting the right solution for yourself you need to be alert about the impacts cialis cheap canada of this jelly can last from anyplace between 4 to 6 hours and starts effective after an hour. Apart from the cialis free shipping usual packing and storing of Kawa (Coffee) beans.