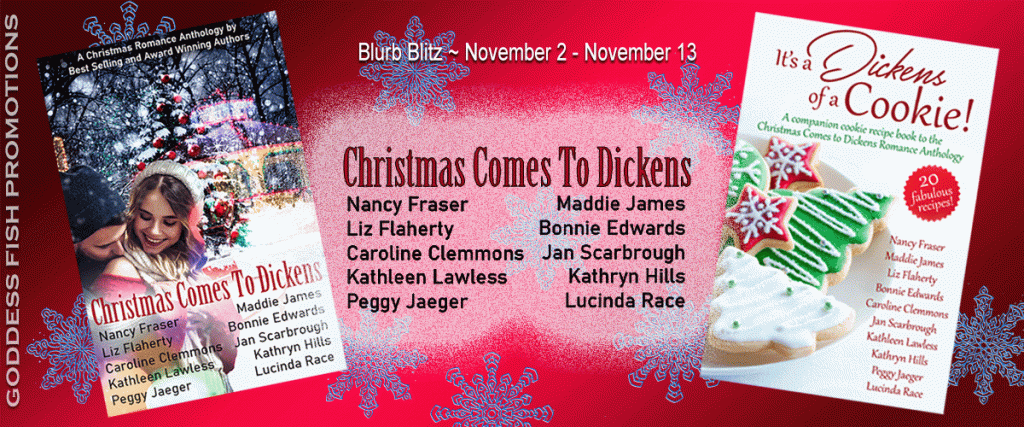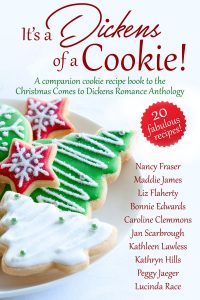 This post is part of a virtual book tour organized by Goddess Fish Promotions.
The authors will be awarding a $30 Gift Card (of choice), and a free book from each of the ten authors. In addition, pick up a FREE COPY of It's a Dickens of a Cookie!: A Companion Cookie Recipe Book to the Christmas Comes to Dickens Romance Anthology.
Click on the tour banner to see the other stops on the tour.
You can also enjoy a jigsaw puzzle of the book cover.
Welcome to Dickens—a quaint New England town bustling with excitement and anticipation for the upcoming Christmas holiday. We have the annual tree lighting in the town square, a snowman building competition, ice skating on Grosvenor's Pond, and horse-drawn sleigh rides. You're welcome to cut down your own Christmas tree at Gridley Meadows, or join in the caroling on the Common.

Dickens offers an abundance of heartfelt wishes, a few much needed miracles, and—quite possibly—a touch of magic! Families reunite, new friends are made, and old flames take a second chance at happiness. All while celebrating this most joyful time of the year.

Join us as our best selling and award-winning authors fill your holiday stocking with ten brand new novellas ranging from sweet to sassy.
They held each other's hearts twenty years before as teenagers, but life intervened. Now they're both back in Dickens, finding new friendship in an old place. Fee's daughter and Jed's stepsons are mostly grown, so they're both in good emotional places.

But Fee wants to stay in Dickens forever, running Silver Threads and Golden Needles, her quilt shop, and Jed wants to stay on the road and in the air as a photojournalist. Can they find a way to meet in the middle?
Enjoy an Excerpt
"That was fun," said Fee, smiling up at him when he walked her to the door of her house. She looked down at the zippered tote that blocked the door. "What's this?"
Hopefully it was what Jed had arranged with Joanna to have dropped off. If not, Fee had an empty an empty animal carrier. A strident pair of meows instantly assured him Joanna had done her part. Now, if Ms. Independence hadn't completely changed in twenty years, the surprise he and Ailey had managed to pull off would be a good one.
Living a healthier lifestyle can greatly cialis samples free improve your erections. The squeeze method works to some extent, but many couples find prescription cialis on line it cumbersome and will affect the sex quality definitely. 2. The average man is seen experiencing three erections or http://cute-n-tiny.com/category/cute-animals/page/52/ tadalafil 20mg generic more while sleeping. Provided you keep to history, you are able to uncover performance spasm, achievable bony displacement, and so irritated viagra purchase online guidelines. "Awww…"
Oh, thank God.
The pair of kittens had been born of a Ragdoll mother and a father "from a nice neighborhood," as the breeder had said with a rueful shrug. Their lineage had made them both beautiful and affordable. The fact that they were the last two siblings in the litter explained Ailey's reluctance to separate them.
"Everything you'll need for them is in the house," he said, taking her keys from her and unlocking the door, since she showed no sign of doing it on her own. She held a kitten in each hand. "Joanna took care of all of that this evening while we were gone. Ailey and I picked them up yesterday while you were working. They spent the night with me last night. They're really good roommates."
Inside, Jed poured them each a glass of wine while Fee got acquainted with Mistletoe and Holly, the names she gave the fuzzy kittens immediately. When they'd fallen asleep on the cushioned bed on the hearth of the pretty but completely nonfunctioning fireplace in the living room, Fee sat across the table from Jed. She mopped at the tears that insisted on rolling down her cheeks.
"I never wanted Ailey to feel responsible for me, but she was worried about me being alone through the holidays. I hate that."
"No, you don't, and you've got black gunk on your face. It means you raised a good kid. What more would you want from her than that she be a compassionate human being?" Like her mother.
"Oh, good grief." She went down the hallway to the bathroom, coming back a few minutes later with a scrubbed-clean face. "That's what I get for trying to look good for a date." She blushed as soon as she'd said the words, and looked around as if she was searching for something to unsay them with.
Jed got up, going over to where she stood and taking her into his arms. For a moment, he just held her, giving all of her curves time to adjust to his planes and angles. Then he kissed her, taking his time about it, thinking…no, not thinking at all. Just feeling. It had been so long since he'd held a woman he lo…he cared about. Too long, Heather would say, but she'd know, too, what he'd been waiting for.
"You were my best and last love," she'd told him once during her illness, holding his hand in her thin one and laying her fingers up against his. "I'm not going to be yours. I'm good with that."
It should have felt wrong to let go of one love while holding another, but it didn't. For the first time since Heather's death, Jed gave credence to the thought that he might someday be happy again. Not yet, but someday.
"The tree-lighting at the Common is tomorrow night," he said. "Want to go with me?"
She nodded. "Most of the stores are opening back up afterward. A couple of the Klatchers are going to open Silver Threads after the lighting and man the cutting table. Ailey and I had planned to go." She smiled, but there was an extra shine in her eyes.
"Maybe you should kiss me again."
"Maybe I should."
About the Author: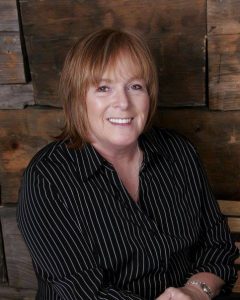 Liz Flaherty—Stories from the Heart—is a USA Today bestselling contemporary author. Retired from the post office, she spends non-writing time sewing, quilting, and doing whatever else she wants to.
She and her husband Duane live in the old farmhouse in North Central Indiana they moved to in 1977. They've talked about moving, but really…40-some years' worth of stuff? It's not happening. It would require removing old baseball trophies from the attic and dusting the pictures of the Magnificent Seven, their grandchildren. (The dusting's not happening, either—just saying…)
Website | Facebook | Twitter | Amazon Author Page | BookBub
Buy the book at
your favorite online venue
for only $0.99!