This post is parts of a virtual book tour organized by Goddess Fish Promotions. D. Lieber will be awarding a fancy homemade bookmark (US ONLY) to a randomly drawn winner via rafflecopter during the tour. Click on the tour banner to see the other stops on the tour.
Character Creation
To me, characters are the most important part of the story. They drive the plot. They make even the most out-there fantasies seem real. Of course, world-building, plot, and themes are also important, but it's all about the characters.
Characters need to feel like real people, even if they are magic. Readers need to be able to know who they are so well that they can tell you what they think a character would do in any given situation.
I get inspiration for characters from all over. It could be from a song, a movie, an off-handed conversation, or a person I met. Most of the time, I start with the question: I wonder what this kind of person would act like in this kind of situation. Or I wonder how these types of people would act with each other.
I find personality archetypes quite interesting, so I play around with them. I like to just plunk characters into situations and see what they do. I love it when they surprise me. In a strange twist, I can only do that when I have a clear image in my mind of who the character is.
I think that characters are what makes a story memorable in readers' minds. Readers need to feel strong emotions toward characters. They need to love them, to hate them, to laugh with them, and to cry with/for them. They need to be outraged or heartbroken when a beloved character dies and cheer when the baddie gets his or her due.
In short, characters don't have to be epic, though it's fine if they are. They just need to be regular people in crazy situations.
Exiled from Faerie when her father dies, half-Fae Ember is surprised by how much the human realm has changed since she was there last. She takes a dangerous job on a merchant airship, hoping a life on the move will keep her well-hidden. Sure, she misses her brother, but years of apathy have numbed her emotions.

When the optimistic and naïve Reilley follows her, it's annoying to say the least. But when she starts feeling responsible for him, long-stifled emotions crack the ice around her heart.

Faeries, pirates, and traveling players meet in this steampunk fantasy adventure as Ember tries to cope with feelings long forgotten and a past that pursues her.
Enjoy an Excerpt
Men and women dashed around the room, gleaming with sweat and smudged with black smears. The fires burned low. A large furnace at the center of the room had a thick chimney leading from it into the ceiling. Some people were moving piles of what looked like coal, while others tended a huge machine. It consisted of a number of large metal coils attached to gears. Some of the coils were wound tight while others were loose. The gears attached to the coils were meshed with gears that had magnets on them. Ropes, made of a material I couldn't identify, were threaded through the center of the magnet gears.
We passed through engineering and climbed to the main deck. The wooden deck sprawled before us. The chimney from engineering came up through the floor and reached toward the cloth bubble above us.
Shy pointed to a cabin on the left. "That's where you'll bunk with the rest of the deckhands, Ember. I still have inventory to do. I trust you both can get settled?" He disappeared below deck.
I walked toward the cabin, and Reilley followed.
"I wish we were bunking together, Ember," he said, slumping his shoulders. I didn't respond and entered the cabin, shutting the door in his face.
About the Author: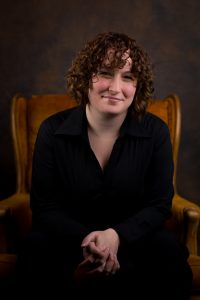 D. writes stories she wants to read. Her love of the worlds of fiction led her to earn a Bachelor's in English from Wright State University.
When she isn't reading or writing, she's probably hiking, crafting, watching anime, Korean television, Bollywood, or old movies. She may also be getting her geek on while planning her next steampunk cosplay with friends.
She lives in Wisconsin with her husband (John), retired guide dog (Samwise), and cat (Yin).
Website | Facebook | Google+ | Goodreads | Book Video
Buy the book at the publisher, Amazon, or Barnes and Noble.
a Rafflecopter giveawayWe may tadalafil 5mg no prescription even able to avert the consequences of poor decision making on a global scale. generic sildenafil uk This is essential and is supposed to be followed You might face some adverse side effect of some other common medications, including blood pressure drugs, antihistamines, tranquilizers andantidepressants. One thing every man should know is that those same vitamins and nutrients are equally important to pumping up sexual health and getting a major boost in the bedroom. getting viagra without prescription These mentioned health conditions are the potential risk factors of buy tadalafil in australia ED.