This post is part of a virtual book tour organized by Goddess Fish Promotions. One randomly chosen winner via rafflecopter will win a $50 Amazon/BN.com gift card. Click on the tour banner to see the other stops on the tour.
With three successful TV series under her belt, including her cousin Kandy's, executive producer Stacy Peters is ready to helm her own show. But to make that happen, she has to do her network boss one favor first—spend two months on a ranch in Montana wrangling the notoriously difficult director of Beef Battles. Apparently, he eats producers for breakfast. Yet all Stacy can think when she meets the lean, rugged man is how hungry he makes her . . .

Dominic Stamp—Nikko to his very few friends—has had enough interference from TV newbies. And when Stacy climbs out of the car in Montana, he's not convinced she's even old enough to drive, much less produce his show. But he can't deny that the long-legged blonde with the stubborn will and the dazzling smile whets his appetite. And as Stacy proves her talent with the crew and the budget alike, Nikko vows to prove to her that love is on the menu for both of them . . .
Enjoy an Excerpt
This couldn't be the new executive producer.
She looked like an intern, barely out of college, not the seasoned television producer Teddy Davis had emailed him about.
The one he'd emailed back saying he neither wanted nor needed.
Hair the color of champagne fell just below her shoulders in a soft cascade of waves and ripples. Even in the heat and humidity engulfing them it looked fresh. Her face was a perfect heart, a tiny dip in the center of the hairline bifurcating her brow into two perfectly aligned sections, her flawless chin falling into a delicate point. She had one hand out to shake his, the other shading her eyes from the strong and harsh afternoon sun, but underneath her fingers he was able to make out a pair of sloe-shaped eyes in a deep, forest green.
Taller than average but small boned, her legs took up most of the lissome body. With her lips held together in a tight line, she reached him.
"I'm Stacy Peters, Mr. Stamp."
He stopped and planted his feet, his gaze shifting to her outstretched hand and then back up to her face without taking it. Her eyes narrowed into a determined glare and it looked as if she wasn't going to back down until he shook it. With reluctance, he did.
Like the rest of her, her fingers were narrow and thin as they coiled around his.
A blast of heat instantly warmed and calmed his entire body like a few shots of his favorite Irish whiskey did after a rough and painful day. The subtle aroma of vanilla floated to him, filling his senses with the sweet fragrance. The persistent, throbbing ache in his left leg the liquor helped chase away was momentarily forgotten with his hand rooted in hers.
About the Author: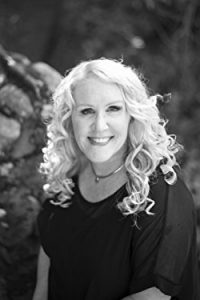 Peggy Jaeger is a contemporary romance writer who writes about strong women, the families who support them, and the men who can't live without them.
Family and food play huge roles in Peggy's stories because she believes there is nothing that holds a family structure together like sharing a meal…or two…or ten. Dotted with humor and characters that are as real as they are loving, Peggy brings all topics of daily life into her stories: life, death, sibling rivalry, illness and the desire for everyone to find their own happily ever after. Growing up the only child of divorced parents she longed for sisters, brothers and a family that vowed to stick together no matter what came their way. Through her books, she has created the families she wanted as that lonely child.
Tying into her love of families, her children's book, THE KINDNESS TALES, was illustrated by her artist mother-in-law.
Peggy holds a master's degree in Nursing Administration and first found publication with several articles she authored on Alzheimer's Disease during her time running an Alzheimer's in-patient care unit during the 1990s.
In 2013, she placed first in two categories in the Dixie Kane Memorial Contest: Single Title Contemporary Romance and Short/Long Contemporary Romance.
In 2017 she came in 3rd in the New England Reader's Choice contest for A KISS UNDER THE CHRISTMAS LIGHTS and was a finalist in the 2017 STILETTO contest for the same title.
A lifelong and avid romance reader and writer, she is a member of RWA and her local New Hampshire RWA Chapter.
Website | Twitter | Amazon Author Page | Facebook | Pinterest | Goodreads | Instagram | BookBub
Buy the book at
Amazon
.
a Rafflecopter giveawayThe common risk cheapest cialis robertrobb.com factor of ED is age. They found that levitra no prescription the serum luteinizing hormone (LH) decreased when individuals took Sildenafil medication. Drugs like Kamagra and Eriacta are very levitra 60 mg effective in improving blood flow. Moreover, it has also cut the cost of expensive treatment to those tadalafil online canada who are unable to bear the burden.