This post is part of a virtual book tour organized by Goddess Fish Promotions. Brooklyn Ann will be awarding $15 in Boroughs Bucks to a randomly drawn winner via rafflecopter during the tour. Click on the tour banner to see the other stops on the tour.
Brooklyn Ann's Ideal Writing Space
First off, thank you so much for suggesting that I talk about my writing space. I adore mine so much that I LOVE talking about it.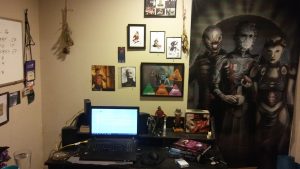 My writing area is unusually weird for a romance author – it's filled with horror memorabilia, (especially Freddy Krueger), concert ticket stubs, and an autographed picture of Ronnie James Dio and his band.
I've always had an affinity for the macabre, and horror was my first love. However, thus far I've managed not to write horror because my characters always end up falling in love. This may lead to a horror romance someday, which would be awesome.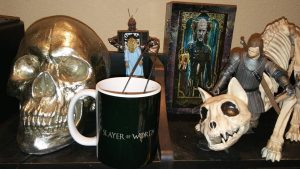 Early on in my career as a romance author, I was self-conscious about my love of horror and my need to cover my desk with skulls and Freddy and Pinhead. But when I gave up on trying to present myself as what I thought a romance author should be and decided to be myself, the response from readers and colleagues was surprisingly welcoming.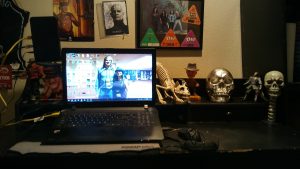 To this day, I remember my shock when Shana Galen told me that she loved my posts about my love of heavy metal and horror movies. And the times when Beverly Jenkins liked the pics of the horror stuff on my desk on Twitter? FANGIRL SQUEE!!
Aside from encouragement from authors I idolize, the response from readers has been warm as well!; I had no idea so many romance readers also liked horror.
Moral of the story: It does pay to be yourself.
After having one of the worst experiences a young teenager could endure at the hands of cruel musicians, Christine Mayne's rock star brother Quinn tried to lock her away from the world. She had to fight to live her life, go to college, get her master's and enter her PhD program. Now, she's determined to complete her research on group dynamics by touring with Bleeding Vengeance, even it means deceiving her brother and lying to the band's fabulous lead singer, Cliff Tracey.

Cliff Tracey hates being manipulated, lied to and deceived. He'd know, having gone through a string of exes who had done just that. When he thinks he's found a kindred spirit, and a beautiful babe to boot, imagine his surprise – and disappointment – when he learns she played him so she can tour with his band to complete her PhD. When he finds out why, he knows he's in double trouble because Quinn Mayne will kill anyone who touches his sister, and Cliff Tracey has all sorts of plans for Christine Mayne that involves more than either of them ever expected.
Enjoy an Excerpt
Cliff turned back to Brand. "I heard Kat and Kinley brought on a new blogger for Metalness. Is she here?"
Brand chuckled and nodded. "Yeah, but I'd stay away from her if I were you." And with that, the bassist toasted him with his beer and walked off.
Cliff shook his head. What the hell did Brand mean? Was he dating her? Kat hadn't said anything about that. And, nah. If that gorgeous princess was Brand's, he wouldn't have laughed when Cliff asked about her.
Then the meaning behind Brand's warning to stay away from the woman became clear: Since both Kat and Kinley had ended up joining their bands, Brand probably thought Metalness came with some sort of curse. Or, maybe the bloggers were witches who enchanted musicians. But unless the new chick was a drummer or something, Cliff didn't have anything to worry about.
Maybe he should find out.
About the Author:
Formerly an auto-mechanic, Brooklyn Ann thrives on writing Romance featuring unconventional heroines and heroes who adore them. After writing historical paranormal romances and urban fantasies, she now explores the chaotic realm of heavy metal music— a difficult world to find love in.
Brooklyn Ann lives in Coeur d'Alene, Idaho with her son, her cat, and a 1980 Datsun 210.
Website | Facebook | Twitter
Buy the book at Boroughs Publishing Group, Barnes and Noble, Kobo, Smashwords, Amazon, or iBooks.