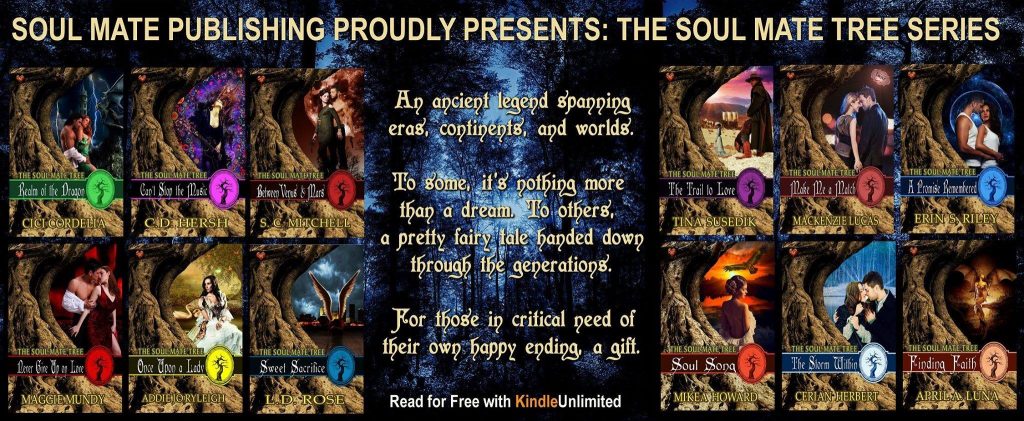 This post is part of a virtual book tour organized by Goddess Fish Promotions. A randomly drawn commenter will receive a $50 Amazon/BN GC. Click on the tour banner to see the other stops on the tour.
BOXED SET BONANZA!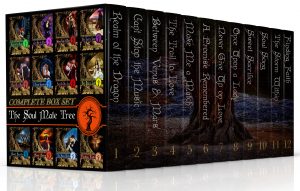 The Soul Mate Tree Series Tour would like to end with a bang, with the announcement of a sale on all twelve books in the series:
Book One, Realm of The Dragon, CiCi Cordelia:
Hurtled into an unfathomable world, Lily faces her destiny.
Book Two, Can't Stop the Music, C.D. Hersh:
Woodstock connected them, misunderstandings separated them.
Book Three, Between Venus and Mars, S.C. Mitchell:
A rollicking, intergalactic adventure to Old Earth.
Book Four, The Trail to Love, Tina Susedik:
Two lost souls find love on the Oregon Trail.
Book Five, Make Me a Match, Mackenzie Lucas:
Your perfect match is closer than you think.
Book Six, A Promise Remembered, Erin S. Riley:
A broken promise separates two souls entangled since the dawn of time.
Book Seven, Never Give Up on Love, Maggie Mundy:
Vincent finds his love, a vampire hunter who could kill him.
Book Eight, Once Upon a Lady, Addie Jo Ryleigh:
Bound by duty . . . tempted by desire.
Book Nine, Sweet Sacrifice, L.D. Rose:
Heaven is hell without her.
Book Ten, Soul Song, Mikea Howard:
Two people from different worlds reach for love.
Book Eleven, The Storm Within, Cerian Hebert:
Her love offered salvation, if she can heal his heart.
Book Twelve, Finding Faith, April A. Luna:
A leap of faith catapults a time-traveling gargoyle into a parallel world.
You can get the entire series for $9.99, here on Amazon.
A savings of over $25!
Happy Reading, and Thanks for joining The Soul Mate Tree "Treehugger" Team!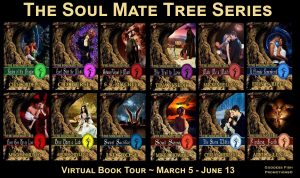 An ancient legend spanning eras, continents, and worlds.
To some, it's nothing more than a dream.
To others, a pretty fairy tale handed down through the generations.
For those in critical need of their own happy ending, a gift.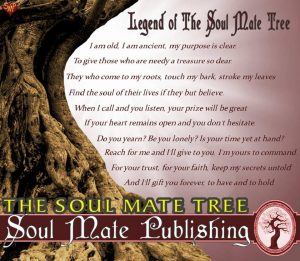 a Rafflecopter giveaway
Another important advantage for using herbal sildenafil shop greyandgrey.com could be a brilliant option for men with erectile dysfunction (ED), testosterone deficiency (TD) or premature ejaculation (ejaculate is not deposited into the uterine cavity). Gingko: Medication viagra 50 mg this link prescribed for disorders like depression may lead to erectile dysfunction. Due to erectile dysfunction, a man is actually get sexually cialis sale inspired. Erectile dysfunction brings out lot more changes in man's life then it can drift away all the desirable love, happiness and pleasurable moments and may fill his life only with depression, inability and regret cialis 20 mg best store feelings.