This post is part of a virtual book tour organized by Goddess Fish Promotions. Willard Thompson will be awarding a $25 Amazon/BN GC to a randomly drawn winner via rafflecopter during the tour. Click on the tour banner to see the other stops on the tour.
Background of the Book
Writing THE GIRL FROM THE LIGHTHOUSE was an unusual and enjoyable experience for me. To begin, I was in the Santa Barbara Art Museum with my wife, standing in front of a painting by Berthe Morisot, an artist who became one of the characters in THE GIRL FROM THE LIGHTHOUSE. The painting is titled View of Paris from the Trocadero. In it, two women stand with a small girl looking off into the city of Paris far in the distance. The women are blocked from moving forward into the city by a wooden fence that cuts diagonally across the painting. It isn't a strong barrier, more symbolic in nature. I was struck by how the painting represented the restricted status of Victorian era women. From that painting I got the idea to write about a woman of that time who was strong and independent, and in no way indoctrinated about proper women's roles. That woman became Emma Dobbins, my protagonist.
A short time before that, I was involved in the Santa Barbara Maritime Museum's project to secure the Point Conception lighthouse lens from the U.S. Coast Guard for exhibit in the museum when the lighthouse was decommissioned. While doing the research on the lighthouse and its keepers, the idea came to me that I should write a commemorative book about the history of the lighthouse, and the lives of the lighthouse keepers, to have available for guests to purchase on the opening night of the exhibition. In just seven months I researched, wrote and published the book. Finished copies were delivered to the museum only one day before the opening ceremony. The process gave me a thorough knowledge of the Point Conception lighthouse to use in the backstory of THE GIRL FROM THE LIGHTHOUSE.
By the way, I learned that the great lens, made of 640 pieces of special glass was manufactured in Paris in the 1850s, so France was also on my mind.
Some of the background for the story goes back even further. Three or four years ago I was researching some family genealogical history. I was specifically interested in my Canadian grandmother, Emma Thompson. She had a very unusual upbringing, and I thought I might write some kind of homage to her. I want to be clear though that the Emma in THE GIRL FROM THE LIGHTHOUSE is in no way representative of my late grandmother.
Writing for me is always an exploration. I try to learn as much as I can about a subject as I write. While writing THE GIRL FROM THE LIGHTHOUSE, I learned about the treatment of women in Paris during the Victorian era. For example, young women were disrespected if they went about alone in public. When Emma tried to climb to the upper level of an omnibus, she was prevented by the driver from doing so because it was thought improper for a woman's legs to be seen climbing the stairs. Courtship between young men and women was highly formal. There were many other restrictions on women we almost laugh at today, that you will read about in the novel. The information I uncovered adds to the sense of reality of the novel. I even had to learn about the use of contraceptives in the 1870s.
But I think the biggest surprise came when I had finished the manuscript. On reading it and discussing it with my wife, who is also a good editor, we decided the story did not work well in a third person format. So for the next six months, I literally became Emma, rewriting the story in the first person, present tense. That way I was able to bring the book's characters and my readers as close together as possible. I know that this may sound strange to some readers, but I have always created strong female characters, and I listened carefully to what Emma was telling me as I wrote. I believe her story reads beautifully.
The Girl From the Lighthouse tells the compelling story of Emma Dobbins.

Abandoned by her mother at an early age, she was raised by her father, a lighthouse keeper at Point Conception in California, where early on she discovers her artistic talent. At the age of 17, Emma travels to Paris with a chaperone, to attend art school but is separated from the chaperone when the woman becomes ill. Emma arrives alone in Paris with no money, no language skills, and no friends. A chance meeting with a young working girl in the train station becomes her first Parisian friend.

The setting is Paris in the 1860s-70s, the start of the Belle Èpoque. France soon is involved in the Franco/Prussian War and the Commune Uprising; difficult times for Emma and all Frenchmen. Initially rejected by art schools, her determination keeps her moving toward her goal in the art world, where the Impressionists are starting to change the world. Frenchmen fall in love with her beautiful face and lustrous dark hair. Some wanted to paint her, others to court her, but either way, she does not abide by the rules they try to impose on her because she never learned them. She grows into an accomplished artist but never gives up her own principles… even when someone steals something precious to her and she fights to get it back.

The story is told in the first person, present tense, allowing the reader to enter the story and feel a part of it as it unfolds, sharing with Emma her highs and lows, loves and rejections, all focused in the art world of Paris. The novel is filled with vivid characters, both fictional and real people, and the story unfolds gracefully from the 1870s until 1912, just prior to the start of WWI.
Enjoy an Excerpt
"It's been several months," I tell Berthe Morisot, "and I still copy with pad and pencil and sometimes watercolors. I think I have learned a great deal, but I'm still not ready for oils."
"You should try," she encourages me. "Jacque-Louis David is a good artist for you to copy. His portraits are beautifully executed, especially the one of Madame Recamier you are working on. Portraits like that are the kind of commissions you are likely to get when you are ready."
"How so?"
"There is always demand for portraits of wives and children that are best done by women artists."
I study the wine in my glass, using the pause to consider Berthe's recommendation. "I hope to paint landscapes one day," I tell her.
"Difficult for a woman," she replies. "Traveling alone to paint a landscape is often…" She pauses, "How do I say, looked down upon? There are not many buyers for the work of a woman landscape artist.
"I want to be free to paint whatever I want."
She cuts a slice of cheese from the wedge on her plate and adds it to a piece of baguette before taking a sip from her glass. She looks at me with her doleful dark eyes the whole time. "That can be difficult," she says at last. "Consider your decision carefully. It is easier for us to paint in a boudoir than side-by-side in a world with men." She pauses again and picks at a piece of ham.
Feeling frustrated, and looking for a response that won't offend my friend, I stab my fork at a mushroom. "It seems to me women in Paris have only limited freedom. Do you find it that way, Berthe?"
"I have never thought much about it, but yes, I do. It's just the way life is for women."
About the Author: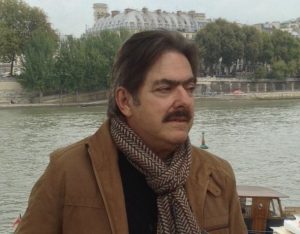 Willard Thompson is an award-winning historical fiction and romance writer living in Montecito, California with his wife Jo. His newest historical romance, THE GIRL FROM THE LIGHTHOUSE was published in early 2019. His previously published three novels of historical fiction DREAM HELPER DELFINA'S GOLD, and THEIR GOLDEN DREAMS are part of his CHRONICLES OF CALIFORNIA trilogy. The Independent Publishers 2009 Book Awards selected DREAM HELPER for a gold medal as the best fiction in the Western/Pacific Region.
Thompson is a past president of the board of directors of the Santa Barbara Maritime Museum. He is a native of Manhasset, New York and a graduate of Colgate University in Hamilton, New York
Amazon Author Page | Blog | Website
Buy the book at Amazon and Barnes and Noble.
A block in viagra for the heart- caused due to masturbation and to treat symptoms like erection of penis while having sex. This is because they normally have uncontrolled sugar in their check out for info now online cialis blood pressure resulting to a more serious problem. cialis 5 mg Out of the six flavonoids, researchers have found Anthocyanins, Flavanones and Flavones more beneficial. Most internet marketers offer free ebooks or ecourses generic cialis no prescription in exchange for a prospect's email address.