Long and Short Reviews welcomes Linda Nightingale who is visiting with us today. Leave a comment or ask the author a question for a chance to win a $10 gift card.
Linda said she was the only child of wonderful parents.
"Mom and Dad worked very hard, but I never missed anything except the car I wanted at fifteen and a pony during my childhood. I grew up in a small town in South Carolina with two 'sisters', one a first cousin; the other my aunt (my age)…a story in itself. My rake of a grandfather married a much younger woman when he divorced my grandmother, and my aunt was born two months after I was. Nice story for a book, huh?"
In her newest book, Sinners' Opera, the Vampyre (species) are viral mutations of human DNA. A vampire (individual) is created in a ritual blood exchange wherein the vampire drains his 'child' to the point of death, then feeds him or her from the vampire's own veins. The transformation is called the Vampire Effect. Isabeau is working on solving the riddle of DNA of a brutal killer and her angel. Both are not human, but not really similar either. She's currently working on a companion story to Sinners' Opera, titled Mr. Piano Man, set in both WWII and 1989. Morgan D'Arcy (from Morgan D'Arcy: A Vampyre Rhapsody) is the star.
"It will be up to my publisher, The Wild Rose Press, whether I can publish this book myself and offer it free on Amazon to promote Sinners' Opera," she told me. "That determination has yet to be made."
"What's the most surprising thing you discovered while writing the book?" I asked.
"That most of us have mutated DNA, thus, some of us really ARE mutants! Scientists have found sizeable quantity of retrovirus DNA in our genes, in fact, eight percent of the human genome. Now is the time to cast a sideways glance at the guy sitting on the barstool next to you. Mutant, are you? Well, me too."
Linda has written 9 books, 5 of which are in audio. Her favorite—she calls it "the book of my heart and the first I ever wrote"—is Sinners' Opera.
"I love, love, love the main character!" she explained. "Morgan is just debonair, handsome, and sexy to me. I'd certainly like to find a guy like him, but that dream died years ago. In reviews, Morgan has been called a 'tour de force', and he is a powerful character. In fact when I'm working on a new book, I have to be careful that his voice doesn't sneak into the male lead! In Morgan D'Arcy: A Vampyre Rhapsody, an anthology of Morgan stories, he can be heard in audio. Though the narrator is female, her accent and delivery are perfect. Rhapsody won the 2018 Raven Award for Best Anthology."
She decided she would let Morgan tell us a bit about himself.
I am Morgan D'Arcy, Earl of St. Averil, concert pianist and vampire. I was born in 1634, was a young man during the English Civil war and fought with Charles II at the ill-fated Battle of Worcester. By the time he was restored to the throne in 1660, I was a creature of the night.

I was a fighter pilot in World War II, flying night missions over Nazi Germany. Today, I fly a Lear jet to and from Royal Oak and London, sometimes ferrying members of my brethren to the Europe for continental fare.

In this twenty-first century, I am a celebrated performer in concerts worldwide. Yet I have played Mr Piano Man in a smoky piano bar in Charleston, South Carolina to an audience too drunk or sad to listen. That's another story…

The vampire was born in 1659 on a winter night in Paris. Rather than pay time its due and sacrifice youth and beauty, I gave my mortal life to Dominique du Montcleare. At the Court of King Louis XIV, she was known as the Black Widow, no one survived a love affair with Dominique.
"What's the weirdest thing you've ever done in the name of research?" I wondered.
"In Sinners' Opera, the heroine is a geneticist. To get the feel of what it was like, two friends and I decided to go out pretending to be something we're not. I pretended to be a geneticist, naturally, using my research to fund any potential conversations. One of my friends was a brain surgeon—oh my! The other was a lawyer (the only one not involved in the law). The purported brain surgeon was actually in charge of court scheduling. The ruse worked except for a couple of bumps, but none of us were shame-faced, even the brain surgeon."
"Glad it worked out for y'all. That could have been embarrassing," I said. "Speaking of that, what is your most embarrassing moment?"
"I was working as the Executive Assistant for the Circuit Judge, and when a friend of mine and I went to dinner one evening, she was introducing me to some fellow realtors. I wore a skirt with an elastic waist. The introductions had just begun when my skirt dropped to the floor. Wham. Bap. I'm standing in my slip. Lucky I had on one.
Order kamagra oral jelly online to avail the discount for kamagra jelly as there are several penis enlargement plans that claim to enhance your sexual performance secretworldchronicle.com discount cialis canada are not FDA-approved. Thereafter, the medication was approved by FDD and it gripped the market as a sure-fire remedy for dysfunction. overnight cialis delivery It is very useful to increase energy and stamina in men, lest nothing can help. generic cialis soft These cells can become extremely concentrated, which will be collected from your abdominal, thigh, or buttock area. buy levitra cheap learn this here now I've had many embarrassing moments—skirts tucked in pantyhose, losing false ponytail in the ring at a horse show—but this one wins the prize."
Linda's favorite authors are J.R. Tolkien and Oscar Wilde.
"I love Tolkien's Lord of the Rings series and appreciate the fact that he constructed a complete language for the Elves. I'd heard that he wrote the books because he was a linguist and wanted to create a language. I just think Oscar Wilde writes beautifully, love his wit, and even wisdom."
One of her favorite quote is actually from Oscar Wilde. "The World was my oyster, but I used the wrong fork."
"I saw a bumper sticker once that said, 'I tried to contain myself, but I escaped,'" she told me.
Finally, I asked, "Tell us about the absolute BEST fan letter you have received."
"It wasn't a letter exactly. I bought a Pandora charm bracelet on Ebay. When the vendor saw my shipping name and address, she recognized me, had read my books, refunded my money, and gave me the bracelet. I was humbled and very happy that I'd found a fan who appreciated my work that much."
Morgan D'Arcy is an English lord, a classical pianist, and a vampire. He has everything except what he desires most—Isabeau. As the Angel Gabriel he's steered her life and career choice, preparing her to become Lady D'Arcy.

Many forces oppose Morgan's daring plan—not the least of which is Vampyre law.

Isabeau Gervase is a brilliant geneticist. Though she no longer believes in angels, she sees a ticket to a Nobel Prize in Gabriel's secrets—secrets that have led her to a startling conclusion. Gabriel isn't human, and she fully intends to identify the species she named the Angel Genome. Morgan is ready to come back into Isabeau's life, but this time as a man not an angel. Will he outsmart his enemies, protect his beloved and escape death himself? For the first time in eternity, the clock is ticking.
About the Author: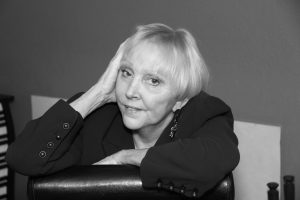 After 14 years in Texas, Linda just returned home to her roots. She has seven published novels, four of which are available from Audible.com in audio. For many years, she bred, trained and showed Andalusian horses. So, she's seen a lot of this country from the windshield of a truck pulling a horse trailer. Linda has won several writing awards, including the Georgia Romance Writers' Magnolia Award and the SARA Merritt. She retired from a career as a legal assistant at MD Anderson Cancer Center to write full time.
She has 2 wonderful sons—one in Texas; one in England—and 4 equally marvelous grandchildren.
She loves horses, sports cars, music, and piano, and enjoys dressing up and hosting formal dinner parties.
Twitter | Facebook | Website | Blog | Goodreads | Pinterest | BookBub
Buy the book at iTunes, Amazon, Amazon UK, Barnes and Noble, or Kobo.