This post is part of a virtual book tour organized by
Goddess Fish Promotions
. Cara Bristol will be awarding a $20 Amazon or Barnes and Noble GC to a randomly drawn winner via rafflecopter during the tour. Click on the tour banner to see the other stops on the tour.
Author Cara Bristol's favorite books of all time
A lifelong reader, I've read thousands and thousands of books. Romance is my preferred genre, but I read a variety of other genres, too. It's hard to pick my favorite books because there are so many, and different ones speak to me at different times depending on what's going on in my life. However, my favorite books share three things in common: first, they are well-written and crafted; second, they have a good, engaging story; and third, they have "legs" or staying power. Many books are well-written and enjoyable, yet forgettable. Months later, when I see the title, I can't remember what the book was about. I can remember my favorites decades later.
There are probably hundreds that could make my favorite's list, but I'm limited here to five:
The Stand by Stephen King – Although I don't read horror anymore, The Stand remains one of my all-time favorite books. After a plague wipes out most of the population, the survivors face a showdown between good and evil. King is a master at plotting. Things don't just happen to his characters; the choices his characters make drive the plot.
Gold Coast by Nelson DeMille – A witty, but tragic book. A attorney begins as an upstanding member of high society until he gets sucked into criminal activity after a mafia don moves in next door. What struck me about Gold Coast was how incremental choices lead to disaster. The main character didn't suddenly decide to commit a crime, but through series of small concessions, he got sucked in.
Devil's Desire by Laurie McBain – I read this (over and over) as a teenager. A young woman is compromised and forced to marry a roguish marquis, who uses her as a pawn until he begins to fall in love with her. Great emotional conflict between the characters. This is one of my all-time favorite romances.
A Bed of Thorns and Roses by Sondra Allan Carr – I cried my way to the happy ending. This book is based on Beauty and the Beast. It's a historical romance set just after the Civil War. The hero, a scientist, was badly disfigured in a fire and needs a secretary so he can continue his research. He expects a male secretary, but his doctor hires a beautiful young woman. The hero is horrified. He's been physically scarred; the heroine has been emotionally scarred. Watching these two people overcome their fears and insecurities and come together was heart-wrenching. It has a wonderful HEA, although the author added an epilogue, which I hated. Loved the book, hated the epilogue.
Harry Potter by J.K. Rowling – When I first heard that adults were reading this children's book, I was stunned. But I decided to try it, and I was hooked. The series is such a wonderful, complex story with amazing characters. So creative and imaginative. It boils down to a classic theme: good v. evil.
These books entranced me, moved me, captivated me. That's the experience I want to provide for my readers. I want to pull them into the characters' lives so that they feel like they are a part of the story. I want to entertain my readers, show them a good time, and let them escape into another world for a while.
March Fellows assumed he had all the time in the galaxy to pursue a relationship with Jules, an alien exchange student from Xenia, until she vanished without a trace. After years of searching, he finds his lost love on the eve of her arranged marriage.

The daughter of the Xenian emperor, Julietta never meant to fall in love with a Terran man while visiting Earth. Leaving to fulfill her responsibilities on her home planet opened up a hole in her heart that could never be filled. When March, now a cyborg, unexpectedly shows up just before she is to be bonded, she struggles to find the courage to turn him away a second time and follow through with her duty. Before she can act, the lovers are thrust into a political conspiracy that threatens the Xenian empire and their lives.
Enjoy an Excerpt:
(In this scene, March finally finds Julietta and confronts her.)
"I never meant to hurt you. I'm sorry. I can't speak to you." She reached for the scanner to close the door.
He shouldered past her into her quarters.
She gaped. "What are you doing? You have no right to enter!"
He jerked his head at the controls. "Close the door."
"Maybe I'll call the guards instead." She reached for the call button.
He grabbed her wrist and pressed her hand to the screen, locking them in together. He released her and planted himself between her and the call button. Julietta rubbed her wrist. Though his hand had been callused and rough, his touch hadn't been hurtful. The March of her past had had the smooth skin of an academic who spent the majority of his time indoors. She didn't know what work he did now, but she guessed he didn't teach at the university.
Stolen glimpses at the banquet and in the arena hadn't prepared her for the effect of his presence. He had grown taller and acquired heavy, thick muscles, though there wasn't a gram of excess fat on him anywhere. Maturity bracketed his mouth and etched the skin around his temples, but his eyes still reflected the Terran sky. Full lips, no longer soft, slashed across his face with dislike.
His nostrils flared as he exhaled, and then he raked a hand through his hair. He tilted his head. This time, when he looked at her, his anger had evaporated, and his eyes appeared haunted.
She'd earned his anger; his pain was more than she could bear. "March…"
"I shouldn't be here. I apologize." He turned to leave.
"Wait!" The entreaty was torn from her. What am I doing? Let him go. "You're right. We should talk." She motioned to a settee. "Would you like to sit?"
"No, but I will." He positioned himself with his legs spread wide, his hands clasped between his knees, taking up the entire space. He didn't need to stake out his territory to prevent her from sitting next him; she wouldn't have dared to join him. Distance was the only protection she had.
She lowered herself onto an opposite chair. "How have you been?" It sounded so inane, she winced.
"I'm sorry about Naimo," he said. "I hope he will recover."
"Thank you." She rubbed the sore spot left by the headdress. "I don't—how—I don't understand how you came to be in the arena as the challenger."
The corner of his mouth quirked. "I don't either."
"What?"
"I work for a spaceship remanufacturer. I delivered a ship your father had ordered."
Business, then. A foolish hope deflated, leaving her more heartbroken. March would not have come for her, and if he had, she would have had to reject him. It is for the best. Let the past remain buried where it can do no harm.
"I still don't understand the connection to the Sha'A'la," she said. He'd been magnificent in the arena. Her eyes had been on him the whole time. Her heart had fought with him, for him. The sexy but mild mannered teaching assistant had turned lethal.
He fixed his gaze on her face. "Why did you disappear?"
Julietta rose to her feet and paced the room. "Isn't it obvious?"
About the Author: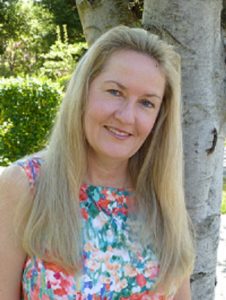 USA Today bestselling author Cara Bristol has been the no. 1 best seller in science fiction romance, bdsm erotica, and holiday fiction on Amazon. She's the author of two science fiction romance series featuring tough alpha heroes: the Cy-Ops Sci-fi Romance cyborg series and the Breeder science fiction romance series, which emphasize character-driven stories written with a touch of humor and sizzling chemistry between the hero and heroine. Cara lives in Missouri with her own alpha hero, her husband.
Website | Newsletter | Facebook | Facebook Author Page | Amazon Author Page | Instagram | Pinterest | Twitter | Goodreads
Buy the book at Amazon, iBooks, Kobo, or Barnes and Noble.