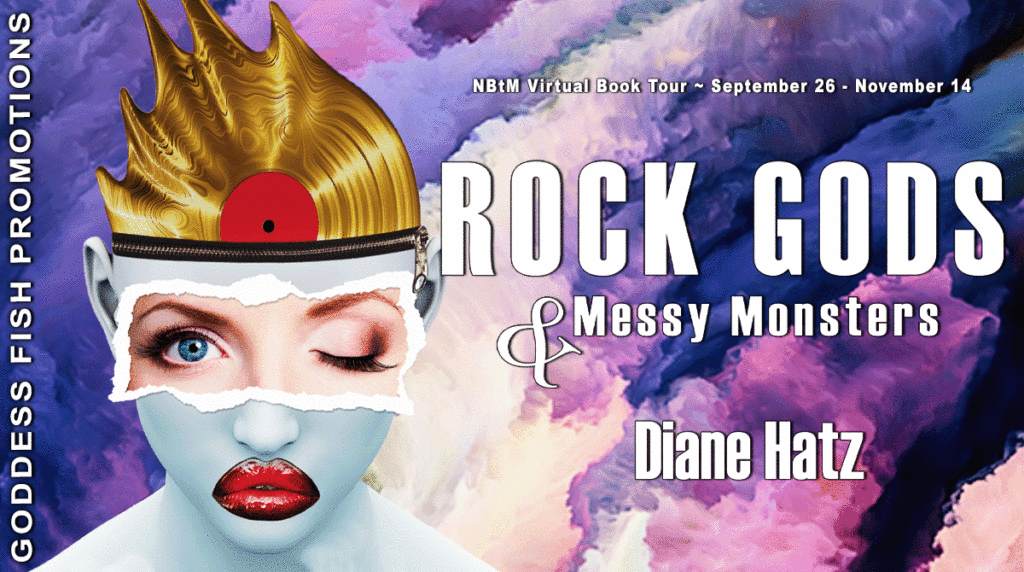 This post is part of a virtual book tour organized by Goddess Fish Promotions. Diane Hatz will be awarding a $20 Amazon or Barnes and Noble GC to a randomly drawn winner via rafflecopter during the tour. Click on the tour banner to see the other stops on the tour.
Advice for writers
I self-published Rock Gods of Acht in 2008 because I couldn't find an agent or publisher. I had incredibly low self-esteem around my writing and took all the rejections personally. It was so painful!
Last spring, a friend reconnected after many years. She shared that she quit her office job immediately after finishing my book. She also said I had the novel all wrong. Rock Gods is set in a record company, but it's about the search for self and understanding that our dreams can sometimes be delusions. And we are the only ones that can do something about it.
It took a little (okay, a lot) of encouragement from her, but I decided to update the book and re-release it as Rock Gods & Messy Monsters. I indie published the work under my new publishing imprint Whole Healthy Group LLC.
I've learned so much that my next book will be on indie publishing. Writing it will be worth it if I can help one person avoid the drama and difficulties I experienced with Rock Gods.
Some quick tips I can give any aspiring or new writers include:
● Write. I read many years ago that writing is rewriting. That is so true. If you're writing a novel, the first draft is usually a brain dump. Just get your thoughts out. Don't stop to edit; don't stop at all. Just write, write, write. That will give you a manuscript to mold and edit into a novel.
● Be consistent. I write every day. It might not always be a book I'm working on, but I'll journal or write an article for my Substack Next Draft with Diane Hatz. Writing is like any form of exercise. You get out of shape if you stop doing it for a while. Develop a routine – even if it's ten minutes a day. Write.
● Rewrite and edit. You'll have to cut parts of the manuscript you love. If the scenes or characters don't move your story forward, you must cut them. I cut out the words, but I save the writing in another folder to possibly use later. You're not getting rid of the work; you're keeping it for another time.
● Join writing groups. You must find people to support you. I had such low self-esteem with writing because I didn't have enough supportive people in my life. There are writing groups everywhere. Start one if you can't find one. And make it a requirement that any critiques are positive.
● Ignore the negative. I know this is hard, but you'll face rejection with your work at some point. I recently did my first tabling event at a comic con in Las Vegas. I went in all bright-eyed, with visions of the masses buying all my books. That didn't happen. But I ended up having a great time because I shifted my attitude about being there. It became a weekend of market research and meeting other indie writers. And how many people get Batman and Robin to take a photo with their book? Because I could shift my expectations, I made the most of my time there. And I enjoyed it.
My final advice is to take your writing career one step at a time. If you're still writing your book, focus on that. Worry about publishing when you feel it's at least ninety-five percent done.
If you're ready to publish, go indie. Indie books now make up 43% of the market, which is only increasing. You keep total control, and you get a much, much larger royalty on each book sold.
I hope to be reading your book in the not-too-distant future.
Rock Gods & Messy Monsters is one woman's search for herself among the blood-soaked walls, dangling body parts, and alien-hatched explosions inside Acht Records.

It's the 1990s. Alex arrives to work at Acht, her improbable blonde hair streaked stress magenta and anger black. Her first duty is to wipe blood off her boss's walls, to clean up his blood vessel explosion. It goes downhill from there.

On the surface, Rock Gods & Messy Monsters is a story about life inside an entertainment company. A cast of comedic characters exemplifies the inner workings of Acht, where power and greed mask incompetence.

A series of escapades involve Alex, a hard-working, lower-level employee desperately trying to get promoted. When she does, she realizes her dream is a nightmare. Corporate executives are busy working with aliens to manufacture a half-human, half-robot superstar. At the same time, one of the doubly-named Senior Senior Executive Presidents attempts to overthrow the Deity in charge.

Underneath and between the lines of exploding body parts and brain extractions, Rock Gods & Messy Monsters is a cautionary tale. It reminds us that our dreams can be illusions, and learning who we really are takes courage and a commitment to self-love.
Enjoy an Excerpt
The blood didn't bother Alex but cleaning it up made her angry.
"Damn it," she cursed aloud as she surveyed the red stained walls and coagulated mounds of Langley ooze around her boss' corner office.
Alex returned to her desk, her wildly improbable blonde hair already streaked stress magenta and anger black. It was coming to an end; Alex had to get out of her job. But with the worldwide recession and lines of job applicants she saw every day on her way into the building, she was lucky to have a job, especially in a major record company.
Alex put her backpack on the floor and unzipped the side of her head. She reached in and pulled out her brain, placing the throbbing gray matter in the customized, faux crystal cerebrum urn Acht Records had supplied her with her first day at the company. She had fought the procedure at first, refused to sign the Cerebrum Extraction Release form, but with times being as hard as they were, and with the knowledge that she had spent over six months unemployed before being offered this job, Alex knew she had no choice.
And after wandering through the homogenous maze of Acht, up and down forty floors of identical gray hallways and glaring fluorescent lights, she had realized she would be better off if she removed all traces of thought and intelligence before commencing employment at the company.
About the Author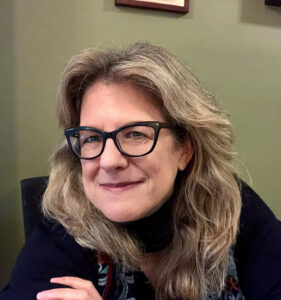 Diane Hatz worked at major and indie record companies, managed a band, and freelanced as a music publicist. She is co-founder of The Relay, a fanzine on The Who, which is in the Rock and Roll Hall of Fame. She's attended thousands of concerts.
Diane has a Masters in Creative Writing and is currently focused on writing fiction. Her book Rock Gods & Messy Monsters is currently available from most online retailers. Her substack "Next Draft with Diane Hatz" is a newsletter for creatives looking inward. And some writing stuff.
During her sometimes-surreal career, Diane founded the nonprofit Change Food, worked to shut down factory farms, organized & spoke at major TED/TEDx events, and executive produced The Meatrix, a Webby Award winner. She has studied with many spiritual teachers, including The Dalai Lama.
In late 2020, after 30 years living in downtown Manhattan and the East Village, Diane moved to Santa Fe, New Mexico. When not at her computer creating, you can find her hiking, road tripping, or breathing in all the beauty the Southwest has to offer.
Website | Newsletter | Facebook | Instagram Donation | LinkedIn | Pinterest | TikTok | Twitter | YouTube
Buy the book at Amazon.