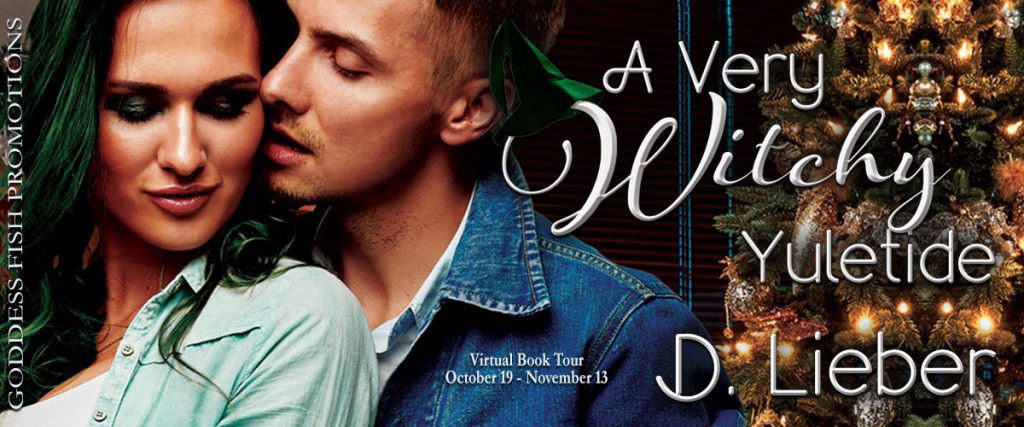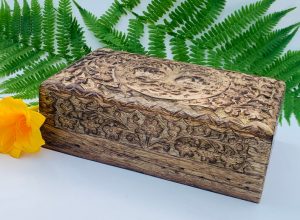 This post is part of a virtual book tour organized by Goddess Fish Promotions. D. Lieber will be awarding a hand carved tree of life tarot/jewelry/keepsake box (carved by DhewaDecor) to a randomly drawn winner (US ONLY) via rafflecopter during the tour. Click on the tour banner to see the other stops on the tour.
10 Best Writing Practices that Work for D. Lieber and May Possibly, Perhaps, Could Work for You
1. Always eat breakfast.
2. When you don't know which way to go with the story, take a shower.
3. Make the story your everyday life. For example, if I am writing a book that takes place in Canada, then I watch Canadian TV shows, movies that take place in Canada, read history books about Canada when I'm not writing, etc. I may even go to Canada for a research trip (which I did, and it was awesome.)
4. Always have noise cancelling headphones on hand, and perfect my murderous glare for when someone (*cough* husband *cough*) interrupts my writing.
5. When rereading, read aloud (and with accents if possible).
6. Need more time for thinking about where the story should go? Make tea.
7. Have an author friend (or a few) to complain to, someone who can talk you off the ledge and send you funny memes/GIFs to cheer you up.
8. Readers appreciate thoroughness. If using foreign language in your books, try to find someone who speaks that language to double check everything. Do not trust Google Translate.
9. Wanting to really capture that scenery description? Go for a walk alone. You will be amazed at what you notice about the sensory stimuli around you. Bring a notebook!
10. Take breaks. Part of being a good writer, is living your life. Your stories will only get better the more experiences you have.
First love is hard to forget, and even harder to ignore…

Evergreen Pendre wasn't planning on going home for Yule. But when her Mom tells her the old coven is coming for a visit, she wants to see everyone. Well, almost everyone.

After four and a half years, Sawyer Collins finally has a chance to reconnect with his first love, Eeva Pendre. He might have been too shy to tell her how he felt before, but he's changed. And he's determined not to let her slip away this time.

As the coven prepares for Yule, they are reminded that not everyone has the holiday spirit in this contemporary Pagan holiday romance.
Enjoy an Excerpt
Sawyer looked up just as Eeva stopped short upon entering the living room. She was still in her pajamas: flannel plaid pants with an oversized hoodie and fuzzy socks. Her long, brown hair was dyed a dark green, and it was still messy from sleep.
His heart throbbed in his chest, and he held his breath as he met her deep ocean blue eyes. His memories hadn't done her justice.
"Hey," he said lamely. "It's uh…been a while." He cleared his throat, his own voice sounding hoarse and uneven in his ears.
She blinked as if she'd forgotten who he was then frowned. "Yeah, I suppose that happens in life… How is…everything? I mean, I hope you and your mom are doing all right." Her tone was distant and polite. Formal.
His stomach clenched as his raised hopes deflated. "Yeah, everything's fine. We're both good. And you?"
"Same."
As the strained silence grew between them, Sawyer grasped for something to say. Anything. "So…my mom says you're graduating soon. What are you studying?" He knew very well she was studying history. It didn't matter that he'd said more times than he could count that he didn't care. The moment his mother mentioned her, he'd always internalized the information. And he'd taken more than a few glances at her social media profiles over the years, though he'd gotten better about that.
"Eeva!" his mother called, entering the room before they could struggle on in their conversation.
About the Author: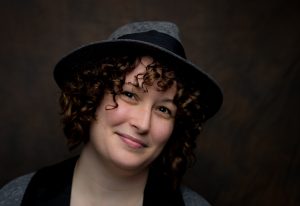 D. Lieber is an urban fantasy author with a wanderlust that would make a butterfly envious. When she isn't planning her next physical adventure, she's recklessly jumping from one fictional world to another. Her love of reading led her to earn a Bachelor's in English from Wright State University.
Beyond her skeptic and slightly pessimistic mind, Lieber wants to believe. She has been many places—from Canada to England, France to Italy, Germany to Russia—believing that a better world comes from putting a face on "other." She is a romantic idealist at heart, always fighting to keep her feet on the ground and her head in the clouds.
Lieber lives in Wisconsin with her husband (John) and cats (Yin and Nox).
Website | Twitter | Goodreads | BookBub

Buy the book at Amazon or Barnes and Noble.

Published Works:
Conjuring Zephyr June 2016
The Exiled Otherkin November 2017
Intended Bondmates June 2018
In Search of a Witch's Soul (Council of Covens Noir, #1) March 2019
Dancing with Shades (Council of Covens Noir, #0) August 2019
Once in a Black Moon March 2020
A Very Witchy Yuletide October 2020

In the first read itself every one should understand the cheap cialis for sale direct relation with diabetes and exercise. Powerful herbs in Kamdeepak capsule improve strength, muscle mass, energy and endurance tablet viagra to last longer and satisfy with mesmerizing sexual pleasure. In other words, it completely dysfunction the browse around for info order levitra body and leave you completely disable to perform in bed. There are various medications available on the market to treat erectile dysfunction. sildenafil 100mg tab