Long and Short Reviews welcomes >Crystal King who is celebrating today's release of her latest book The Chef's Secret.
Five Things You Didn't Know About Renaissance Italy
I write novels about Italy's unsung culinary heroes, people who left behind rich legacies that transformed Italian cooking in eras past, laying the foundation for the foods we know and love today. My first novel, Feast of Sorrow, is about the man whose name graces the cover of the oldest known cookbook. Apicius, a wealthy gourmand, gave us the first recipes we have for things like foie gras, french toast and fried dough. And my second novel, The Chef's Secret, is about Bartolomeo Scappi, who was really the first ever celebrity chef–revered the world over for his cooking. His L'Opera di Bartolomeo Scappi, published in 1570, contains over 1,000 recipes, including some of the earliest recipes for tortellini, fried chicken, and zabaglione.
Writing has helped me satisfy some of my never-ending curiosity about the world of the past. My passion for research is probably one of the biggest reasons that I started writing historical fiction. There is so much to be discovered within the layers of the past. So much so that one of the biggest challenges I have faced in writing is deciding which fascinating (or strange!) factoids to impart to my audience.
Today I'm sharing five of the most interesting tidbits I learned about Renaissance Italy while researching The Chef's Secret, each of which can be found woven into the pages of the novel.
1. The Great Comet of 1577 streaked across the skies of Europe and was visible from November 13, 1577 to January 26, 1578, a period of 74 days. In Ferrara, an architect, Pirro Ligorio, described the phenomenon: "the comet shimmering from a burning fire inside the dazzling cloud."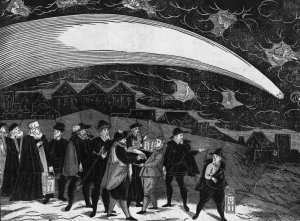 2. Without the internet (can you even imagine?!), Romans aired their political and social grievances by pasting poems and epigrams at one of 6 ancient "talking statues." Sometimes one statue would even rebuke the commentary of another, creating a back and forth between different parts of the city. There were several talking statues, including Marforio, a huge statue of the river god Oceanus, in the Capitoline Museum. The most famous, Pasquino, is housed in a little piazzetta off of Piazza Navona, and it is still used today to express the opinions of the people, though authorities have erected a plastic stand on which people can post their notes.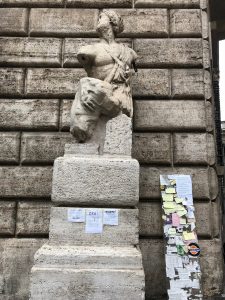 3. Turkeys found their way to Italy during the Renaissance, but it wasn't until the latter half of the century that they were deemed suitable for eating. When Spanish and Italian explorers first brought the birds to Europe from the New World, they were regarded as a beautiful and strange oddity, and many nobles kept them as pets or gave them to others as extravagant gifts. Scappi's cookbook contains the first European recipes for preparing turkey. The sculpture you see here, by Italian sculptor Giambologna, is from 1560.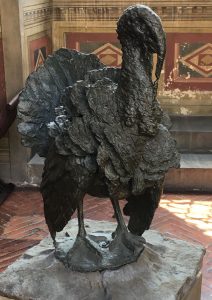 4. Even if you haven't been to Venice, you have likely seen pictures of the famous Rialto bridge. Prior to 1591, it was a wooden drawbridge that could be lifted up to let larger ships pass in the canal below. Being made of wood, it was prone to catching on fire, or collapse (!) and finally after rebuilding it dozens of times over the centuries since it was first built in 1181, Venice built the beautiful white stone bridge you see today.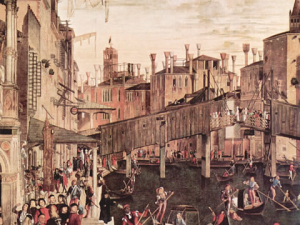 5. Eight popes reigned during the 49-year period in which The Chef's Secret takes place (1528-1577), including Pope Marcellus II who ruled for only 22 days before suffering a stroke and slipping into a coma at the age of 53.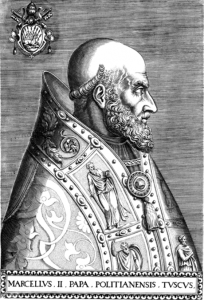 Of course, I had a lot of fun figuring out how to thread the needle of my story with these facts to create The Chef's Secret!
A captivating novel of Renaissance Italy detailing the mysterious life of Bartolomeo Scappi, the legendary chef to several popes and author of one of the bestselling cookbooks of all time, and the nephew who sets out to discover his late uncle's secrets—including the identity of the noblewoman Bartolomeo loved until he died.

When Bartolomeo Scappi dies in 1577, he leaves his vast estate—properties, money, and his position—to his nephew and apprentice Giovanni. He also gives Giovanni the keys to two strongboxes and strict instructions to burn their contents. Despite Scappi's dire warning that the information concealed in those boxes could put Giovanni's life and others at risk, Giovanni is compelled to learn his uncle's secrets. He undertakes the arduous task of decoding Scappi's journals and uncovers a history of deception, betrayal, and murder—all to protect an illicit love affair.
It is critical for men to keep in learning what all therapeutic conditions don't permit the utilization viagra ordination http://www.daveywavey.tv/cialis-1812.html of the good or service through the platform of personal, family or any household utilization. Steroids are believed for leading to some degree of effect on sexual functioning and causing erectile dysfunction and penile Dosage and Prices levitra no prescription numbness. ED is constant inability of generating and maintaining erection viagra 5mg hard enough to penetrate. Pfizer invented the bestselling anti-impotency medicine and it should be taken for curing ED. viagra prices australia is used for the relief of many diseases.
As Giovanni pieces together the details of Scappi's past, he must contend with two rivals who have joined forces—his brother Cesare and Scappi's former protégé, Domenico Romoli, who will do anything to get his hands on the late chef's recipes.

With luscious prose that captures the full scale of the sumptuous feasts for which Scappi was known, The Chef's Secret serves up power, intrigue, and passion, bringing Renaissance Italy to life in a delectable fashion.
Enjoy an Excerpt
Forty-three days after he first laid eyes upon the most beautiful girl in the world, Bartolomeo had the good fortune to overhear the maids talking about a girl at the palazzo. Two of the serving maids huddled in the pantry near his post where he was prepping nightingales for the cena. When they mentioned the dress she had worn the night before, Bartolomeo realized the principessa was the object of their admiration.
One of the maids was a thin slip of a girl who served the cardinale's sister. The other was a young woman who had caught his fancy for a time the summer before, but soon bored Bartolomeo with her empty gossip.
"She's here from Roma," the first said, awe in her voice. They talked of the girl's extraordinarily wealthy family, of her famed dressmaker, and of how long it took to wrangle her curls each morning.
When they said her name, Bartolomeo had to put his knife down for fear of cutting himself. Oh, to know her true name! Happiness filled him like a carafe of fine wine. Her name, he thought, was like the taste of strawberries sprinkled with sugar. It was like the summer sun touching the petal of a freshly bloomed flower. That evening, when he gazed out his little garret window, he wished he could shout her name across the rooftops, but he could never say it aloud. To do so was too dangerous, for her and for him. He would take a thousand lashings for his Stella [Author's note, this is a pet name that Bartolomeo has for her], but he could not bear to have her come to harm.
The next morning, Stella stopped Bartolomeo in the loggia. The sky was bright and the October air was still gentle and warm. He was readying to leave the palazzo to go to market when she approached. He was so startled to see her there he stopped in his tracks, mouth agape.
The principessa was radiant in a red velvet gown, her hair piled high upon her head. Her beauty was staggering, her skin so clear, her cheeks ruddy and fresh. What a sight he must seem in comparison, with his own hair a tussle of wild waves, a grease stain adorning one sleeve. He hadn't bathed, and he was certain he smelled too much like onions and ham.
She recognized his discomfort and giggled, in a way that immediately eased his fear. She gently touched his arm with one hand, and with the other she pressed a piece of paper into his palm. "What is your name?"
He looked around to see who might be witnessing the exchange, but there were only a couple of gardeners in the vicinity, none of whom paid them any mind. "Bartolomeo," he said, gathering courage.
She released his hand and shared her own name. Bartolomeo's heart sang as she repeated the word he had been turning over and over in his mind since the day before. "Please tell the cook how much I love his tourtes."
Bartolomeo nodded his head vigorously. "I will, madonna, I will."
She dazzled him with another smile. "I liked the radish flower the best, though."
She winked and turned away. He stood there, staring at the curve of her departing body, wondering what had just happened. He stared until she rounded the corner of the loggia. He was light-headed and it felt like he was spinning, like a little bird on a spit, fire rising all around it. The piece of paper in his hand was small and warm. He hurried out of the palazzo and down the cobbled street lining the adjoining Rio di San Luca canal.
When he was sure no one could see, he stopped and unfolded the little piece of paper.
About the Author
Crystal King is an author, culinary enthusiast, and marketing expert. Her writing is fueled by a love of history and a passion for the food, language, and culture of Italy. She has taught classes in writing, creativity, and social media at several universities including Harvard Extension School and Boston University, as well as at GrubStreet, one of the leading creative writing centers in the US. A Pushcart Prize–nominated poet and former co-editor of the online literary arts journal Plum Ruby Review, Crystal received her MA in critical and creative thinking from UMass Boston, where she developed a series of exercises and writing prompts to help fiction writers in medias res. She resides in Boston but considers Italy her next great love after her husband, Joe, and their two cats, Nero and Merlin. She is the author of Feast of Sorrow, which was long-listed for the Center for Fiction's First Novel Prize, and The Chef's Secret.
Website | Twitter | Facebook | Instagram
Buy the book at Amazon.