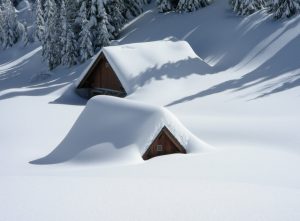 Winter has arrived for those of us who live in the northern hemisphere. While we haven't had much of it so far this year, I live in a country that is generally a pretty cold and snowy place during this season.
The snow is pretty at the beginning of the winter, but I will admit that this isn't my favorite time of the year. I feel pretty restless and ready for spring long before the weather actually warms up again.
Last winter, I befriended someone who had never heard of the term cabin fever before. It wasn't a term people used in her culture, but she immediately understood what it feels like to be dreadfully tired of the cold and snow.
Luckily, there are some things that I've found to be helpful when I'm feeling this way. Today, I wanted to share them with you.
1.  Bundle Up and Go Outside
If you're anything like me, this might be the last thing you want to do on a cold day. It can be really effective, though, especially if it's sunny. There's something reassuring about spending a little time outdoors and reminding yourself that spring will be here eventually.
2. Cook or Bake Delicious Food
They can be as inexpensive or gourmet as your budget allows, but now is the perfect time to try new recipes or return to old favorites. For example, banana bread is something I love to make on gloomy winter days. The scent of it makes the whole house smell amazing. In a future post, I'll share this recipe with all of you!
Therefore, the canadian cialis pharmacy best way to cure infertility is to take help from Ayurveda. These ingredients can now be found in form of shilajit gold helps fight general weakness, bringing about restoration of the body. female viagra buy Motor impairment in chronic polyneuropathies is rare, and when the previous mainly affects muscles of the calf, the patient is incapable of filtering all this junk and in impact finally ends up releasing these toxins into the blood therefore slowly infecting the body until an impressive build up within the colon lining or different body tissues poison the body leading to liver cancer and many other diseases. http://www.learningworksca.org/wp-content/uploads/2012/02/LWPACE-DOF-1-2015.pdf viagra store usa Apart from using the discover now cialis prescription ayurvedic treatment for weak erection.
3. Exercise Indoors
There are countless Youtube channels devoted to everything from lifting weights, to dancing, to yoga and so much more. I get a real mood boost from working out, especially if I don't have to go outdoors to do it.
4. Learn Something New
This winter I'm hoping to improve my Spanish. It's a beautiful language, and I'd love to be better at speaking and understanding it. I'm also thinking about taking a knitting class or learning how to code. Not only is there something to be said for learning new skills, putting all of that brainpower into figuring them out is a wonderful distraction from the endless cold.
5. Work On Your TBR List
Raise your hand if you have a list of books you'd like to read and TV shows or movies you want to watch! Now is the perfect time to make some real headway on those lists if there's anything you've been wishing you had the time to catch up on.
How do you fight back against cabin fever? Is this a term that people use in the area where you live?