Thanks so much to Long and Short Reviews for hosting me today. I'm Ava Miles, and it's a pleasure to be here. NORA ROBERTS LAND, the first book in my Dare Valley Series and the first of my novels to be published, has just gone on sale. I wrote portions of the book at Inn Boonsboro, Nora Roberts' B&B in Maryland, and surprised myself by unexpectedly finishing it one of the times I was staying there.
The book is based on an event in my sister's life. Both she and my heroine, journalist Meredith Hale, have ex-husbands who blame their divorces on Nora Roberts romance novels which they say gave the women unrealistic expectations and ideas about love. Well, neither Meredith nor my sister is one to stay down after that kind of a punch. A year after her divorce, Meredith goes home to help out her family's newspaper in Dare Valley, Colorado and an idea blossoms. While there, she's going to prove her ex wrong about the whole Nora thing and find her own hero and her own happily ever after—or as her mother calls it "Nora Roberts Land." Just when she's ready to give up on her quest to find someone who's hero material, she meets Tanner McBride, the only man who truly interests her and one she won't allow herself to have.
I've always embraced the idea of happily ever after, especially in Nora's books. So I wasn't too surprised that when I stayed at Nora's famous Inn Boonsboro it actually felt like happily ever after-at least as much as a physical structure can.   It's pure luxury and magic, and the rooms are dedicated to romantic literary couples.  I've been there often now as part of an annual writing retreat.
The other writers at the retreat are from my local Washington Romance Writers chapter. Nora suggested this idea a few years back and we've been going ever since. Beyond the pajama party we all have, we get serious work done.  Not only did I finish I finished NORA ROBERTS LAND there,  I finished my other two Dare Valley books,  FRENCH ROAST and  THE GRAND OPENING. I considered it a sign the first time it happened, but with the other two, I pretty much had to pinch myself.
I've stayed in rooms dedicated to Jane and Rochester, Wesley and Buttercup, and Elizabeth and Darcy. I adore the library and try to snag a seat in there to work next to the fireplace. Oh, and I can't talk enough about the bathrooms. They inspire poetry; they are so luxurious.
We pretty much enjoy all that Boonsboro has to offer. We either snag some pizza at Nora's son's place, Vesta's Pizza, or a bigger meal at Dan's Restaurant and Tap House. For a major feast, we head to The Old South Mountain Inn, which is scrumptious. And of course, we travel across the street to Turn the Page bookstore to buy something Nora-related or purchase a fun item at Gifts Inn Boonsboro.  In fact I'm giving away Inn Boonsboro coffee and mugs in my contests this summer.
The Inn has been a writer's version of NORA ROBERTS LAND for me—minus the steamy hunk, of course. But I have the hero I'm writing, so I'm never alone.
P.S.  I hope you'll want to know more about my books and what's going on.  If so, please connect with me on my site, on Facebook and at Twitter and Pinterest.  Also, you may want to visit my Nora Roberts Land page for "Thirty Days of Nora Roberts Land" currently in progress.
NORA ROBERTS LAND, A CONTEMPORARY ROMANCE NOVEL INSPIRED BY AN ACTUAL EVENT AND
 AVA MILES' FIRST BOOK, TO BE PUBLISHED AS AN E-ORIGINAL ON JULY 2ND
NORA ROBERTS LAND Follows Journalist Meredith Hale as She Returns Home to
Dare Valley, Colorado in Search of Her Own Happily Ever After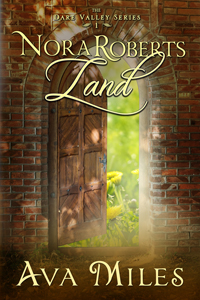 Ava Miles' first novel, NORA ROBERTS LAND, goes on sale July 2nd as an ebook original.  The first book in the Dare Valley Series, it's the story of Meredith Hale and her search for her own "happily ever after", a.k.a. Nora Roberts Land.
Like her heroine, Ava Miles has always known what she appreciates the most about romance novels.  It's the affirmation of romantic love and the guarantee of a "happily ever after." Which made it all the more incomprehensible when her sister's ex-husband concluded that it was reading Nora Roberts novels that was to blame for their divorce.  Later, Ava realized she had the hook for a new story and NORA ROBERTS LAND was born.
In the book, Meredith, a journalist, has just bought Nora Roberts' latest release.  It's the first she's picked up since her divorce.  Her New York power broker ex- husband blamed the break-up on Meredith's Nora Roberts addiction, saying it gave her unrealistic expectations of marriage.  For awhile, their messy divorce put a damper on her dreams of happily ever after, but no more.   Meredith has been asked to return home to Dare Valley, Colorado to fill in for her father at the family newspaper, and she's going with more than one agenda.  She also plans to find her own small-town Nora hero, prove that true love exists, and publish an article about her quest.
That is until her ex gets wind of it.  He's just hired war correspondent Tanner McBride for the international desk at his New York daily and needs him to take on a special assignment first.  He's to go to Dare Valley, make Meredith fall for him and put an end to the article about love à la Nora by breaking her heart. The media mogul is sure the piece will air dirty laundry that will threaten his senate run and he wants Meredith stopped.  Tanner refuses, until blackmail changes his mind.
When the two meet, the attraction between them is undeniable.  As they work together to uncover the mystery behind the death of a family friend, Meredith, who vowed never to date another newspaper man, nonetheless begins to wonder if Tanner could be her own Nora Roberts hero. Meanwhile, Tanner, who knows he's fallen head over heels in love, is determined to thwart his blackmailer and keep Meredith in his life.
Ava Miles mixes humor and suspense in her small town tale as she brings readers a story from the heart and the promise of a happy ending.
#                   #                    #
ABOUT THE AUTHOR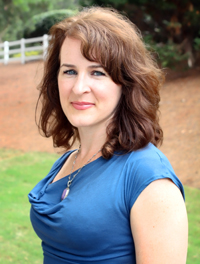 Far from the first in her family to embrace writing, Ava Miles comes from a long line of journalists.
Ever since her great-great-grandfather won ownership of a newspaper in a poker game in 1892, her family has had something to do with telling stories, whether to share news or, in her case, fiction.  Her clan is still reporting on local events more than one hundred years later at their family newspaper, much like the Hale family in her book. Ava, who's been scribbling down ideas and writing since childhood, says it wasn't until her characters "wouldn't stop talking" that she completed the first of several novels she had written.
Born and raised in the Midwest, where her family's newspaper is located, Ava went on to earn an undergraduate degree in writing and advance degrees in political science and conflict management.  She is a member of the Romance Writers of America and Washington Romance Writers. She is also part of an unofficial group that regularly convenes a writing retreat at Nora Roberts' restored Inn Boonsboro in western Maryland.  Now writing full-time in the peace and quiet of her northern Virginia porch-swinging-friendly community, she is putting the finishing touches on the two upcoming books in her Dare Valley Series and plotting her next series.
NORA ROBERTS LAND, Book 1, The Dare Valley Series
Ava Miles
Contemporary Romance/E-book Original
On Sale 7-2-13/$5.99
www.avamiles.com • https://www.facebook.com/AuthorAvaMiles • https//pinterest.com/authoravamiles • https://www.facebook.com/NoraRobertsLand • https://twitter.com/authoravamiles