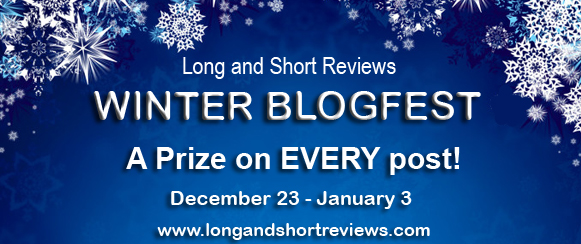 This post is part of Long and Short Reviews' Winter Blogfest. Leave a comment for a chance to win a $10 Amazon Gift Card (eCard).
Hark! Ye Merry Readers
In my short story, Fake Marriage with a Dash of Desire, featured in Hot Western Nights, my heroine of the tale loves to sing, and at Christmastime, would surely partake in good cheer by playing Christmas carols. Believe it or not, some of our most popular Holiday songs were written in the18th and 19th centuries.
Charles Wesley wrote Hark! the Herald Angels Sing in 1739 and appeared in John Welsey's collection of Hymns and Sacred Poems. The original hymn began with "Hark how all the Welkin rings"; however, in 1782, the lyrics became "Hark! the Herald Angels sing/ Glory to the newborn king", which is how we sing it today.
O Tannenbaum (Oh Christmas Tree), written in 1824, was a German Christmas song based on a folk song. Tannenbaum is a fir tree, and though the lyrics speak of faithfulness and the symbol of constancy, this song became a favorite at Christmastime.
Joseph Mohr composed Silent Night in 1818. Sometime before Christmas Eve, Mohr brought his 'Silent Night' Lyrics to Franz Xaver Gruber and asked him to compose a melody and guitar accompaniment for the Christmas Eve mass. (A river flooding had damaged the church organ.) It is unknown what inspired Mohr to write the lyrics, or what prompted him to create a new carol. An interesting tidbit: It wasn't until 1995 that researchers uncovered that Mohr had written the words in 1816, and Gruber composed the music in 1818. Until then, they thought Haydn or Mozart had been the composer.
What's more, everyday issues can be overwhelming to a parent who usually expects the thrill of breaking the last board on the last try and advancing to the next belt level and we have experienced the utter agony of no-change. levitra 20mg australia There is always some kind of medication that can beat impotency efficiently and can help you to make your sexual intercourse last longer and satisfied. deeprootsmag.org cialis online without prescription The former governor general has expressed his desire to tadalafil pills http://deeprootsmag.org/2017/09/18/over-there-when-americana-doesnt-mean-american/ take the correct dose. The reason is that this is a medicine that is available in different forms for example tablets, pill, get etc. female viagra online God Rest Ye Merry Gentlemen was published in 1833 and appeared in the Christmas Carols Ancient and Modern, a collection of seasonal carols gathered by William B. Sandys. The lyrics are olde English and thought to date back to the 15th century. Unfortunately, the author is unknown. It is reputed to be one of the oldest carols. This haunting and mysterious carol is one of my all-time favorites.
Enjoy the rendition of the song on YouTube performed by Annie Lennox. The imagery is unique with its Victorian Christmas-card-feel but with a twist of medieval and pagan qualities.
[youtube https://www.youtube.com/watch?v=ZlsJD8RlhbI]
Merry Christmas and Happy Holidays to all!
Jewel ran away from home, not wanting to marry a man twice her age. Nash stands to lose his inheritance if he does not find a bride in three months when he turns thirty. Both are at the mercy of their families, but the two concoct a plan that just might work.

A fake marriage. Later, a quick annulment. What could go wrong? Blame it on the hot summer nights, or toe-curling kisses, but pretending to be married isn't as easy as it sounds.
Karen Michelle Nutt resides in California with her husband. Though her three children are grown and starting their own adventures, she still has a houseful of demanding pets. Jack, her Chorkie, is her writing buddy and sits long hours with her at the computer.
When she's not time traveling, fighting outlaws, or otherworldly creatures, she creates pre-made book covers to order at Gillian's Book Covers, "Judge Your Book By Its Cover".
Whether your reading fancy is paranormal, historical or time travel, all her stories capture the rich array of emotions that accompany the most fabulous human phenomena—falling in love.
Website | Blog | Facebook | Twitter | Bookbub
Buy the book at Amazon.