This post is part of Long and Short Reviews' Winter Blogfest. Leave a comment for a chance to win one ebook copy of A Reluctant Santa by Adriana Kraft
A Rough Beginning by Adriana Kraft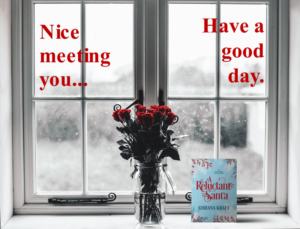 When our publisher put out a call for warm fuzzy holiday stories, my husband and I immediately knew we wanted to give a happily ever after to a couple in their fifties. We had a lot of fun with this one, and A Reluctant Santa is the result. Both main characters are so pragmatic and unromantic it sometimes looks like they'll never figure it out.
Ever since we moved to the southwest, I can't get my head around the combination of Christmas lights, palm trees, and warm weather. So, we set this story in one of our old haunts, the Lake Como area of St. Paul, MN, where there is definitely a LOT of winter. My own memories have to do with chipping ice dams, but instead we sent them ice skating, and then on a trip even farther north, where there's some great cross-country skiing, plus a Christmas Eve memory straight out of our past.
We decided against giving them a classic "Meet Cute" – they wouldn't have known what to do with it. Cliff and Carol have a somewhat rougher beginning…
EXCERPT
Set Up: Carol's best friend, Sue, has invited them both for lunch…
"Damn!" Sue looked at Carol, then at Cliff. "Sorry, I have to run. There's a crisis at work that apparently only I can solve. Enjoy your lunch. My treat."
Carol shook her head as Sue scurried off, thrust a handful of bills at the cashier, and exited the restaurant.
Cliff's soft chuckle redirected her attention. His short salt and pepper beard framed an inquisitive smile.
"I'm surprised Sue stayed as long as she did. You've known her much longer than I have. Is she always so obvious?"
"That's Sue." Carol absently brushed hair away from her eye. "What you see is what you get. A big heart, and too often more than a bit pushy. But the truest, dearest friend I've ever had."
Cliff nodded. "That's special. She left before the waiter came back to take our orders. Wonder how much she paid them! Do you want to stay? I don't know about you, but I'm hungry." He gave her a sheepish smile. "Besides, sharing a meal that's already been paid for with an attractive woman who seems as skeptical about this process as me might be an opportunity not to be missed."
Carol's breath caught—but she didn't want to look that interested. She shrugged. "Why not? So you don't do the so-called blind date adventure often?"
"Never. Until Sue twisted my arm so hard I thought it would break. By the way, I should add, I'm not disappointed I came. You do seem intriguing, and what is there to lose? We have a free meal to share, and who knows what we might discover.
"Sure. We can always walk away and say nice meeting you, have a good day."
Is it ever too late to find happiness?

They're in their fifties. Grief-stricken (her) and battle scarred (him) from their previous loves, they don't want to risk more heartbreak, ever. They'll have to take it slow, talk it through, test the waters carefully. Can they make it happen at this speed, get it done in a short story, and reap the benefits of sizzling sex at their age? Why not?
Adriana Kraft is the pen name for a married pair of retired professors writing erotic romance together. We like to think we've broken the mold for staid, fusty academics, and we hope lots of former profs are enjoying life as much as we are.
Having lived in many states across the Midwest, we now make our home in southern Arizona, where we enjoy hiking, golf, and travel, especially to the many Arizona Native American historical sites.
Together we have published more than fifty romance novels and novellas to outstanding reviews. Whether readers open our romantic suspense or our erotic romance, they can expect characters they care about, hot sex scenes, and a compelling story.
Website | Blog | Facebook | Twitter
Buy the book at Books 2 Read.