This post is part of a virtual book tour organized by Goddess Fish Promotions. Dale E. Lehman will be awarding a $10 Amazon/BN GC to a randomly drawn winner via rafflecopter during the tour. Click on the tour banner to see the other stops on the tour.
Why I Write
I'm probably an odd sort of writer. In school, my strengths ran to math and science more than language arts. My wife refers to me as a "numbers person" and to herself as a "words person." (Together we make one well-rounded human being!) I like to read, but I don't read terribly fast and haven't read as widely as most writers. Writing well enough that people will consent to read my work has been a long, hard struggle, and although I've come a long way, I'll be the first to admit that I'm still learning. So why do I bother?
Because I love to tell stories. I've been writing stories since I was very young and writing in earnest since junior high school. I suspect a genetic component to this. My father wrote fiction and essays and poetry throughout his life, although I only found out a few years before he died of pancreatic cancer. One of my great uncles wrote a story about my great-great-great-grandfather's epic migration from south central Ohio to western Ohio in the early 1800's. (Okay, it doesn't sound like much, but back then western Ohio was sparsely settled by European interlopers and still home to some of the indigenous peoples of the region.) My father had the manuscript retyped for distribution to family members and added an introduction in which he said, "The Lehmans have always been storytellers." I don't doubt it!
Indeed, although I usually think of storytelling in terms of writing, when I changed jobs a few years ago, a colleague I was leaving behind told me, "I'm going to miss your stories." She wasn't talking about my writing, but rather about the stories I told in the course of conversation. With some frequency, a discussion will remind me of some incident from my life or a tale I've heard from someone else, and I'll relate it. It wouldn't surprise me if a substantial percentage of my contributions to conversation are of this kind.
Writers write for all manner of reasons. The eighteenth century English writer Samuel Johnson famously said, "Nobody but a fool ever wrote for anything but money." Most of us wouldn't mind making money from writing, but few make very much and most—sorry, sir—write for reasons other than money without being fools. Some write to express their thoughts and beliefs. Some write in the hope of winning converts to a cause. Some write with stars or, yes, dollar signs in their eyes. But me?
I just enjoy telling you stories, and I very much hope that you'll enjoy the stories I tell. I may be more numbers person than words person, and I may have to struggle more than some other writers to find the right word or phrase or image. But most days I can tell a darn good story.
Won't you pull up a seat and listen?
The forecast: Record cold. The crimes: Colder still.

A saintly young veterinary technician disappears on Christmas Eve, leaving behind only a broken window and smears of blood on his clinic's back steps. Two years later, his disappearance remains a mystery. A home in an exclusive area burns to the ground, mirroring fires ignited the previous year by an arsonist who now sits in prison. Is the new fire a copycat, or has the wrong man been convicted? A criminal with a long list of enemies is shot dead, and not even his friends are sorry. While temperatures plummet, cold cases collide with new crimes, and somewhere a killer with blood as icy as the waters of the Chesapeake Bay watches and waits.
Enjoy an Excerpt
Hannah took two pairs of latex gloves from her pocket and handed one pair to Harold. They pulled them on, careful not to rip them, then Harold eased up the short flight of wooden steps leading to the door, his footfalls quieter than a rabbit's. He gently rotated the knob. Of course it was locked, but it never hurt to check. No sense smashing things if the owner had invited them in. Leaning to the left, he felt around the nearest window, examined it in detail, and gingerly tried to push up the lower sash. Again, no luck. Again, none expected.
Hannah tiptoed up the steps while he worked and stood close behind him. "Hammer," she whispered, pulling the tool from her coat pocket and handing it to him like a nurse handing a scalpel to a surgeon.
He took the hammer and with a swift stroke smashed the pane, then cleaned the jagged shards from the sash with the head. Falling splinters chattered as they struck the floor inside. Once satisfied the opening was clean, he helped Hannah through the window. She moved so quietly she might have vanished, but in his mind Harold could see her go to the door, disarm the alarm with the code they had been given, and unlock the deadbolt. The door whispered open.
He slipped inside and eased the door shut, then took her face in his hands and kissed her on the forehead. She beamed, a dog basking in her master's approval.
The very next instant, the job went horribly wrong.
About the Author: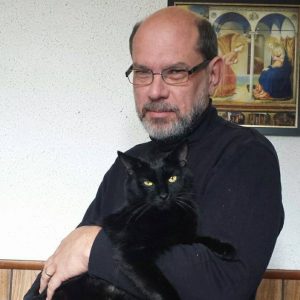 Dale E. Lehman is a veteran software developer, amateur astronomer, and bonsai artist in training. He is the author of the Howard County Mysteries series (The Fibonacci Murders, True Death, and Ice on the Bay ). His writing has also appeared in Sky & Telescope and a couple of software development journals. With his wife Kathleen he owns and operates One Voice Press and Serpent Cliff. They have five children, five grandchildren, and two feisty cats.
Website | Facebook | Twitter | Goodreads
Buy The Fibonacci Murders, True Death, and Ice on the Bay. Buy Ice on the Bay at Amazon.