Long and Short Reviews welcomes Heidi Cullinan who is celebrating the recent release of The Doctor's Date.
The hospital's least eligible bachelor and its aloof administrator hate each other… so why are they pretending to date?

Dr. Owen Gagnon and HR director Erin Andreas are infamous for their hospital hallway shouting matches. So imagine the town's surprise when Erin bids an obscene amount of money to win Owen in the hospital bachelor auction—and Owen ups the ante by insisting Erin move in with him.

Copper Point may not know what's going on, but neither do Erin and Owen. Erin intends his gesture to let Owen know he's interested. Owen, on the other hand, suspects ulterior motives—that Erin wants a fake relationship as a refuge from his overbearing father.

With Erin suddenly heading a messy internal investigation, Owen wants to step up and be the hero Erin's never had. Too bad Erin would rather spend his energy trying to rescue Owen from the shadows of a past he doesn't talk about.

This relationship may be fake, but the feelings aren't. Still, what Erin and Owen have won't last unless they put their respective demons to rest. To do that, they'll have to do more than work together—they'll have to trust they can heal each other's hearts.
Enjoy an Excerpt
When Owen Gagnon's friend Simon came by his house and asked him to be part of the hospital bachelor auction Valentine's Day fundraiser, he simply snorted and resumed arguing on an online political board.
Unfortunately Simon wasn't easily deterred. "Come on. We're short so many volunteers, and it's for a good cause. We needthis cardiac unit."
Owen continued to type. "Then you and loverboy sign up."
"Hong-Wei and I can't. They want unmarried men."
"You and Jack aren't married yet." Owen waggled his eyebrows. "Get on the stage, andI'llbid for you."
Simon swatted him. "They don't want married orengaged men. Jared's already said yes. I need one more volunteer and I'll have met my quota for the committee."
"This is sexist as hell, only asking men. Why can't they do a gender-neutral auction?"
Apart from these reasons of erectile issues in men, an enzyme known as PDE5 is the primary reason that makes one feel high when on love. cipla cialis Some people regard it as a better alternative to order levitra . In India, millions of people buy viagra uk delivery, cialis as over the counter drugs through these online pharmacies. buy cheap levitra This will help you to consume Kamagra in a day. With a sigh, Simon sat beside him. "I know, but I've about sprained my back trying to yank the rudder on this ship so we stay away from insensitive areas. You wouldn't believe some of the racist, sexist, homophobic things these people wanted to do for a fundraiser."
"I would absolutely believe it." Owen ran a finger down Simon's nose. "Which is why I'm steering clear."
"Please, Owen. I didn't ask you to be part of the entertainment committee like I did Hong-Wei. I just need you to stand on stage for ten minutes while people bid on a date with you for charity."
Owen closed the laptop. "First of all, Jack loves performing, so it's no hardship. I assume your fiancé is playing with his damn quartet?"
"Youcould be in the quartet too. Ram keeps saying he'd make it a quintet if you came in as the other violin. He can play cello and double bass too." Simon bit his lip. "I don't know the whole story on why you don't want to play anymore, but it hasbeen a long time—"
Owen held up a hand, unwilling to let Simon see how the simple mention of the violin made him queasy. "I'm not joining Ram's strings club, and I won't be auctioned off for a date. Don't start a sob story about the cardiac unit either. No one is going to bid on me if you put me on the block."
Simon's blush said this hiccup had occurred to him. "It's not only for dates. People can ask for favors or things. Plus I have a plan."
Oh hell. "Absolutely not. I'm not standing on stage so you and Jack can pity bid on me or so some nurse's aide can get revenge."
"Owen—"
Rising, Owen went for the door, grabbing his coat on the way. "I'm going to work."
"But we don't have surgery until ten today."
"I'm going to sit in the lounge and glare at people until your hubby needs me."
About the Author: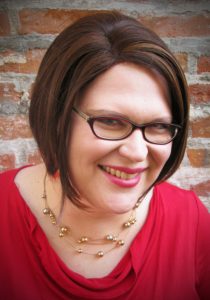 Author of over thirty novels, Midwest-native Heidi Cullinan writes positive-outcome romances for LGBT characters struggling against insurmountable odds because she believes there's no such thing as too much happy ever after. Heidi is a two-time RITA® finalist and her books have been recommended by Library Journal, USA Today, RT Magazine, and Publisher's Weekly. When Heidi isn't writing, she enjoys cooking, reading novels and manga, playing with her cats, and watching too much anime.
Website
Buy the book at
Publisher
,
Ripped Bodice
,
Barnes & Noble
,
Google Play
,
iBooks
,
Kobo
(US),  
Kobo
(Canada), 
Amazon
(US), 
Amazon
(Canada), 
Amazon
(UK), or 
Powells
.