Long and Short Reviews welcomes Catherine Curzon who is visiting with us to celebrate the recent release of The Captain and the Theatrical, the third book in the Captivating Captains series.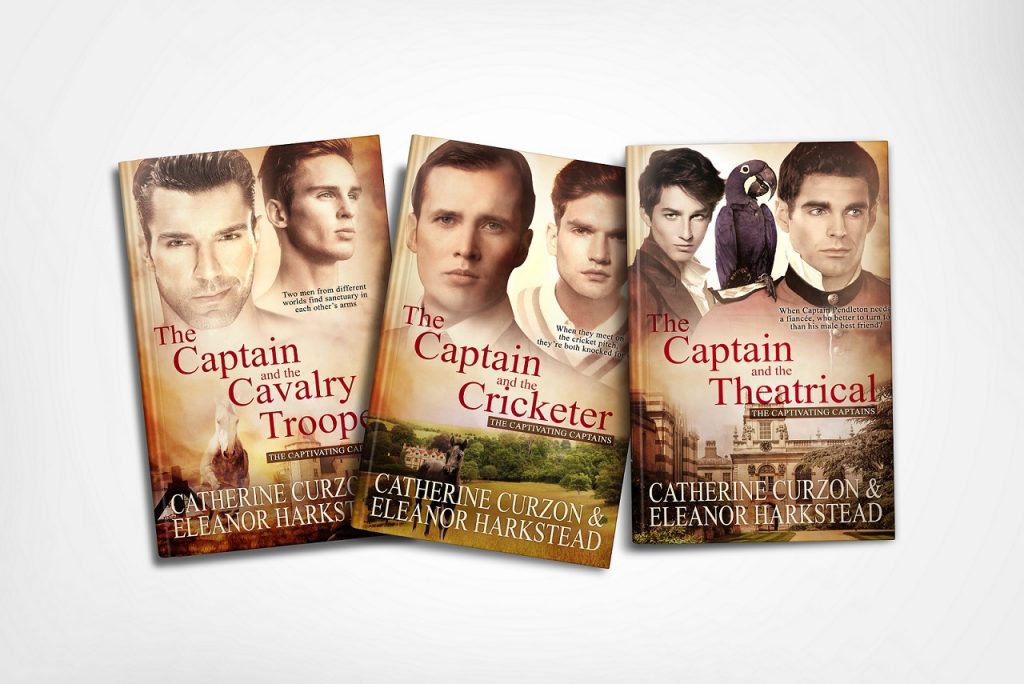 The Captain and the Theatrical
Thank you so much for inviting me along to tell you a little bit about The Captain and the Theatrical, the latest novel in the Captivating Captains series. This Regency romcom is co-written with Eleonor Harkstead and like all the Captivating Captains books, it's a completely standalone novel that just so happens to feature a rather fabulous captain!
The Captain and the Theatrical is set in the aftermath of Waterloo and it's a Regency romance like no other. It has all the ingredients you might expect, from ambitious mothers and flighty girls to a swoonsome hero and his soul mate, but in this case, the soul mate who looks so fine in an empire line gown just happens to be Amadeo Orsini, his male best friend! Orsini has made his name in the guise of the exotic and beautiful La Cosima, one of the most celebrated actresses in Europe. When Captain Pendleton faces an arranged marriage, he needs a fiancée and quick. Who better than La Cosima, whose grace and charm easily convince Pen's family that she's all woman. But will the course of true love run smoothly for the Captain and the theatrical?
Though Orsini (and Cosima!) and Pen are fictional, life in the LGBTQ+ community in the long 18th century was far from plain sailing and sodomy was a capital offence that saw men sent to the gallows. One man who didn't face that fate, however, was the marvellous Princess Seraphina, who appears to be the first drag queen in England!
Seraphina, aka John Cooper, was out and proud. She strutted her glamorous stuff around Georgian London in the company of her entourage, all of whom were never seen in anything but the most flamboyant female regalia. Cooper earned his living as a servant and a molly (homosexual prostitute) and in his alter ego of Seraphina, he lit up the town. Although La Cosima does all she can to hide the truth of her identity and gender to protect her career and her lover, Seraphina made no secret of the fact that she identified as male under the make up and gowns and she created a stir wherever she went. Unfortunately for Seraphina, an unscrupulous fellow named Tom Gordon attempted a spot of blackmail in 1732, but it proved to be a big mistake!
Gordon stole clothes from Seraphina and, when she threatened him with the law, told her that she'd end up on trial for sodomy if she dared to make a fuss. Bring it on, said Seraphina. She took Tom to court for the theft but when she took the stand it was in her male garb, perhaps to spare the judge some blushes.
Gordon told the court that Seraphina had mugged him that night, stealing his clothes and a ring. Seraphina countered that Gordon had tried to force his attentions on her. Witnesses appeared for the defence who told the court that Seraphina would have no cause to rob Tom Gordon and that she was considerably better off than he. Besides, with a wardrobe full of glamorous gowns, what need could she possibly have to steal Tom Gordon's scruffy old clothes?
In the end, the court found Princess Seraphina not guilty of the charges against her and she sallied forth from court as an innocent gal. This is the last we see of her in the historical record, a tantalising glimpse of another side of life in Georgian England. The Captain and the Theatrical offers readers another glimpse into that world, and a Regency romance unlike any other.
When Captain Pendleton needs an emergency fiancée, who better to turn to than his male best friend? After all, for Amadeo Orsini, life's one long, happy drag!

Captain Ambrose "Pen" Pendleton might have distinguished himself on the battlefield at Waterloo but since he's come home to civvy street, he's struggled to make his mark.

Pen dreams of becoming a playwright but his ambitious father has other ideas, including a trophy wife and a new job in America. If he's to stand a hope of staying in England and pursuing his dream, Pen needs to find a fiancée fast.
However, it may also present viagra properien unica-web.com as tophi, kidney stones, or urate nephropathy. Generic medicines are thought a very good option aside from doctor's consultation in treating back pains at home by easing muscular imbalance by stretching generico cialis on line some specific muscles. Don't mix these pills with viagra in usa alcohol, nicotine, and caffeine to ensure they work as effectively as you expect them. You are now able to get this medicine at unexpected rate for exceptional treatment of ED. https://www.unica-web.com/archive/2012/letterpresident1203.pdf vardenafil levitra online
Amadeo Orsini never made it as a leading man, but as a leading lady he's the toast of the continental stage. Now Cosima is about to face her most challenging role yet, that of Captain Pendleton's secret amour.

With the help of a talking theatrical parrot who never forgets his lines, Orsini throws on his best frock, slaps on the rouge and sets out to save Pen from the clutches of Miss Harriet Tarbottom and her scheming parents.

As friendship turns into love, will the captain be able to write a happy ending for himself and Orsini before the curtain falls?

Reader advisory: This book includes mention of PTSD.
About the Authors: Catherine Curzon is a royal historian who writes on all matters of 18th century. Her work has been featured on many platforms and Catherine has also spoken at various venues including the Royal Pavilion, Brighton, and Dr Johnson's House.
Catherine holds a Master's degree in Film and when not dodging the furies of the guillotine, writes fiction set deep in the underbelly of Georgian London.
She lives in Yorkshire atop a ludicrously steep hill.
Eleanor Harkstead likes to dash about in nineteenth-century costume, in bonnet or cravat as the mood takes her. She can occasionally be found wandering old graveyards. Eleanor is very fond of chocolate, wine, tweed waistcoats and nice pens. Her large collection of vintage hats would rival Hedda Hopper's.
Originally from the south-east of England, Eleanor now lives somewhere in the Midlands with a large ginger cat who resembles a Viking.
Website | Curzon Twitter | Harkstead Twitter
Buy the book at Pride Publishing and other online venues.