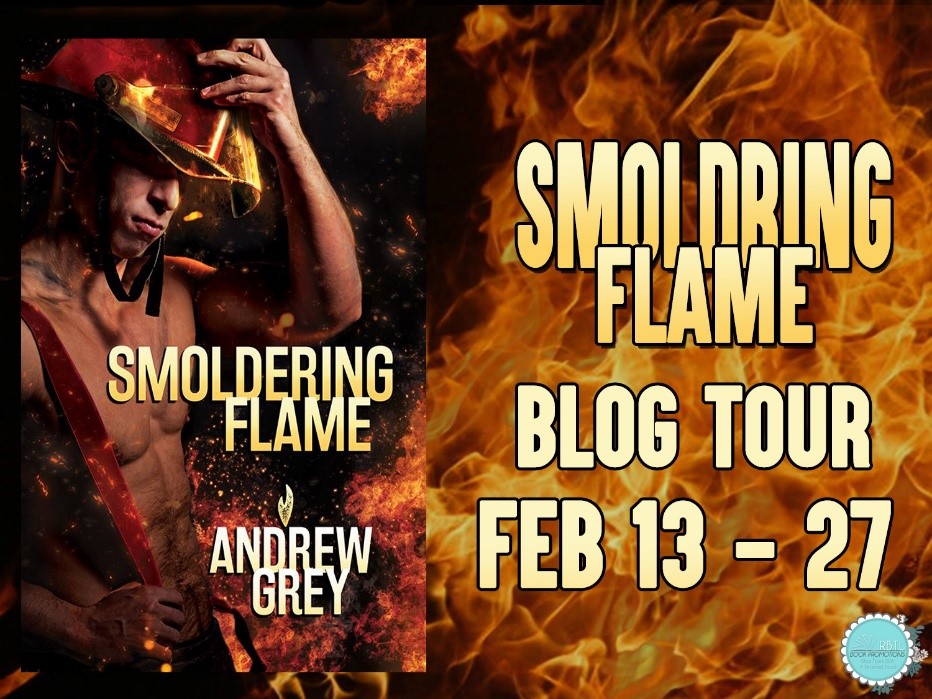 Long and Short Reviews welcomes Andrew Grey who is celebrating today's release of Smoldering Flame, the third book in his Rekindled Flame series.
Smoldering Flame is a special story for me. At its heart, this story is about how one kind deed can lead to happiness in a way that Marco never expected. When Dean and Sammy show up at his studio, he's about to turn them away. But when he sees Sammy, he changes his mind and does what he can to make the sick little boy happy. Sammy completely stole my heart as I was writing the story. He's a young boy who has been through a lot. Sammy's father is a fireman and Sammy is all about fire dogs and his fire daddy. He was just too cute for words. Of course, Marco and Dean both have issues and commitments that could pull them apart, but the fact remains that one kind deed from Marco has the power to change everything for all of them.
Here are my Top 5 Book Writing Songs. As you can tell I love show tunes mostly. They just get me going like nothing else does. I listen to the Broadway channel on Sirius all the dang time. Smile
Make Your Own Kind of Music – Mama Cass. I love this song and it really inspires me because we all need to make our own music.
Hello – From Book of Mormon because this song always makes me laugh and sometimes you just need that.
Love Changes Everything – This is an amazing song which is so true, especially for me.
Movie in My Mind – From Miss Saigon. This song is so haunting and longing, it always moved my soul.
Only Make Believe – From Showboat This is an old show, but the song has such an interesting way of conveying two people falling in love at first sight. And then it's used when they come back together after hard times.
Sometimes the strongest flames take the longest to ignite.

Firefighter Dean's life revolves around his very ill son, Sammy. Caring for Sammy and working to make ends meet leave Dean time for little else, and romance isn't something he can even consider—no matter how much he longs for someone special to join their family. Because money is tight, Dean couldn't be more grateful to the photographer who does Sammy's session free of charge.

After growing up in the foster care system, Marco knows how to rely on himself, and his hard work is about to pay off—he's poised on the cusp of fame and success he could only have imagined as a lonely child. When Dean brings Sammy into Marco's studio, Marco can see they're struggling, and both the boy and his father stir Marco's heart. The slow burn between the two men isn't something either expected, but neither wants to lose the possibility of a loving future. With Dean's dangerous and possibly life-threatening career and Marco's demanding one, can romance and forever find a place to fit?
Enjoy an Excerpt
With the squeaky toy echoing in his ears for the millionth time, Marco tried to get the dog to look at him. He needed one last picture with Snickers looking straight at him.
Marco had to be careful—he wanted Snickers to only turn his head. The dog's body was perfect. If he squeaked the toy too loud, the dog would move and everything would go to hell. And it would be another half an hour before he'd be able to get the damned shot.
Marco was tired. Snickers was tired. His owner, Baily, was slumped in a nearby chair, already having given up the ghost on this one.
"That's it, boy. You're almost perfect." Marco pressed the shutter button, taking one picture and then another. As Snickers moved his head toward him, Marco held the button, rattling off multiple shots in quick succession. Then Snickers huffed and lay down, closing his eyes as if to say he'd had more than enough and was done for the day. Marco took a few more pictures because Snickers looked adorable and he never knew what was going to click with the client. Then he backed away from the camera, smiling.
"Is that it?" Baily asked hopefully.
"Yes. I think we're all done for the day. Snickers did really good, and I appreciate your patience." For the owner, this kind of session was hard. These pictures weren't for her, but for an advertising agency in New York, and if they liked what they saw, there would be a decent payday for Marco, as well as Baily.
"Do you want to take a look?" Marco asked, turning the nearby computer screen to face them, then moving through the pictures one by one.
"Wow! Those look great."
"Let me know which one you want and I'll have it printed for you." She had been so patient, and Marco wanted her to have a really good picture of Snickers.
"I love that one," Baily said, smiling as Snickers doggy-laughed at the camera. It was a great image of the sand-colored corgi and one Marco was sure the agency would flip for.
"Me too." He made note of the image. "He did a great job," Marco reiterated, then stifled a yawn. This session was only supposed to have taken an hour, and almost three hours later, he was wiped out and had zero energy.
Baily scooped Snickers into her arms, and he settled right against her. Clearly he was just as wiped out.
"I'll call you as soon as I hear. I'm hoping, if they like what they see, they'll contact us for more pictures, and then, who knows?"
"Thank you, Marco." Baily grinned. She was in her midtwenties and was a really sweet person. She'd first brought Snickers in for a personal portrait session, but when one of Marco's clients came looking for dog images, Marco had shown them Snickers and they'd requested more for an ad campaign.
"No problem. I'll be in touch." Marco loosely hugged her and then led her to the front door. He let her out and locked up before returning to his studio. He cleaned up the toys, dusted down the backgrounds, and vacuumed the carpet he'd used as a base for the shoot. Then he turned out the lights and settled in for a few hours' work with his camera and computer.
A knock on the door ten minutes later pulled him out of his task. Marco groaned. His calendar was booked for months and he never took walk-ins. His website even suggested potential clients try to schedule appointments at least three months in advance. So who was knocking at his door?
Marco got up, walked to the door, and pulled it open. "Can I help you?" he asked professionally.
The man there stood taller than Marco by a good six inches. He had to be nearly six four and was as broad as they came. He wore a sweatshirt, unzipped, over a tight navy-blue T-shirt that strained to cover the muscle underneath.
"I'm sorry to bother you," he said gently but with a hint of agitation, or maybe it was nerves. Marco wasn't sure, but he was definitely worried about something, judging by how his lower lip had been scraped, probably by the man's own teeth. "Do you—"
A soft, weak-sounding voice cut through what the man was saying like a knife through butter. "Daddy."
About the Author:
Andrew grew up in western Michigan with a father who loved to tell stories and a mother who loved to read them. Since then he has lived throughout the country and traveled throughout the world, visiting every continent except Africa and Antarctica. Andrew adores meeting people from cowboys, to executives, artists, police officers and everyone in between. He has a master's degree from the University of Wisconsin-Milwaukee and works in information systems for a large corporation.
Andrew's hobbies include collecting antiques, gardening, and leaving his dirty dishes anywhere but in the sink (particularly when writing). He also hates laundry, cooking, and cleaning. Luckily he has a husband who does that for him so he can keep writing. He considers himself blessed with an accepting family, fantastic friends, and the world's most supportive and loving partner. Andrew currently lives in beautiful, historic Carlisle, Pennsylvania.
Website | Facebook | Twitter
Buy the book at Dreamspinner Press.