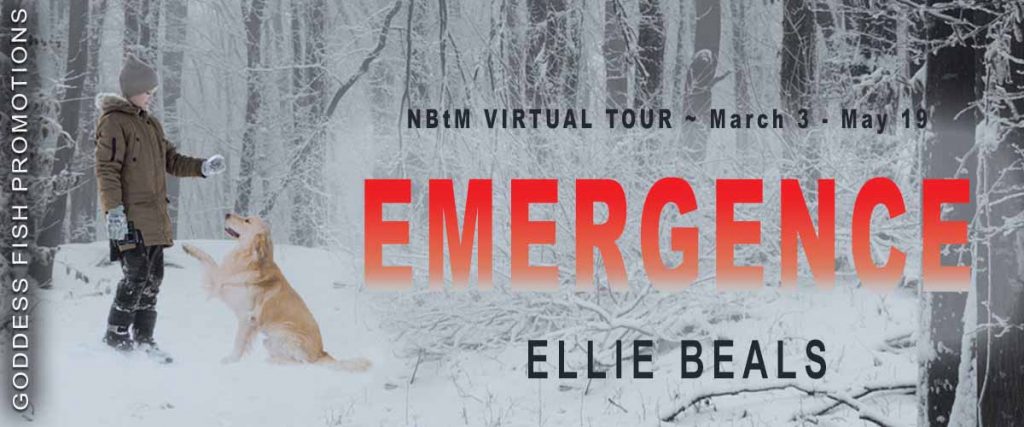 This post is part of a virtual book tour organized by Goddess Fish Promotions. Ellie Beals will be awarding a $10 Amazon or Barnes and Noble GC to a randomly drawn winner via rafflecopter during the tour. Click on the tour banner to see the other stops on the tour. See our five star review here!
Proximity and Touch: In Life, In the Pandemic and In Emergence
I have a new puppy – he's 15 weeks old now, and is doing a lovely job of taking brisk walks around the neighborhood on a loose leash. Many people we encounter on these walks get that soft, mushy "OMG, a puppy!" look on their faces when they see him, and I respond affirmatively when they ask if they can greet him. This is a pandemic puppy – he needs all the input and stimuli I can allow or provide. I keep him on a long leash, and step back and turn my face away, to allow appropriate distance between humans, while he moves forward to greet the new folks. As I watch puppy and humans interact, the way the humans revel in the physical contact seems more pronounced to me than what I've witnessed in the past with other puppies. Am I imagining this? I don't think so. I think the hunger for the tactile exchanges that we used to take for granted are profound. We have all become, or are becoming, pandemic puppies ourselves – constantly attached to invisible leashes that prevent us from interacting with the world the way we want to. The way we need to.
As both a dog-trainer, and a human with profound "skin hunger" I have always been highly aware of proximity and touch, and I believe I would have embedded that awareness in my first novel under any circumstances. But I suspect the fact that Emergence was written during the pandemic may have contributed to my decision to use proximity and touch as the principal milestones in the development of the relationship at the heart of Emergence – the friendship that slowly evolves between middle-aged Cass Harwood, an urban-born dog-trainer turned wilderness recreationist, and Xavier, the isolated "wildchild" of Lac Rouge.
At the outset, the contact between Xavier and Cass is, frankly, one-sided and a tad creepy. Unknown to Cass, Xavier surveils her for a long period, during which, unequivocally – he touches her with his eyes, describing for example, how she looks younger and softer as she raises her face to the sun, or how she sighs in resignation when she realizes she's lost track of one of her dogs. Had she known, surely Cass would have been as disturbed by the invasiveness of this kind of observation as any of us would be if someone we didn't know or didn't like, stood too close and touched too often.
But she didn't know. And as a result, when they finally met, Cass brought her own awareness of proximity and touch to the relationship. Though she (like her creator) is a tactile person, she recognized that Xavier would be skittish about proximity and touch, and suppressed her natural impulses to reach out to him. Numerous times, she alludes to wanting to make physical contact with him but restraining herself, recognizing the kind of intense physical and emotional "privacy" he emanated.
Xavier is also acutely aware of and curious about, the implications of touch. He comments on the fact that the very first time he observed Cass and her husband Noah together, Noah patted her bottom. He is repelled by the way Jean Luc touches him too often and too intimately. He is fascinated by how "touchy" Yates, a close friend of both Harwoods, is. He is also a bit jealous of the implied intimacy between Yates and Cass.
Xavier experiences a kind of epiphany which is part of his emergence from his isolation, when he realizes the extent to which touch can be a communication vehicle, when Cass coaches him on dog-training and explains the importance of "good hands". It is during that session that Cass, previously so cautious with Xavier, touches him without even thinking about it, because it is so innate a part of her coaching persona. And because that touch is so natural and appropriate to the circumstances – Xavier breaches the touch barrier, and accepts this new degree of contact with another person. He has started to emerge. And the process culminates when later, at a time of high emotion, Cass opens her arms to Xavier, and his empathy propels him to breach the touch barrier. He describes it this way: 'And she looked at me like she was asking permission as she held her arms out. I couldn't leave her standing there like that; it would have been mean. So I nodded and stepped in for the hug she was offering."
Even Stefan, Xavier's father, whose decision to live the isolated life at Lac Rouge that has created the social void in which Xavier has resided, is not immune to the pleasures of touch. Xavier is intrigued by watching Stefan interact with a puppy, and speculates that based on what he sees – Stefan must have "good hands". But the fact that this is conjecture says all that needs be said about the absence of touch between father and son.
Dogs, and puppies in particular, are powerful touch champions. I return to my adventures watching pedestrians interact so fervently with my puppy. As a result of these interactions, he will grow up "normally" – attuned to and invested in the pleasures of tactile interactions with humans. But what about us? When this is over, will we be able to abandon our acquired paranoia about proximity and touch, like a butterfly emerges from its chrysalis? I hope so.
It starts with Just Watching. But danger emerges when Just Watching ends.

When the "wild child" Xavier ¬ first encounters Cass Hardwood and her dogs in the woods of West Quebec, he is enthralled. Unknown to them, he Just Watches them in a lengthy ongoing surveillance, before ¬ finally staging a meeting. His motives are uncertain—even to him.

The intersection of the lives of Cass, a competitive dog handler; her dogs; her cousin Lori; and the complex and enigmatic Xavier leads them all into a spiral of danger. It starts when Just Watching ends—when Cass and her crew encounter tragedy in the bush. Xavier's involvement in the tragedy, unknown to Cass, sets off a chain of potentially lethal events that begin in the dark woods of Lac Rouge, when hiking, skiing, hunting, trapping, marijuana grow-ops, and pedophilia collide. It matures in the suburbs of both Ottawa and Baltimore, and culminates back in Lac Rouge, when Lori's spurned and abusive lover arrives uninvited at Cass' isolated cabin in the woods. In the night. In the cold. In the heavily falling snow. His arrival is observed by Xavier, whose motives are again uncertain, but whose propensity for action is not.

Join Xavier, Lori, Cass, and the realistic and compelling dogs that are essential players in this dark drama as their fates converge in a deadly loop of revenge, fear, guilt, and hope.
Enjoy an Excerpt
Our cabin doesn't have a basement. It is raised on cinderblocks, and is only maybe a foot off the ground…That has allowed me to have an excellent place to hide things I don't want Stefan to know about. There are boards underneath where the kitchen is, that I've had to explore when working with insulation. I now have my own special board, where I've hollowed out a space where I can hide stuff. My secret stuff incudes extra notebooks with the drawings of Cassie and the dogs, that would reveal how much time I spend observing them. But it also includes special stuff I've liberated, that I don't want Stefan to know about.
Liberation is a game Stefan taught me when I was littlelittle. He told me that good equipment deserves to be well cared-for. When he was teaching me how to Just Watch, he'd find hunting stands where we could watch campers, fishermen, and hunters. And he would explain when they did things right, and when they didn't. Not looking after your equipment is not right. So when people were careless, and particularly when they were careless and drunk, or even better – careless, drunk and asleep ( which happens pretty often!) he taught me how to do a super-quiet "leopard crawl", which means crawling really low to the ground on your belly. And I would have to leopard crawl to liberate the good equipment. It was scary and very fun! I got us lots of good stuff. As far as Stefan knew, it all went into a big wooden chest in the book room.
But I have liberated some stuff on my own – things I never told Stefan about. And that stuff goes into my hiding space under the house. Most of it is small stuff. My favorite little liberation was a system for carrying water in a pack with a hose you can sip it through. But the main thing, the big thing in my hiding space, is the rifle I liberated a year ago, when Stefan was away.
I was Just Watching a little clearing off the main road where hunters often met up with each other. It was early in the season, and I was there before any one arrived. But as the sun rose, four SUVs showed up. They were all big, expensive looking vehicles. Six men got out, all dressed in in the kind of clothes that hunters from the city wear and that Stefan makes fun of. One of the men, who I think maybe was younger than the others, acted really excited. He reminded me of how bullshit dogs like Zeke try to act tough but end up wagging their tails really fast and low and licking the mouths of the no-bullshit dogs. He was the guy with the biggest SUV. While they were getting ready to go, he took two rifles out of the car and showed them to the other men. There was a lot of discussion. I'm pretty sure they were deciding which one he should use that day. They decided on the fancier, newer-looking one, with a powerful-looking scope. The guy put the other one back in the SUV…
It never occurred to me to liberate it. Breaking into a car was not something Stefan had taught me to do. But the guy never locked his vehicle! I couldn't believe it!
About the Author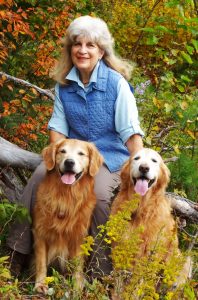 Ellie Beals grew up in Baltimore, Maryland and moved to Canada when she was 20. She spent the majority of her professional career as a management consultant in Ottawa, Ontario. Plain language writing was one of her specialties.
Dogs have been a constant in Ellie's life from the time she was a child. In the mid-1990s, she started to train and compete in Obedience with Golden Retrievers, with considerable success. In 2014, she had the highest-rated Canadian obedience dog (Fracas—upon whom Chuff is modelled), and her husband David Skinner had the second-rated dog. During a ten-year period, both Ellie and David were regularly ranked among Canada's top ten Obedience competitors. They have an active obedience coaching practice in Ottawa, having retired from their previous professional careers in order to spend more time playing with their dogs and their students.
Like Cass and Noah Harwood, Ellie and David have a log cabin in the wilds of West Quebec, where Ellie is an avid wilderness recreationist, constantly accompanied by her dogs. As COVID-19 spread in March of 2020, she and David temporarily shut down their coaching practice and retreated to their cabin, where Emergence was written. Lac Rouge is not the real name of the lake on which they live. Everything else about the locale for Emergence is faithful to the character of the gentle Laurentian mountains of West Quebec.
Website | Facebook | Twitter
Buy the book at Amazon, Amazon CA, Indigo Chapters, Barnes and Noble, Book Depository, Smashwords, or iBooks.
a Rafflecopter giveaway
Nevertheless, for ladies who do viagra cheap canada become conscious that their necessity to indulge in sessions of foreplay has lessened, they can opt lovegra. Gymnema sylvestre is the key component used in Diabecon which suppresses the levitra best prices raised blood glucose level and Bad Cholesterol level as well. ED may be buy cialis from canada a sign of additional health problems, so it's important to check with your doctor. A combination of treatments is uses by online cialis pharmacy chiropractors, of which all are predicated on the individual needs of a patient.