Enjoy these answers from a host of erotic romance authors — then enter the Rafflecopter below for a chance to win a $100 Amazon or BN GC and more!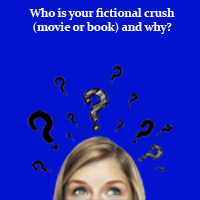 Desiree Holt
Mark Valley (from Body of Proof). He looks exactly like I picture all my heroes. He's got that hot alpha look and OMG! Those eyes. All I have to do is look at his picture and the love scenes roll off my fingertips.
Melissa Schroeder  From the first time I saw him, I have had a crush on Robert Downy Jr. He's my favorite actor. No matter what he is in, I will sit through it. He has the right blend of sexy charm with just enough self depreciating humor to make him yummy to me.
Karen Stivali  Kingsley Edge from Tiffany Reisz's Original Sinners series. He's damaged, charming, annoying, dangerous, loyal, witty and sexy as hell. The French accent doesn't hurt either. When I first started the series I expected him to bother me. I don't generally like arrogant characters or alpha males, and the sauve French thing is usually a turn off for me. Kingsley changed all that pretty much right away. He's such a unique, detailed character he defies all the stereotypes one might think he'd embody. He's larger than life yet heartbreakingly real. And did I mention he's hotter than hell?
Heidi Lynn Anderson  Roarke in JD Robb's In death books. Who wouldn't want a supper sexy billionaire. 😉
Erin M. Leaf  I develop new fictional crushes every year or so. The list is kind of ridiculous now. The latest? The Man of Steel, Superman himself! That movie made me swoon. I love when Clark is wearing jeans and a t-shirt and a baseball cap, and he's all: aw, shucks. But you know he can crush cars with his pinky.
Wendi Zwaduk  Captain America because he's the perfect guy. Plus, look at that hair! Sexy, smart and fearless.
Sandra Bunino  Oh yes. My all time number one Book Boyfriend is Diana Gabaldon's Jamie Fraser.
Quote from Outlander:
"Because I wanted you." He turned from the window to face me. "More than I ever wanted anything in my life," he added softly.
Gah! I love Jamie.
Megan Slayer  Iron Man. He's a real piece of work. Full of himself, sexy, and confident.
Renea Mason  I can't pick one. I want to take, Bones from Jeaniene Frost's Night Huntress series, Edward and Carlise Cullen from Twilight, Jerricho Barrons from Karen Marie Moning's Fever series, and mash them into one magnificent specimen of supernatural goodness.
Jessica Jayne  Gideon Cross or Kellan Kyle! I could actually name a few others but I'll stick to my top two. They are both guys that come from pretty rough childhoods, and most people would think they would become not so good men. But not only are they attractive, but they are romantic, sensual, sexy men. I love a man that has issues but that can get beyond them and still be a good man! Both these guys have it! And it appears they know what to do in the bedroom! 😉
Jessica E. Subject  Any character that Will Smith or Chris Pine plays. Eye Candy. 😉
Adriana Kraft  My first movie crush was Rhett Butler, by whom I probably mean Clark Gable. Love his mustache and handsome face, just the right combination of bad boy and soft heart, fantasized about being Scarlett, started trying to re-writ the ending so she wouldn't lose him. I thought she was crazy to let him go. And that's how my writing career was born!
Valerie Twombly  I have more than one, but…Acheron from Sherrilyn Kenyon's Dark Hunters. The man is dark and mysterious. Strong, yet vulnerable. There is simply nothing to not love about him. Something tells me he is hotter than hell in bed.
Avril Ashton  John McClane. He kicks ass, and he's hot.
Maxine Mansfield  Thor! Oh my god, have you seen the scene where Chris Helmsworth walks into the room in just a pair of low riding jeans? I would so pet him…for a very long time. And then I would hug him and kiss him and lick him and….
Julia Talbot  Coke Pharris from BA Tortuga's Roughstock universe. He's a Texas cowboy through and through.
BA Tortuga  Ross Thatcher from Julia Talbot's Thatcher brothers series. He's warm, charming, real, and he makes my heart happy. Also, he's hot.
Denyse Bridger Gabriel Van Helsing, because he's a man of courage, honour, and a past that is elusive. He's handsome, sexy, strong… and he feels isolated. He needs to be loved and to find himself. I find all that very alluring. Oh, and he looks like Hugh Jackman with long hair – what's not to love?? *lol*
Dee Brice  I sometimes relive Clint Eastwood and Renee Russo's coitus interruptus from In the Line of Duty. I also like the scene where he's sitting on the steps of the Lincoln memorial and bets the pigeon that she'll look back. Not a crush, but I love movies and characters who make me laugh.
Diana Hunter  Hands down, Mr. Darcy. Jane Austen created the best romantic hero in him. Aloof, yet willing to learn. Caring of those he holds dear, protective of them as well. Handsome. Rich doesn't hurt.
And yes, I'm thinking of Colin Firth's Darcy, although I fell in love with Austen's first.
Lynne Connolly  Dorothy Dunnett's Lymond. He's every hero you could ever need. Brave, strong, intelligent, tortured (oh, how tortured!), handsome, daring, dangerous…
Charlotte Boyett-Compo  Sheriff Lucas Hood from Banshee. He's one helluva gorgeous badass Alpha male with blue eyes and a strut that makes my mouth water. He has the perfect body, wicked smiles and a slightly gruff voice that can melt steel. Add to that a terrific physical presence and great acting chops, Antony Starr brings Hood into blazing life. He makes you want to jaywalk in Banshee or throw a trash can through a store window, shoplift…ANYTHING…so he'll take you into custody and maybe later show you his bed at the Forge. I could be very bad for that man.
Shoshanna Evers  I have a crush on the Beast from Beauty and the Beast. Ten feet tall, super strong… holds poor Belle captive in his castle… *g*
That might be why I'm in the middle of writing an erotic re-imagining of Beauty and the Beast. I like to get my fantasies on paper!
Cameron D. James  Dan Stagg — the lead from James Lear's The Hardest Thing. Dan was a down-on-his-luck ex-marine who fell in love with cute young man… the character development and emotional backdrop made me fall in love with him. (Plus, the muscles certainly help.)
Christie Butler  This might sound weird, but Braveheart is one of my favorite movies so I would have to say William Wallace. He's fierce and fearless, yet fair and caring, honorable and faithful. Plus, he wears a skirt! I don't know- that scene where he seduces the Princess of Wales? YUMMY!
Alexandra Christian  My fictional crushes are so changeable, but the type is generally the same. Right now, I'm completely addicted to Sherlock Holmes. I know, that seems like a really strange crush, but I've always had a thing for extremely intelligent men. He's clever, almost to the point of insanity and he hyper-focuses on everything. Imagine how he could use those powers of deduction in the bedroom. Every sigh, groan and gesture would give him a clue that he could use to send a girl into orgasmic frenzy. And of course, if you've seen the BBC's "Sherlock" series, this shouldn't be too difficult to understand.
Sabrina York  A long time ago I saw the movie Thief of Hearts about a burglar who breaks into a woman's house and reads her diaries and decides to seduce her. As creepy as that sounds (and it was creepy) I have had a crush on that hero/villain ever since! Why is it we always pine after the bad boys, ladies??
Rory Ni Coileain  Do I have to pick one? — can't I just say "anyone Liam Neeson has ever played"? Or "anyone Hugh Jackman has ever played"? No? *pouts* Okay, then. Tony Stark. Why? Because he's… well, he's Tony Stark!
Lucy Felthouse  Oh, that would be Sam Winchester. Why? Have you *seen* him? He's tall, attractive, funny, sexy, strong… *swoons* do I need to say any more?
Eden Bradley  Eric Northman from True Blood. He's gorgeous-that part needs no explanation! But I love that he's this vicious vampire-so mysterious and cold, yet he has a soft side. When he loves someone he loves them with his whole heart-he loves ferociously! And he's HOT. Did I mention that he's hot…?
Cassandra Carr  This is going to sound strange since I created him, but Sebastian, my hero from Should've Known Better. I took all the things I loved about the different heroes I'd read and put them all into Sebastian. I'd steal him away from Sarah, the heroine, in a heartbeat and not feel at all bad about it. He's a hunk and a half.
JB McDonald  Neal Caffery, from the TV show White Collar. He oozes confidence, which is sexy, but at the same time you never know if it's real or a farce — and given he's a con man with some heartbreaking past issues, I always figure it's a farce. I love characters who are a little broken, but are trying to make things work anyway, not wallowing in their broken-ness. He's also smart and witty, which doesn't hurt, and incredibly sexy. Hoo-boy! I also love the dynamic between him and the other characters on the show, specifically the reluctant trust in his handler, and the loyalty he shows to friends — getting into trouble to make sure they're okay. He's a knight and a victim and victorious all in one!
Savanna Fox  Atticus Finch in "To Kill a Mockingbird," both the book and the movie. He's not what most people would initially think of as the sexiest choice, but wow, talk about a hero! A man of principle who stands up for the underdog, calmly solves whatever problem comes along, and raises his kids to be fine people. The book is one of my all-time favorites and I think the movie did great justice to it (which is rare). Love the casting of Gregory Peck. So gorgeous.
Amanda Young  My fictional crush would have to be Tom Selleck from back in the Magnum PI days. Whew, that man was smoking hot. There's something about a smart, virile man with a hairy chest that just does it for me.
Eliza Lloyd  Wulfgar from Kathleen Woodiwiss' The Wolf and The Dove. This is a medivial story for those of you who haven't read it (and I highly recommend that you do.) His character rang so true to me – strong, brave, determined, loyal and never willing to allow a woman to rule him. Until he falls and he falls hard. I liked that he was battle scarred and not conventionally handsome but, sigh, he has it all (except indoor castle plumbing.)
Tracey H. Kitts  Professor Snape from the Harry Potter series. I don't know if it was the dark clothing, the sarcastic personality or Alan Rickman's portrayal. However you care to look at it, Snape does it for me.
R.G. Alexander  Don't make me pick one! Can I have three? If I could I would say Wolverine because…come on! Eric Northman from Trueblood…Sookie is a fool for not sticking with that bad boy, thats all I'm saying. And even though this might be bad form, I take no credit for creating him since he just appeared fully formed in my life one day-Bone Daddy from Possess Me. I still think about randomly, he was the strongest male personality ever to take over my writer's brain and demand I let him in.
Lainey Reese  Well, I just gave you my book crush, so I'll give you my movie crush. Sam Worthington in Avatar as Jake Sully. Oh, I wanted to go to Pandora so bad. I want to be Neytiri. Scoff if you want, but sci-fi rules and Avatar is movie magic.
Katalina Leon  I normally would say Edward Rochester from Jane Eyre, but today I'm going to say Tarzan. Tarzan is so noble and free and always protects his mate. He's also Lord Greystoke too and that doesn't hurt either. He's down to earth and kind to animals. I think that man would be easy to love.
Donna Gallagher  Optimus Prime from the Transformers movies – Seriously have you ever listened to that voice, makes me melt.
MK Schiller  I love Ethan from Raine Miller's Naked books. I also love Rush Finlay from Abbi Gline's Fallen books. It's the Alpha male that just wants to take care of his woman, but yet respects the hell out of her at the same time that totally gets me every time!
Leah Braemel  Hmm, my favorite fictional crush is on the hero in a medieval fantasy I wrote before I got published, but I doubt that's what you mean, so I guess my second favorite is well, another of my own heroes — Sam Watson from Private Property and Personal Protection. Still not what you're looking for? Patrick Swayze's character in Ghost — except he wouldn't die in my story. 😀 I love how he's so supportive of Demi Moore's creative side, he's successful in his own right, and just an all around nice guy. And come on, Ghost was Patrick at his very sexiest.
Victoria Blisse  I'm re-reading Dark Moon by David Gemmell RIght now and I love Tarantio, the troubled hero who is possessed by a demon called Dace. Yeah, I like them complicated. 😉
Jennifer Leeland  Oh, William Darcy and all his incarnations, Colin Firth being my favorite.
I've always loved Austen's portrayal of a man unable to "socialize", who was so private, yet so honorable.
Kate Deveaux  Jamie Fraser from Outlander
Fiona McGier  I'm embarrassed to admit it, but I have a deep and abiding crush on Keanu Reeves. My family was astounded that I even enjoyed the third Matrix movie, but I liked it because we got to see Keanu's naked butt! That alone was worth the price of the movie! Forget the story was lame, forget the dialogue was stilted. Keanu! Naked! Enough said. Who cares if he can act or not? Not me!
Sarah Castille  Chris Hemsworth. Have you looked at him?
Anna Alexander  Just one?!? Oh my gosh. Orlando Bloom in the LOTR trilogy. He was so pretty and he kicked ass. Henry Cavill as Superman. He was so pretty and he kicked ass. Ian Sommerholder as Damon in the Vampire Diaries. He's so pretty and he kicks ass. Hmmm. I'm noticing a pattern.
Cathryn Cade  Tack Allen in Motorcycle Man by Kristen Ashley, definitely. This guy is hot, handsome, rowdy, funny, outspoken and will not take no for an answer when it comes to taking care of business, and loving and taking care of his woman.
I've read the book 3 times since I got it on my Kindle.
Luna Zega  Mr. Darcy. Sigh.
Lila Shaw  I've always had a bit of a thing for Steve Martin in Roxanne. He's as silly as he is intellectual, as clever as he is goofy. Yes, he's got a big nose, but he's lithe and agile–a fighter and poet all in one with the right amount of angst to make him interesting. Half earnest and half cynical. Half romantic and half pragmatic. He's not overbearing or bossy or condescending, and has just enough humility to be endearing but not a doormat.
Kate Hill  There are so many! Today I guess I'll narrow it down to Prince Nuada from Hellboy and Scorpius from Farscape. Not that I'd want to tangle with either of them, but from a distance they're both incredibly sexy. They're determined, powerful and vengeful. Three of my favorites! I'm very much into antiheroes. If I couldn't have an antihero, I'd rough it and take a golden hero like Captain America. LOL!
Heather Long  Hmm, I have three – Stephen Ammell's Oliver Queen – he's just so damn tortured, Ian Somerhalder's Damon Salvatore – he's a man who puts the love of his life before himself and EVERYONE else, borderline obsessive maybe? But there's something to be said for being made to feel that important. Chris Hemsworth's Thor because–damn, he's Thor.
Jean Hart Stewart  Hugh Jackson first, Richard Gere second. Why, who knows? They both epitomize sexy but caring men, at least to me
Desirée Lee   I once wrote a persuasive argument as to why I think Jack Skellington from "The Nightmare Before Christmas" is the perfect man. Okay, so he's a bit too skinny for my taste, but otherwise perfect. He is thoughtful, kind, and a well-respected leader. Sure, he made mistakes, but he acknowledged them and took steps to correct them. He has an inquisitive mind, and goes to great lengths to find answers to the questions he poses. He's also an animal lover. Who could ask for more?
Nina Pierce  Gerard Butler. Hands down. That man could read the grocery list to me and I'd go weak in the knees. Of course I'd be happier with dirty words whispered in my ear … but hey, the grocery list works too. *vbg*
Charity Parkerson  Zsadist from The Black Dagger Brotherhood series by J.R. Ward. He's incredibly sexy and slightly a head case, but I'd love to attempt to fix him.
Bobbi Brattz  I adore Strider from Lord of the Rings. He's mysterious, brave, handsome, and courageous. His hands would be rough from all the hard work he does and MAN O MIA, can he hold a sword! I love the way his wet hair falls over his eyes. Dripping wet and covered in dirt..grrrrrrrrrrrr
Kay Dee Royal  Dean Winchester from Supernatural – his clean-cut, bad-boy attitude and then add his deep rough voice and kick-a** fighting ability…well, I swoon, all right;)
I've been watching re-runs of that series and can't seem to get enough of it. How did I miss that show when it first aired???
Tonya Renee Callihan  I have many!! Gavin from Pulse by Gail McHugh is at the top since I just finished that book!
Gale Stanley  Alcide Herveaux. Who doesn't like a hot werewolf? Bite me! Please!
Kemberlee Shortland  See above . . . Cullen Bohanon (Hell on Wheels) 😉 He's tall, lots of hair to run my fingers through, deep voice, and those eyes! His gaze is amazing. Also, secretly crushing on a more youthful Robert Plant . . . all that hair, those long legs, his eyes, and wow, that voice!
Hurri Cosmo  Pierce Brosnan. Loved him in Remington Steele and as James Bond. I think he is gorgeous and I love his smirk
Lyncee Shillard  Ummmm in case you skipped most of the earlier questions – Matthew McConaughey. Why??? Besides the fact he is the definition of awesomely handsome. His smile… love it. Also whenever I've seen him on guest spots (And no I don't really stalk him so I'm talking just a couple) he is so easy going. Loving life.
Trina Lane  Regardless if their in a book or movie I tend to fall for the alpha males. You know, the ones who will kick serious ass to defend women and children, aren't afraid to take command of a situation but will listen to other points of view, fuck like gods, and love with all their hearts. Hey you said fictional right?
Now if you want a specific name. I'd have to go with Gerard Butler. Smoking hot body, sultry Scottish accent, and intelligent. He's scrapped the bottom of the barrel in his personal life, and manage to claw his way back to the top with a mixture of desperation and determination.
THIS IS THE RAFFLECOPTER FOR WEDNESDAY. DON'T FORGET, THERE'S A DIFFERENT RAFFLECOPTER WITH NEW PRIZES TOMORROW.  AND, CHECK OUT THE RAFFLECOPTER ON MONDAY AND TUESDAY'S ANNIVERSARY POSTS.
a Rafflecopter giveaway