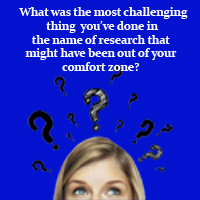 Desiree Holt
Haven't used it yet but I went ziplining over the canyon outside of Las Vegas. I had to climb up the last 15 feet (I have artificial knees) and I am afraid of heights. But I made up my mind and did it.
Heidi Lynn Anderson  Writing is the most challenging and uncomfortable thing I have ever done. Everything I do for research is fun in and out of my comfort zone.
Brenna Lyons  Sorry, it's not sexual. The most challenging thing I've done is go out on a mountain peak in the White Mountains to get a good mental picture of the view for a story. With my phobia about open heights, that wasn't easy at all, and I wasn't anywhere close to the edge. It lasted all of two minutes, and then I was making my way back down the wooded side on shaking legs.
Wendi Zwaduk  I climbed into a race car and it was really, really tight. I'm not fond of confined spaces so it was a challenge. I also went to the top of the space needle in Niagara Falls. I'm really not a fan of heights, but I did it and stood on the observation deck. CRAZY.
Sandra Bunino  Visiting a BDSM club.
Megan Slayer  I don't know. I'm pretty open. I'm willing to try a lot of things once. I'd have to say trying super hot peppers just to say I did it. Wasn't worth it as I don't like super spicy food, but I did it.
Renea Mason  I've been lucky that I haven't had to do a lot of research. This is perhaps because my extensive life experiences has already accounted for most of it and since I write paranormal erotic romance, the rest of the shit I just make up.
Jessica E. Subject  Contacting any stranger is hard for me. I'm really a very shy person. For one story, I had to contact the RCMP, Canadian Armed Forces, and an orthopedic surgeon.
Adriana Kraft  Visited a legal brothel in Nevada, had supper at the bar/restaurant, and talked with several courtesans. When hubs and I first walked in, we got a lot of stares, but it turned out not to be uncomfortable at all. They're fascinating people with interesting stories.
Amber Green  I don't know about out of MY comfort zone, but I once went to a Kia place, picked a salesman of the right height and build, and asked him to show me the smallest model I could hide a corpse of his size in. (Later, though, the plot required me to move the corpse to a Prius.)
Maxine Mansfield  I'll be the first to say writing a love scene is sure a whole lot easier than acting one out. I once wanted to try a certain position to ensure I had the particulars right. Let's just say that we both ended up tumbling to the floor and HE, broke his arm. Try explaining just how that happened to the emergency room physician!
Julia Talbot  Oh, Lord. Go to my first romance convention
BA Tortuga I went with a body modification collector when he had his penis and tongue split surgically. I damn near died, y'all.
Denyse Bridger  I went on a bar crawl one night in Toronto, from one Goth club to another, absorbing the atmosphere and surroundings and undercurrents from the people – then I turned all of it into the novella, Hunters' Game. But the couple in Hunters' Game are blood-thirsty, decadent, dangerous vampires who revel in their dark nature.
Dee Brice Asking a sister author who writes m/f/m about butt plugs. Embarrassed us both, but we've been friends a long time and got beyond the flushed faces and parental-inflicted taboos.
Diana Hunter  Met face-to-face with a Dom I'd only spoken to online. Part of my quest to write well-developed characters means making sure I have the Dom attitudes down right. I'd spoken with many in online conversations, but when I went to meet my first one, I was quite nervous.
Didn't need to be. He ended up being a real sweetheart. We had many conversations after that. He even helped me to write a scene that was giving me trouble!
Lynne Connolly  Flown solo across the Atlantic to Houston for my first RT. I'd never done anything like that before!
Charlotte Boyett-Compo  I went to visit a correctional institute in FL to interview a couple of prisoners and guards while I was researching one of my novels. It wasn't a pleasant experience and I spent the entire time hoping there wouldn't be a riot. It is a very intimidating experience, too. Just getting into the prison compound and going through the checkpoints can turn your insides to mush. Leaving is such a relief you can't help but pity the poor men still stuck inside the concertina wire enclosure who are looking at you with such longing and you know it isn't sexual longing.
Shoshanna Evers  I've done things in the name of research so risque that I can't even mention them. Seriously. Can't help it, I'm in love with my "research assistant." 😉
Cameron D. James  Not necessarily research, but the most awkward thing I've had to do so far in my role as a writer of gay erotic romance is just talk about it. I turn beet red and my eyes start watering. I'm doing a live reading in August and a fellow author recommended doing all the sound effects… Oy…
Sabrina York  I went to a BDSM party. I know that may not seem like something out of the ordinary considering I write erotica, and considering the fact that I didn't play. But it was definitely out of my comfort zone.
Rory Ni Coileain  Hmm. I haven't found anything to do that's out of my comfort zone yet. But I think the most fun I had was when I treated myself to a new tattoo for Mother's Day this year. The human lead character in my second book is a tattoo artist, and he turns up in the other books in the series as well, and I want to get the details right. So I told my artist that I write m/m erotic romance and I needed to ask him a bunch of questions. The look on his face… The conversation about penile tattoos was interesting, too!
Lucy Felthouse  Nothing, really. Because of what I write, I can do pretty much all of my research online. Having said that, if anyone wanted to look at my internet history, that would be out of my comfort zone!
Cassandra Carr  I've researched some pretty out-there sexual things, and found some kinks that are VERY outside my comfort zone. For instance, I'm asthmatic and when I saw those rubber or vinyl suits you can completely encase someone in (usually they put a straw in the mouth opening to allow the person to breathe) I totally freaked. I don't even like getting water in my snorkel, much less not being able to move with only a straw for air. I still shudder thinking about it.
JB McDonald  *laughs* I'm currently working myself up to possibly going to an BDSM club, which is WAY out of my comfort zone, for research for the final book in the A Little…/Weirds, Queers, and Crazies trilogy. (Only the first one is out yet, and I'm working on the second one. But I'm already doing research for the third!)
I think I've exhausted internet descriptions and I've bought a bunch of books. My bookshelf is quite entertaining, at the moment
Savanna Fox  I researched exotic dancers for my novella "Private Eyes" in the Kensington Aphrodisia anthology "Some Like it Rough." First I did book research, then I took a pole dancing lesson, then I interviewed dancers, and then I judged an amateur stripper competition. It definitely took me outside my introverted comfort zone! But here's the most fun thing. Sitting over dinner with three of four dancers, listening to them share stories about their work, I realized that it was a lot like talking to a group of romance authors. These dancers were colleagues who cared for and supported each other, working in a profession that tends to be misunderstood and disrespected by the world at large. I developed a lot of respect for them, and I hope that's reflected in my novella.
Eliza Lloyd  I'm sure every erotica author has delved into areas that would shock that rest of the world. I did have an hour or two of lower body piercing research that was quite interesting… All I'm going to say is OUCH.
Tracey H. Kitts  This will probably make me sound like a major weirdo, considering all the things I have researched. But, I've never been out of my comfort zone, not even for a minute.
Lainey Reese  I write books that are heavy on the BDSM side. There's a catch to it. I've never actually done any BDSM. I married my high school sweetheart at twenty and when we split ten years later I married the first man I dated after that. Both men were conservative.
I write all these steamy books purely from imagination…and research. I do a lot of searching on line for new ideas and choreography for my love scenes. It is a pretty seedy place to be. I always feel like I'm hunting through a dirty dingy junk store on a treasure hunt for that perfect item…
Leah Braemel  The most challenging I've done so far was go to a police academy and go through the fire arms training simulator. For a Canadian woman who had very little experience around guns, having to suddenly be faced with holding a gun on people, having to make a decision whether to shoot them or not, and how to stop them from shooting you was a real challenge.
Victoria Blisse  Hm, that's interesting. I'm not great at research, so all of it makes me uncomfortable because I'm really not very good at being organised.
Jennifer Leeland  Oh, 19th Century France for SURE. The sequel to "Wolf of Arundale Hall" has a portion of the story set in 19th Century France, complete with witches and such. It's complicated! And there isn't a lot out there to clarify the confusing dynamics of French society in the 19th century. Definitely challenging.
Kate Deveaux  Let's just say you have to know what you write about.
Ayla Ruse  I made an appointment and actually went in to interview a veterinarian. He was nice and informative, but the interview was conducted while he neutered cats. Very surreal and strange, actually. I was a nervous wreck and felt more like an interloper.
Sarah Castille  Went to an MMA fight club to interview fighters and check out the scene. All the those sweaty male bodies grappling on the floor….sigh.
Cathryn Cade  Hmmm … that would be researching BDSM for my new series coming out this fall at Samhain. I enjoy reading and writing D/s relationships, love it.
However, I discovered that some take the lifestyle to extremes, and it was very difficult for me to read about people wanting to give and receive the harsher practices.
Needless to say, I write Light BDSM. On the vanilla end of the spectrum.
Kate Hill  Probably taking belly dancing lessons. I ended up loving it though. It's a lot of fun and good exercise. I wasn't good at it, but I still enjoyed it! Several of my characters were belly dancers, including Hannah from Deep Red, Lock, and most recently Mia from Gascon Victors and the Batty Beautician.
Heather Long  Worked with a gun.
Jean Hart Stewart  Researching BDSM for a recent book. A very erotic subject to even read about. Would love to visit a club to find out more.
Desirée Lee   I must be weird. I have an affinity for research, so I can't recall anything yet that put me out of my comfort zone. I'm a knowledge hound.
Bobbi Brattz  I've watched pornos and compared them to love stories. Porns are so cold and unfeeling whereas romance has it all. I'm not comfortable with sex that means nothing. Without the element of love, sex can be quite boring and dull. Follow your heart.
Kay Dee Royal  I read where one author signed up for a BDSM house membership…like a private club. I could never do that…but I have read lots on the subject and have seen pictures and videos on the subject – which was a bit beyond my sheltered comfort zone;).
I think in another life I might have been a Dom…I love the idea of cuffs to the bedpost and being in control;)
Tonya Renee Callihan  Talk to someone who is in the BDSM lifestyle, hardcore. She is a Mistress and very intense. I felt like I was being judged and would be punished at the end of our discussion. Still gives me chills.
Gale Stanley  Asking my gay friends about their sex lives. Thankfully, they were pretty nice about it, and didn't mind giving me the ins and outs on male-male sex. Yeah, we're still friends, as long as they don't end up in one of my books.
Naomi Bellina  I watched a video of a mole eating worms. Ewwwww! I went to a small airport and wandered out on the tarmac. Someone had left the gate open and I wanted to get a good look inside a small plane. The maintenance man came out and I started asking him questions about how much fuel it would take to get to the Bahamas. He looked kind of concerned that I was there so I left quickly. Oh, and I cornered my vet and asked him about cattle chutes and blow guns when I took my cat in for a visit. Shame on me. Poor little kitty just wanted to go home!
Kemberlee Shortland  I'm totally afraid of heights. I love castle hunting, but sometimes it means climbing up loose and rocky stairways to the ramparts to see what the former owners saw. Freaks me out every time. Never gets easier. I always come back drenched in stress sweat. But I keep doing it in the name of research. That's my story and I'm sticking to it! 😀
Hurri Cosmo  Guns, ammo, bombs and the like. I do it on the internet and I know that is a no no these days. I think about the questions I google and know it could probably get me into some serious trouble.
Lyncee Shillard  Tried to have sex with my hubby in a kayak. For Taking a Risk, I wanted to know if it would have been possible for my hero and heroine to 'do it' while they were kayaking down the Amazon.
Trina Lane  I do most of my research via the internet. However if I were to physically go somewhere or do something that would out of a comfort zone, it would probably be visiting a BDSM club. Although, I admit at the same time I've always wanted to visit one. So who knows maybe someday I'll get up the nerve.
THIS IS THE RAFFLECOPTER FOR WEDNESDAY. DON'T FORGET, THERE'S A DIFFERENT RAFFLECOPTER WITH NEW PRIZES TOMORROW.  AND, CHECK OUT THE RAFFLECOPTER ON MONDAY AND TUESDAY'S ANNIVERSARY POSTS.
a Rafflecopter giveaway