Mardi Gras Madness by Lynn Shurr
When the last of the Christmas decorations are packed away and all the New Year's Eve champagne consumed, I pity those who live in the north and must face the bleakness of January without the Mardi Gras season. Carnival events begin right after Twelfth Day or Epiphany on January sixth, traditionally the end of the Christmas holidays. After that, most of the country has only Lent looming ahead, but in Louisiana the fun is just beginning.
The Mardi Gras organizations (krewes) choose their kings and queens, usually a prosperous middle-aged businessman matched with one of the pretty young debs who are just coming out into society. Unfortunately, the king is usually decked out in a fake beard and a Renaissance costume complete with white hose, think the Burger King, while his queen will wear a costly gown with a lavish cape. Their court dons fabulous costumes as well, but all must be paid for by the participants in the old tradition. The krewes also pay for the many floats on which members ride in long parades all the while throwing plastic beads, fake dubloons, and trinkets to the crowds along the way. Expensive for them, but so much fun for the rest of us.
What, not invited to the many balls with fanciful themes? The ordinary person can still indulge in the weekly King Cake served at coffee break. Decorated in the Mardi Gras colors of green, purple, and gold, each cake contains a plastic baby, supposedly representing the Christ Child. The person who gets the baby might be proclaimed queen or king for the day, but more likely will be expected to bring next week's cake for all to enjoy. And yes, sometimes people do hide the baby again to avoid the expense, but I will go out and buy a large pecan praline King Cake any day as long as the season lasts.
In smaller towns such as the one in Mardi Gras Madness, the whole community might pitch in to make the gowns and floats. Anyone who buys a ticket may attend the ball. Farther out in the country, masked riders go door to door begging for the makings of a communal gumbo, especially a live chicken to be chased and captured. Rather than a fancy ball, the dancing is more likely to be accompanied by a Cajun or Zydeco band in the town square.
Regardless, when Fat Tuesday arrives, all the festivities must end at midnight as Lent begins. The fat in Fat Tuesday (Mardi Gras in French) refers to cooking oil to be used up, usually by making donuts, before the time of fasting starts. Anything can happen on Mardi Gras Day—and be repented of on the next when good Catholics go to receive a smear of ashes on their foreheads from the priest.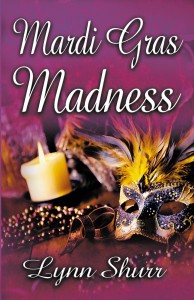 More Mardi Gras customs exist than I can cover in this short space. I use many of them in my series of books, Mardi Gras Madness, Queen of the Mardi Gras Ball, and the upcomingCourir de Mardi Gras. Anyone who comments on this blog will be entered into a drawing for a free copy of Mardi Gras Madness. Let the revelry begin!
About the Author: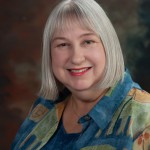 Once a librarian, now a writer of romance, Lynn Shurr grew up in Pennsylvania Dutch country. She attended a state college and earned a very impractical B.A. in English Literature. Her first job out of school really was working as a cashier in a burger joint. Moving from one humble job to another, she traveled to North Carolina, then Germany, then California where she buckled down and studied for an M.A. in Librarianship.
New degree in hand, she found her first reference job in the Heart of Cajun Country, Lafayette, Louisiana. For her, the old saying, "Once you've tasted bayou water, you will always stay here" came true. She raised three children not far from the Bayou Teche and lives there still with her astronomer husband.
When not writing, Lynn likes to paint, cheer for the New Orleans Saints and LSU Tigers, and take long road trips nearly anywhere. Her love of the bayou country, its history and customs, often shows in the background for her books.
She is the author of the Sinners sports romance series: Goals for a Sinner, Wish for a Sinner, and Kicks for a Sinner. Lynn recently debuted two other titles with L & L Dreamspell, Queen of the Mardi Gras Ball and Mardi Gras Madness. Courir de Mardi Gras is scheduled for Summer, 2013. As everyone in Louisiana knows, Fat Tuesday is a day when anything can happen.
You may contact Lynn lynn.shurr@yahoo.com or lynnshurr.blogspot.com, www.lynnshurr.com or Carla Lynn Shurr Hostetter on FaceBook. My books are readily available in soft cover or e-format at Amazon, Barnes & Noble, or L&L Dreamspell.